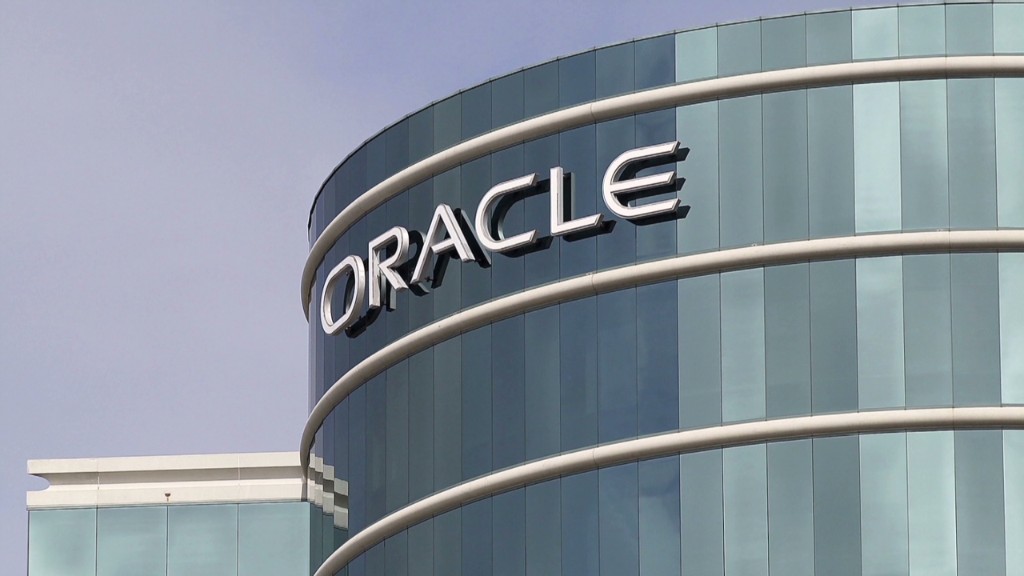 A former Oracle employee alleges that the company fudged its financial numbers.
Svetlana Blackburn, who worked as a senior finance manager at Oracle up until October 2015, said in the lawsuit filed Wednesday in a U.S. District Court in San Francisco that Oracle intentionally and illegally beefed up its sales for its cloud business.
The lawsuit spooked out Wall Street and Oracle's stock fell immediately after it became public. Oracle stock was down 5% by midday Thursday.
The alleged false sales figures would be "used to paint a rosier picture than actually existed on the ground," according to the lawsuit filed by Blackburn's lawyer, Daniel Velton. Reuters first reported the news Wednesday evening.
Oracle (ORCL) immediately denied the claim and plans to counter sue Blackburn, who worked at Oracle for less than year, according to the company.
"We are confident that all our cloud accounting is proper and correct," says Oracle spokesperson Deborah Hellinger.
Related: Judge rules in favor of Google in Oracle suit
Hellinger says Blackburn was let go due to "poor performance." In Blackburn's suit, her lawyer claims she received a positive employee review in August 2015, two months before being fired.
Blackburn alleges that she was instructed by her superiors at Oracle "to add millions of dollars in accruals to financial reports, with no concrete or foreseeable billing to support the numbers." Blackburn is an auditor and certified financial analyst.
Oracle's cloud service business still makes up a small portion of the software company's total business but it's growing fast. In its most recent quarter, Oracle brought in $735 million for cloud services, up by 40% from a year ago. Still, cloud services only make up 8% of Oracle's total revenue.
Related: These 5 tech companies are sitting on $430 billion in cash
Cloud is key for Oracle and many other tech giants, such as Microsoft (MSFT), Dell and HP (HPE). Although Oracle CEO Larry Ellison -- who is worth nearly $50 billion -- has long advocated for cloud services, Oracle has been slow to transition from typical software sales to the cloud business.
However, many tech companies, including Oracle, see cloud as the future of data storage. So it's no surprise that Blackburn's allegations are hitting a particular nerve.
She could face a long battle ahead. Oracle has a long history of suing anyone who goes after them. Oracle sued Google (GOOG) for $9.3 billion in a copyright lawsuit but a judge ruled in favor of Google in May. It sued SAP in another copyright lawsuit in 2010 and won $1.3 billion from the company, the largest prize ever in a copyright lawsuit. Oracle is also suing HP, which has filed a counter lawsuit against Oracle.