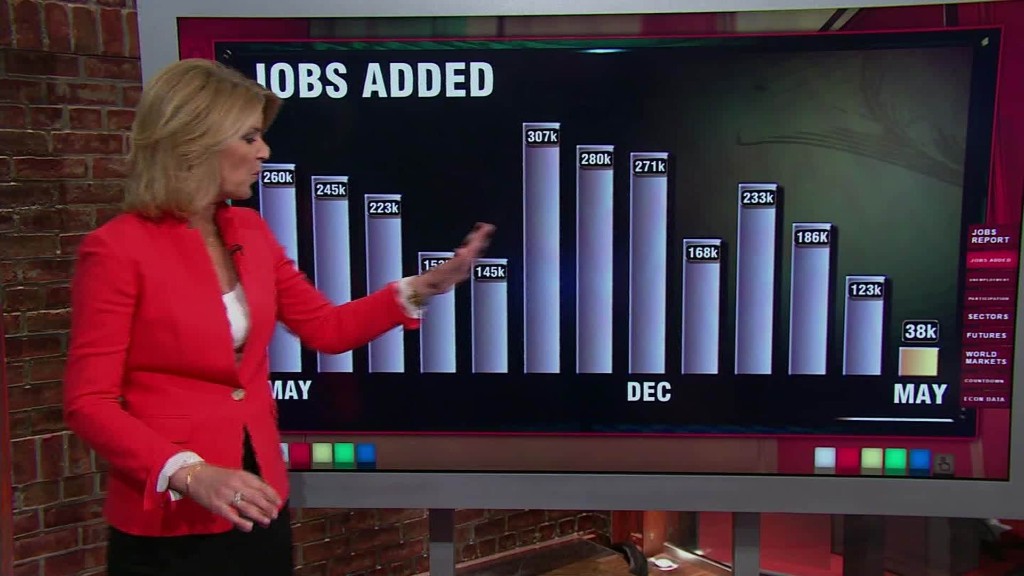 The panic-inducing May jobs report doesn't connect with the U.S. economy.
A major red flag was raised on Friday when the U.S. reported that hiring slowed sharply in May to the lowest level since 2010 and it was the third straight decline in job gains.
But it came at a time when unemployment is really low, wages are rising a little, Americans are starting to spend more because they feel better about the economy, and economic growth is expected to pick up this spring.
America's economy isn't in crisis mode. Rather, it's finding a new balance.
"We have a lost a little bit of momentum" in job growth, says Russell Price, senior economist at Ameriprise Financial. But "there are an awful lot of positives that are giving the economy a lot of support right now."
Let's be honest. The May jobs report was pretty bad. America only added 38,000 jobs last month -- the lowest monthly gain in six years. Although the unemployment rate dropped, it was because more disheartened Americans stopped looking for work.
On top of that, the number of part-time workers shot up, and jobs gains in April and March were revised down. Ouch.
That's when you breathe and remind yourself: up until very recently, job growth was the major strength in the U.S. economy and all the other factors lagged behind. In fact, the U.S. is at a level that many consider "full employment."
The U.S. economy is still in good shape. Here is where things stand:
Related: U.S. economy only adds 38,000 jobs in May
The job market is at or close to "full employment"
Back in 2009, the unemployment rate hit 10%. Now it's down to 4.7% -- the lowest rate since 2007. Yes, it recently dropped in May because more Americans dropped out of the job market.
But much of the decline in the unemployment rate since 2009 is for good reasons. The economy has added 13.6 million jobs since October 2009 when the unemployment rate hit double digits.
Now we're at a moment when the unemployment rate can't go much lower. Typically, job growth tends to slow down -- and wage growth tends to go up -- as the economy gets closer to full employment.
That could be what's happening. Wage growth has picked up in recent months as job gains have declined.
Plus, other recent indicators show improvement. Jobless claims have been below 300,000 for 65 straight weeks. That's the longest streak since 1973. And the ADP payroll number, which shows private sector hiring, for May was much higher at 173,000 jobs.
The poor May jobs report is already drawing some skepticism.
"This jobs report is misreading the economy," says Gus Faucher, senior economist at PNC Financial. "I'm not taking it at face value."
Related: Consumer spending rises most since 2009
Americans are starting to spend more
Here's a clearer trend: spending is gaining momentum. That's a good sign for the U.S. economy because consumers account for two-thirds, or a majority, of the economy.
In April, consumer spending rose to its fastest pace since 2009 and consumer confidence rose in May to 95 from 89 in April, according to the University of Michigan's tracker.
There's more. Sales for new, single-family homes shot up to an eight-year high in April.
All that good consumer news is a key reason why experts believe U.S. economic growth will pick up in the spring after a sluggish winter. The economy only grew 0.8% in the first quarter, but many experts forecast second quarter growth rising to 2.5%.