Is it time for technology to disrupt the airport security screening process?
The TSA recently took steps to combat the lengthy security lines that have been plaguing airports across the country, mostly by investing in personnel. But some experts say the money could be better spent on improving the technology used to screen passengers and their luggage.
Here are three innovations that could change the way travelers move through airport security:
Innovation Lanes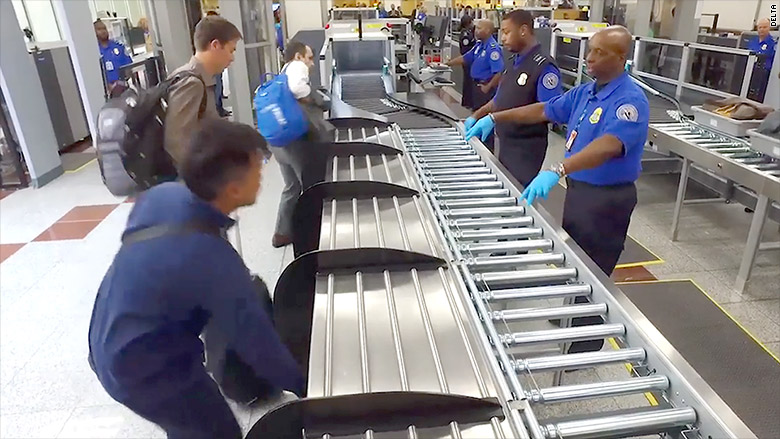 Two new enhanced security lanes opened up in Atlanta's airport last month, and they're clearing passengers at a quicker rate than the standard lanes.
Delta paid more than $1 million to bring these two "innovation lanes" to Hartsfield-Jackson Atlanta International -- the busiest airport in the country.
Related: Are airport security lines getting any better?
The new lanes have an automated bin system with five "divestment points" for travelers to take out their liquids, remove belts or shoes and prepare for the screening process. So if a traveler is ready to be screened before the person in front of her, she doesn't have to wait.
The new screening system also removes bins that have flagged items to a separate area, which also helps keep lines moving.
The lanes, which have been open for a little more than a week, have been screening around 30% more passengers a day compared to the standard lanes, according to Delta (DAL) spokesman Morgan Durrant.
The airline is still evaluating whether to expand the new technology in Atlanta and to other airports in the U.S.
3D Scanning Technology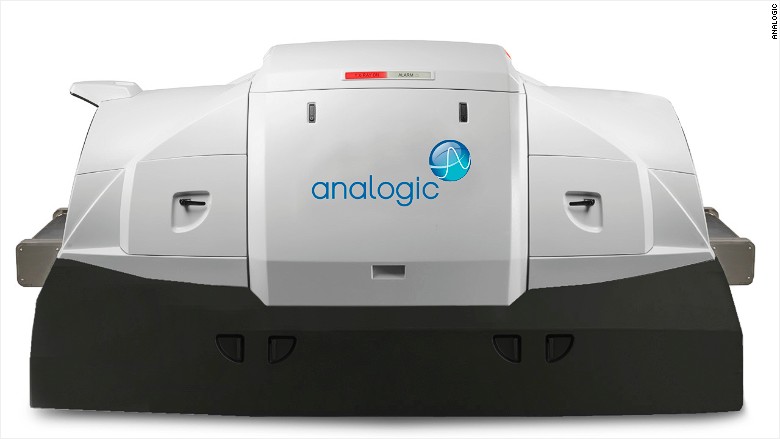 Using technology commonly found in hospitals could speed up airport security checkpoints.
Analogic's COBRA machines provide three-dimensional images of bags that automatically detect any possible security threats or illegal substances.
Fliers don't have to remove laptops and liquids from their bags before they go through these scanners, which reduces bottlenecks and keeps lines moving.
The scanners also don't require a TSA worker to review every bag that goes through, because it alerts when a possible threat is detected. If a bag is flagged, it is automatically removed from the queue to be screened by an agent, and the rest of the bags to continue to be screened.
Related: How to get the best airfare this summer
Using 3D technology to screen bags over the X-ray method currently used reduces the number of false alarms and bag searches, according to Analogic (ALOG) CEO Jim Green, which leads to shorter lines.
The company claims it can double the amount of luggage screened to at least 550 bags an hour.
"If you are seeing two times the speed...you can end up with no queues or lines," Green said.
The COBRA scanners are already used two European airports, and in U.S. airports across the country to screen checked luggage.
The machines cost $300,000 each and they run for around eight years, according to Green.
Walk-through screening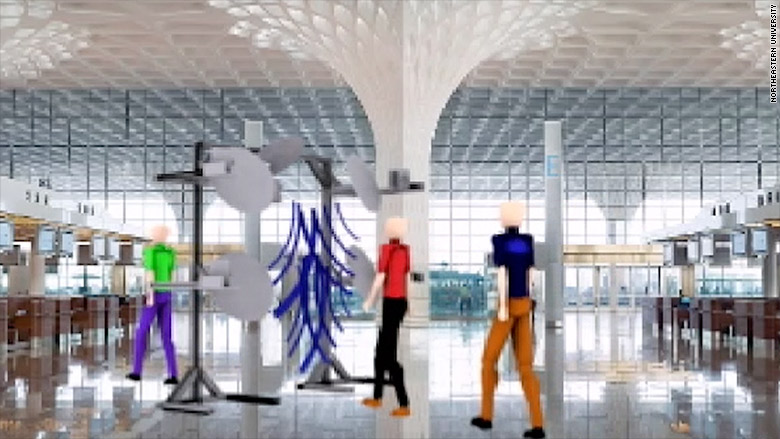 What if the standing around part of airport security became a thing of the past?
A team of engineers at Northeastern University is working on technology that could screen passengers quickly enough that they would haven't to slow down for security on their way to the gate.
They're working to create a structure filled with high-capacity sensors that can screen multiple travelers at a time and still detect potential threats.
Passengers could walk right through, and nothing would have to come off, which means no one has to fumble to remove a jacket or shoes.
The current imaging system that require travelers to raise their arms and pause for a couple seconds until they're cleared can waste valuable time.
"The idea that you don't pause, you just walk through it makes it a better experience for a passenger," said Jose Martinez, an engineering professor at Northeastern University who is leading the project.
He said the technology has the potential to triple the current screen rate to 300 passengers per hour.
The project is part of the school's Awareness and Localization of Explosives-Related Threats (ALERT) Center, and gets funds from the Department of Homeland Security.
The team is hoping to have a prototype of the screeners by 2020.