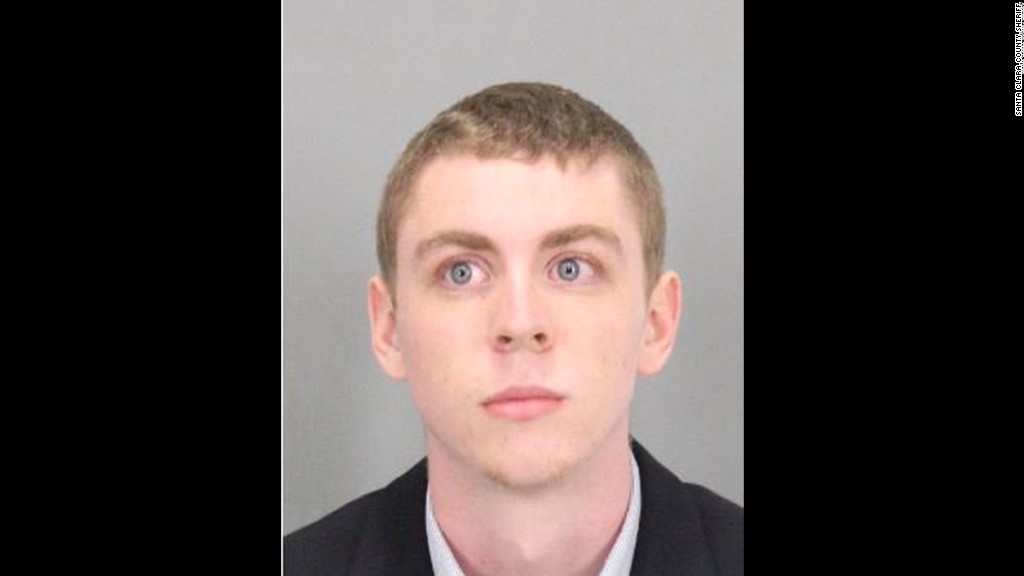 "It was her words."
That's why Ashleigh Banfield, the anchor of CNN's "Legal View," chose to devote most of her broadcast Monday to a letter from the victim of a Stanford rape case. Banfield read the woman's first-person account live on the air.
"This woman has perhaps superseded the work of every documentarian, the work of every politician, the work of every journalist, the work of any advocate who has tried to help people understand what is and what isn't consent," Banfield said in an interview with CNNMoney. "It was her. It was her words that drove me to realize that this needs to be published on a broader scale."
Banfield said that she read the letter while traveling this weekend and was deeply moved by it, calling it "one of the most remarkable and riveting" victim impact statements she has ever read, out of "thousands" she has read.
Banfield said she struggled to figure out how to translate the letter to television, partly due to its sheer length. Starting late Sunday night, Banfield and her producers worked to put together a special edition of her noon hour.
While some portions of the letter were trimmed due to time constraints, she said it was important not to alter the graphic nature of the statement itself.
"Changing or omitting her verbiage would have taken away from the meaning of what she was saying," Banfield said. "And that is not in the interest of journalism."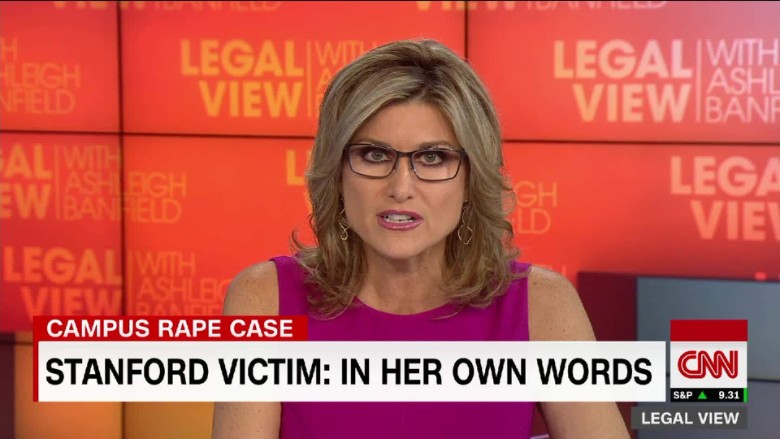 Some viewers who commented on social media called Banfield's reading of the letter "remarkable," "significant" and "necessary."
"Wow. I know of no precedent for this," tweeted Jay Rosen, who teaches journalism at New York University.
After Banfield read portions of the letter, she discussed the case in further detail with a panel of guests.
The letter was originally published on Friday by BuzzFeed, which said the victim shared it with the web site. As of Monday afternoon, nearly 5.5 million people have read it on the site.
The case involves 20-year-old former Stanford University swimmer Brock Turner, who was sentenced Thursday to six months in county jail and three years' probation for three counts of sexual assault.
On January 18, 2015, two Stanford graduate students biking across campus spotted Turner thrusting himself on an unconscious, half-naked woman behind a dumpster at a party.
Turner faced a maximum of 14 years in state prison, but the judge chose a lesser sentence in part because he feared anything longer would have a "severe impact" on Turner.
"But what about the impact the crime has had on the victim?" Banfield asked during the start of her program on Monday.
She acknowledged that the content of the letter was "difficult to hear," but "it is important."
Afterward, when she stepped off set, she said she had only one regret.
"The only thing I would have preferred is for her to read it," Banfield said, adding that her team reached out to the victim's family. "She's still relatively anonymous and she's desperate that won't change."
Eric Weisbrod contributed reporting to this story.