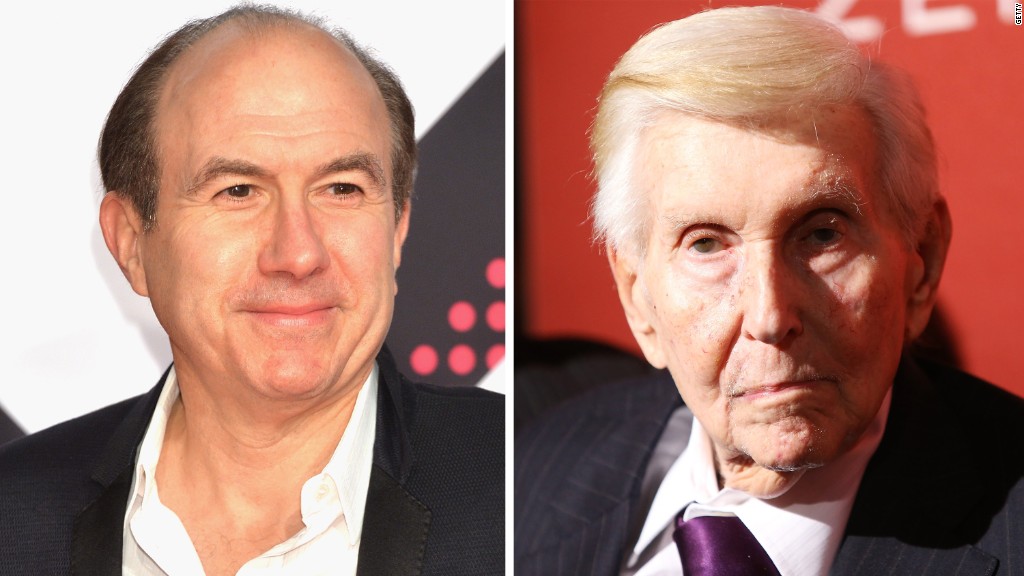 Viacom CEO Philippe Dauman is calling for an "immediate medical examination" of Sumner Redstone.
Lawyers for Dauman, as well as Viacom board member George Abrams, asserted in a court filing on Monday that Redstone's deteriorating health makes it imperative to "proceed with speed."
"In the absence of prompt proceedings, there is grave risk that Sumner Redstone will not be available to provide any evidence in this case," they argued. "He is a 93-year-old man suffering from overwhelming physical ailments, including an inability to speak, stand, walk, eat, write or read."
Related: Sumner Redstone's granddaughter accuses aunt of 'brainwashing' him
The filing came before a hearing scheduled for Tuesday in a Massachusetts court concerning a lawsuit challenging their removal from the Redstone trust. The trust will control Viacom (VIA) and Redstone's other media company, CBS (CBS), after he dies or is incapacitated.
Dauman and Abrams filed the lawsuit last month accusing Redstone's daughter, Shari, of manipulating her ailing father in orchestrating their ouster.
Shari Redstone has denied that claim and insists that she has no intention of taking over her father's company. Attorneys for Redstone have asked the court to deny the motion to expedite the trial.
In a court filing last week, Redstone's lawyers decried the lawsuit brought by Dauman and Abrams as "an acutely self-interested legal strategy that they began plotting months earlier to secure their tenuous positions with Viacom."
Related: Shari Redstone fires back at Viacom
At the center of the strange and increasingly contentious saga is a basic question about Sumner Redstone's cognition. Dauman and Abrams doubt that the aging mogul was really behind their removal.
A spokesman for Dauman said last month that the shakeup on the trust was "a shameful effort by Shari Redstone to seize control by unlawfully using her ailing father Sumner Redstone's name and signature."
"Sumner Redstone would never have summarily dismissed Philippe Dauman and George Abrams, his trusted friends and advisors for decades," the spokesman said.
But representatives for Redstone said last week that a geriatric psychiatrist recently examined him and concluded that he had the mental capacity to remove Dauman and Abrams from the trust.
Dr. James Spar, a professor at the University of California-Los Angeles School of Medicine, said that Redstone attributed their removal to Viacom's declining share price.
In their filing on Monday, lawyers for Dauman and Abrams dismissed Spar's "one-sided, uncross-examined and distorted view of Mr. Redstone's mental condition."