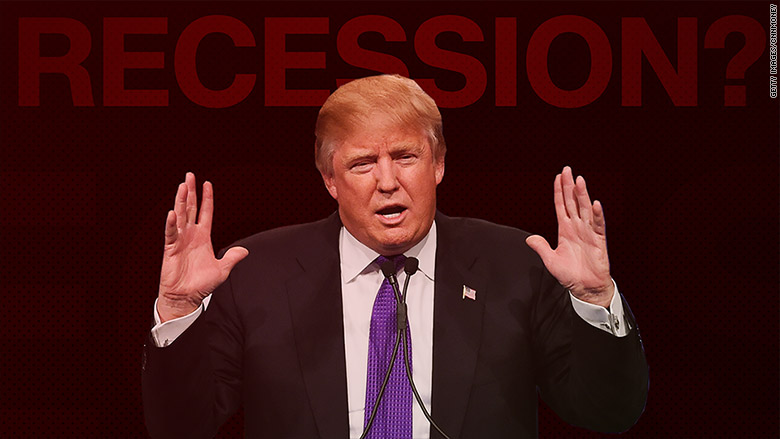 If Donald Trump becomes president, the U.S. economy will tank, predicts prominent economist Larry Summers.
Summers went as far as to call Trump the most "dangerous" American presidential candidate for the economy in his lifetime.
"If [Trump] is elected, I would expect a protracted recession to begin within 18 months. The damage would be felt far beyond the United States," Summers wrote in an op-ed in the Financial Times on Sunday.
The "Trump risk" is real, says Summers, and he doesn't understand why American and global markets aren't more worried about it. The U.S. stock market continues to sit just under its all-time record level.
Summers slammed Trump's "highly erratic" economic and foreign policies. Trump's authoritarian style and unpredictability alone could be sink business and investor confidence, says Summers. On top of that, Summers believes Trump's $10 trillion in proposed tax cuts and Trump's plans to curtail U.S. trade with the world would cause the economy to plunge into a deep recession.
Related: Should investors fear President Trump or Clinton?
The harsh criticism from Summers might just be politics. The long-time Harvard economist is a Democrat who served in both President Bill Clinton and President Barack Obama's administrations. Summers was Clinton's Treasury Secretary.
But Summers is hardly the first to warn that a Trump presidency would be disastrous for the economy. Top Republican business executives Mitt Romney and Meg Whitman also believe Trump would cause a recession.
Summers argues that the "Trump risk" is a lot more dangerous than the "Brexit risk" (the British referendum vote on June 23 on whether to leave the European Union) that has received so much attention.
Related: Clinton predicted to beat Trump...due to economics
"If Mr. Trump did even half of what he has promised, he would surely set off the worst trade war since the Great Depression," he wrote.
While experts worry about Trump's economic policies, the American public gives the Republican presidential candidate high marks. In numerous polls, Trump beats Clinton when voters are asked who they trust most to handle the economy.
On Monday, America's top economic policymaker -- Federal Reserve chair Janet Yellen -- was asked whether she thought President Trump would cause a global crash.
Yellen politely declined to comment.
"I'm sorry I've got nothing for you on that," she said after a speech at the The World Affairs Council of Philadelphia. "We're very focused on doing our jobs. We'll see what happens."