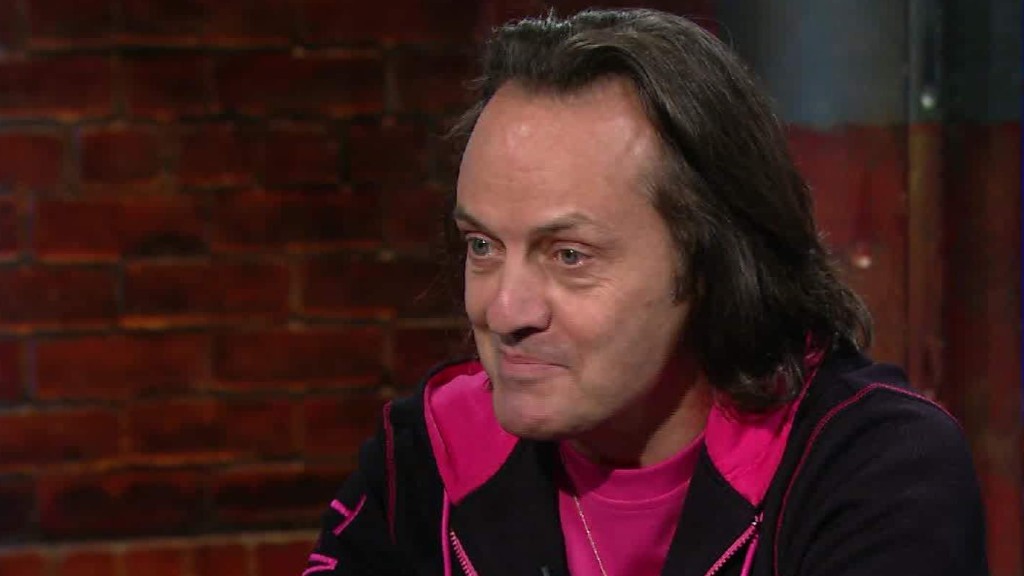 T-Mobile wants to thank its customers by giving them a piece of the company.
The carrier is offering new and existing primary account holders one share of common stock, CEO John Legere announced Monday. There are about 11 million existing customers who are eligible. T-Mobile (TMUS) is currently trading at about $44.
The company isn't issuing new stock, so the program won't dilute existing shareholder value. T-Mobile will buy shares from the open market and give them to customers. T-Mobile estimated about 1 million shares in its SEC filing, but Legere says he wants "millions and millions" of customers to participate.
"I'm gonna thank you like you've never been thanked before," Legere said during an event in New York.
The new "Stock Up" promotion is part of T-Mobile's Un-carrier marketing strategy, which strives to give customers more flexibility on data usage. In the past, the company has offered promotions for video and music streaming, roll-over data plans and international roaming.
"No publicly traded company has done this before, ever," Legere said. "Why should Wall Street be the only ones to benefit [from our company's success]? You should too."
T-Mobile customers can sign up for Stock Up through a new T-Mobile Tuesdays app or t-mobiletuesdays.com. The stock is tax free, and can be redeemed through Loyal3, an online brokerage platform, from June 7 to June 21.
As a bonus, T-Mobile is also giving stock for customer referrals: one share per referral, up to 100 shares a year. Customers who have been with the carrier for five or more years will get two shares per referral until the end of next year. This referral promotion has no planned end date, but could at some point be replaced by something better, according to a spokesman.
Fees for selling shares will be waived for a year, fees for transfers will be waived through the end of the year, and there are no fees for the account as long as customers remain with T-Mobile.
Related: Verizon's 'Can you hear me now' guy joins Sprint
T-Mobile is currently the nation's third biggest carrier, servicing about 30 million monthly lines. Despite how expensive promotions like this can be, T-Mobile says its efforts are paying off.
The carrier now holds the top score on the American Customer Satisfaction Index among the four national wireless providers. Consumer Reports readers recently ranked the carrier as the best in the nation as well -- toppling Verizon (VZ). The two were in a virtual tie in 2014.
The survey asked about things like value, voice quality, texting services, data speeds and customer support.
Sprint (S) was easily the most improved carrier over the past year; it has both slashed prices and improved its service.
But remarkably, consumer sentiment about wireless carriers has grown across the board -- due largely to T-Mobile's competitive promotions.
Related: Government to cellphone makers -- Up your security game
In addition to the stock giveaway, T-Mobile is also offering freebies every Tuesday through its new app, such as Domino's pizza and Fandango movie tickets. There are three kinds of free gifts: recurring, surprise and a game. Each phone line is eligible, so if you have five lines and it's free pizza Tuesday, your house can get five free pizzas. There are also contests for things like a $10,000 Gilt shopping spree and trip to Peru.
The carrier also announced that customers can now use several different messaging platforms (Google Hangouts, iMessage, WhatsApp and Viber) on domestic Gogo Wi-Fi flights for free from their smartphones starting June 13. T-Mobile customers will get an hour of free Wi-Fi too.