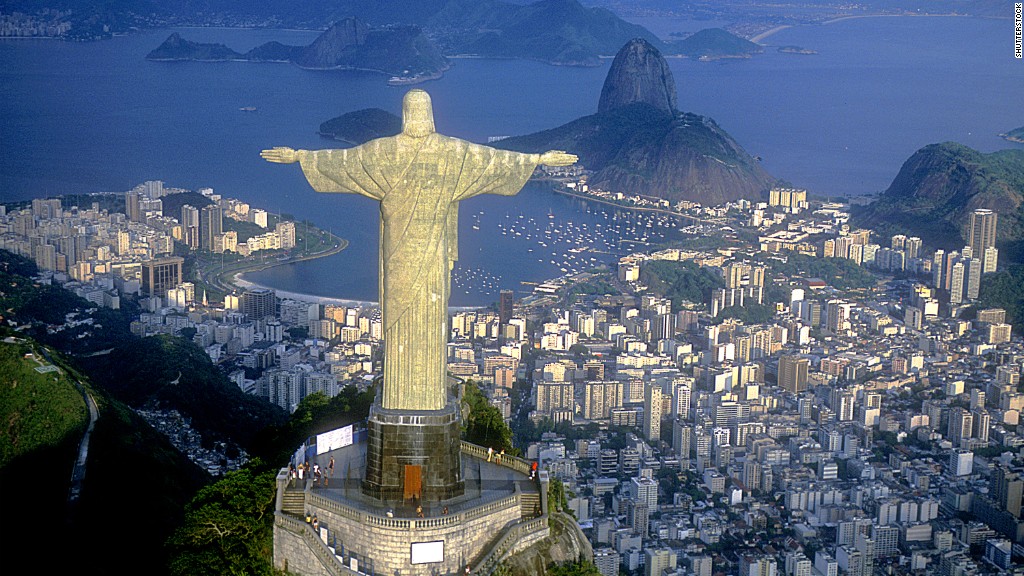 China dreamed up its most ambitious project ever in Latin America last year. Now, that dream project may be falling victim to Brazil's crisis.
When the leaders from China, Peru and Brazil announced their plan last year to build a train line, it was as grand as the Amazon itself. The railroad would stretch 3,300 miles, run from the Atlantic coast to the Pacific, and cost roughly $10 billion. It would be the latest massive project in South America, where China has spent billions -- a strategy some describe as its power move to replace the United States as Latin America's top ally.
"If we go ahead with this project...it will be the most important Chinese infrastructure project in South America," says Rosario Santa Gadea Duarte, director of the Center of Peru-China Studies at the University of the Pacific in Lima, Peru.
But the rail project has already missed its first deadline. A feasibility study for the train was supposed to be finished in May. But so far no study has been handed in. Experts' guesses on when it will come out vary from weeks to months to unknown.
And it's not the first of mishaps for China in the region.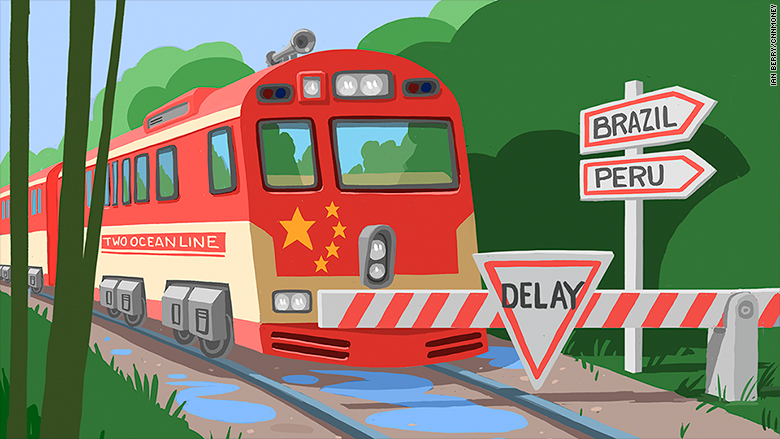 Related: China's power play right under America's nose
Uncertainty everywhere
The biggest obstacle for the rail project is the immense political and economic upheaval underway in Brazil, where President Dilma Rouseff has been suspended as she undergoes an impeachment trial. It comes as Brazil has also spiraled into a deep recession amid a massive two-year corruption scandal.
"The political situation in Brazil makes it very difficult for a project of this nature to receive attention," says Manuel Ruiz, director of Peruvian Society of Environmental Rights. Overall, the project faces "enormous challenges."
It's not just Brazil. After days of uncertainty over Peru's tight presidential election, officials announced Thursday that Pedro Pablo Kuczynski appeared to be on track to eke out a victory. What remains unclear is his position on the rail project, something he hasn't talked about at all.
"Any new administration introduces a degree of uncertainty to the project," says Margaret Myers, director of the China-Latin America program at the Inter-American Dialogue, a research group.
Beyond political uncertainty, there's also endless debate about the route of the train and concerns about building a railway through the Amazon and potentially uprooting indigenous communities.
Related: Brazil spirals deeper into recession
China's growing footprint in Latin America
That's not to say that China is giving up on Latin America. Far from it. China's exports to the region grew to $130 billion in 2014 from a mere $6 billion in 2000, according to IMF data. In just over a decade, it has become the largest trade partner of Brazil, Chile and Peru.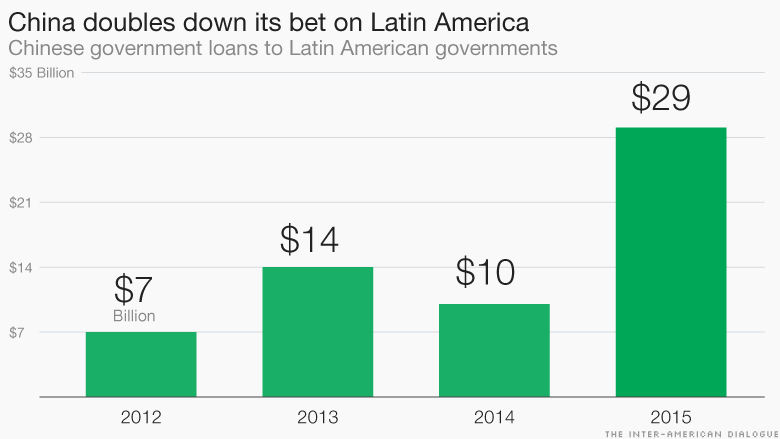 In fact, China is edging out the U.S. out of South America in influence and power. In the region, Mexico, Central America and the Caribbean are the only parts of Latin America that are still cozy with the U.S.
"If we talk about South America, China has been more important than the United States in both trade and finance for several years," says Rebecca Ray, a research fellow at Boston University who has closely followed China-Latin America relations.
The rail project could only strengthen that relationship.
Multiple China projects are wobbling
China has been extremely successful in forging strong ties with Latin America because it buys vast amounts of raw materials and goods.
However, its ambitions for infrastructure projects have hit one road block after another.
A private Chinese company wants to build a canal in Nicaragua. That project has largely been dubbed a failure. China and Colombia announced plans to build a train in Colombia in 2011. That hasn't happened. Another train project in Venezuela never turned up.
Mexican officials awarded a $3.7 billion rail project to a Chinese-led group of firms in late 2014. Then the offer was withdrawn due to public outcry that the deal benefited allies of Mexico's president, Enrique Pena Nieto. The list goes on.
Officials in China and Peru did not respond to requests for comments. Brazilian officials sent CNNMoney a link to a website with no update on the project.
Related: Mexico emerges as Latin America winner while Brazil spirals
Despite that, some say the delays in the transcontinental project could be a blessing in disguise -- allowing more time to discuss the best route, which could include Bolivia, and weigh the costs and benefits.
But experts also caution that these types of delays have defined China's budding friendship.
"Many Chinese infrastructure projects in Latin America have not come to pass," says Myers. The train "could be delayed indefinitely."
--Marilia Brocchetto, Sophia Yan and Shen Lu contributed reporting to this article.