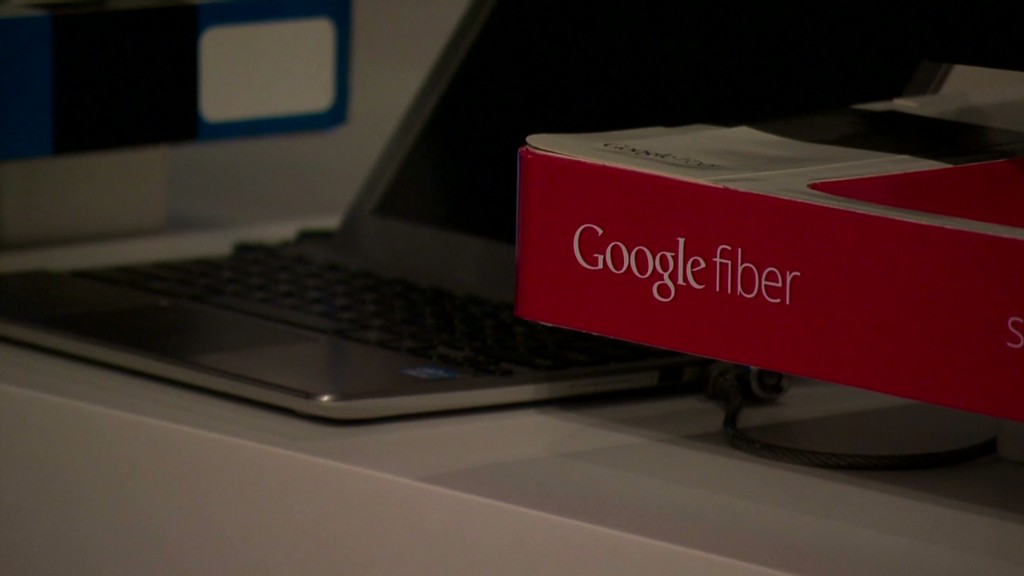 Google Fiber may soon be taking to the airwaves.
At Google parent company Alphabet's annual shareholders meeting on Wednesday, Chairman Eric Schmidt announced that Google is working on ultra-high-speed internet access that can be beamed directly to consumers' homes.
The new technology could allow Google (GOOGL) to bypass the extremely high cost of directly connecting physical fiberoptic cables to households and businesses. That process is slow and often involves digging up customers' yards.
Fiberoptic cable connections are currently the only way internet service providers can give customers ultra-high speeds. Though 5G and other similar technologies have potential to deliver super-fast speeds over the air, it's still a long way off.
Google's ultra-fast Wi-Fi beaming technology is not quite ready for prime time yet, and Schmidt said the company isn't announcing any new services right now. But Schmidt said advancements in microchip technology have made it possible to deploy Google Fiber-like speeds over the airwaves at an affordable price.
Related: Huge breakthrough in blazing fast internet speeds
According to Schmidt, the new wireless solution "can carry the gigabit performance" Google Fiber users expect.
The prospect of beaming broadband internet access into homes has been a point of discussion among top executives at Alphabet.
Schmidt said that "to give you an idea how serious this is," he had a lengthy meeting recently about the technology with Alphabet's Chief Financial Officer Ruth Parat and CEO Larry Page.
Google Fiber, which was launched in 2012, delivers consumers internet streaming speeds of up to 1 gigabit per second -- about 70 times faster than the average home broadband connection in the United States.
The service is currently available in five metro areas across six states, and it is eventually coming to six other metro areas. The company has identified 11 additional locations as potential markets.