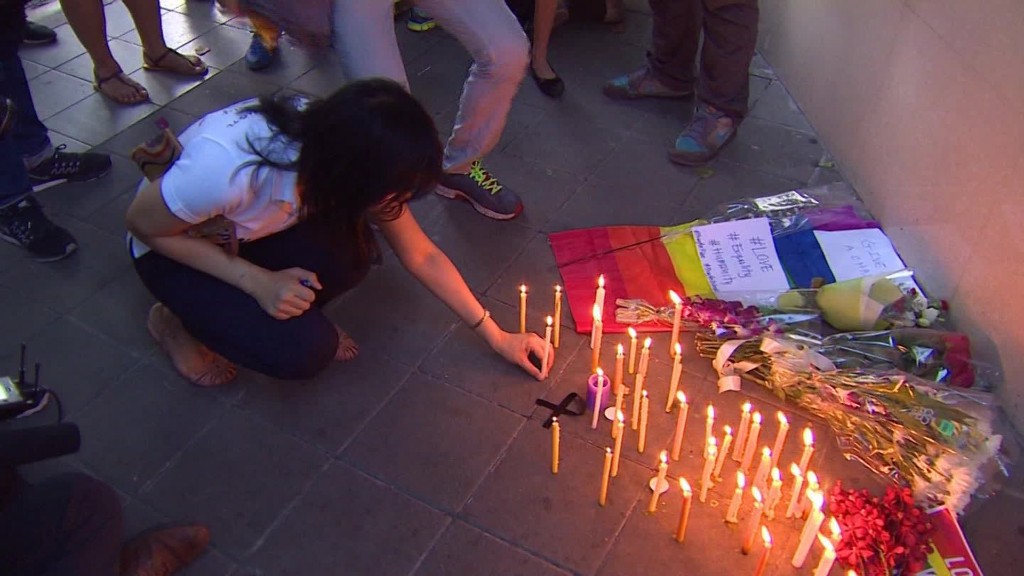 A crowdfunding campaign to support the Orlando Pulse shooting victims and their families has pulled in more than $2.4 million.
UPDATES: The latest news on this GoFundMe campaign
Equality Florida, the largest LGBT rights group in the state, posted the GoFundMe fundraiser shortly after a gunman killed 49 people and injured dozens more at a gay club in the deadliest mass shooting in U.S. history Sunday morning. An earlier death toll of 50, released by officials, had included the gunman.
By Monday evening, more than 56,000 people had made contributions.
Impact Your World: How to help Orlando shooting victims
Equality Florida said it's partnering with the National Center for Victims of Crime, a nonprofit that helped distribute the proceeds from similar fundraisers after mass shootings in Aurora and Chattanooga, to "ensure that every penny will be correctly and quickly dispersed to the victims and families."
The organization is asking victims to call the Victim Connect Resource Center's hotline to begin the process.
Ida Eskamani, one of five Equality Florida staff members based in Orlando, said she set up the GoFundMe page after the organization was "overwhelmed" with inquiries from people asking how they can help.
The group's initial fund raising goal of $100,000 was quickly eclipsed. Donations poured in throughout the day Sunday, bringing the fund to nearly $1 million in just 10 hours.
"We're going to make sure every penny raised goes to supporting these victims," Eskamani told CNNMoney.
Related: Authorities begin releasing names of victims
The vast majority of donations were for $1,000 or less.
The GoFundMe company became the largest single backer when it contributed $100,000 to the fund on Monday.
Other sizable donations came from Cricket Wireless, which gave $25,000, and Executive Pride, an organization that aims to promote LGBT rights in the business community. It posted a $30,000 contribution on Sunday.
One of the earliest donors was singer-songwriter Jeffree Star, who gave $20,000.
"Our community and the rest of the world has spoken volumes by helping out, and it makes me feel less alone in a world where I'm not always accepted," Star told CNNMoney. He added that he has promoted the fundraiser to his 2.6 million Instagram followers and 626,000 followers on Twitter. "It's not about the dollar amount, it's about being a decent person and standing up for human rights."
Related: Bouncer, dancer, accountant among Orlando shooting victims
Equality Florida is working with other organizations to coordinate vigils, counseling and blood donations. Equality Florida has a landing page with information about those services here.
A different GoFundMe bid was launched June 11 to raise $4,000 for the family of singer Christina Grimmie, who was shot and killed in a separate incident of gun violence in Orlando on Saturday. That campaign had raised more than $128,000 as of Monday.