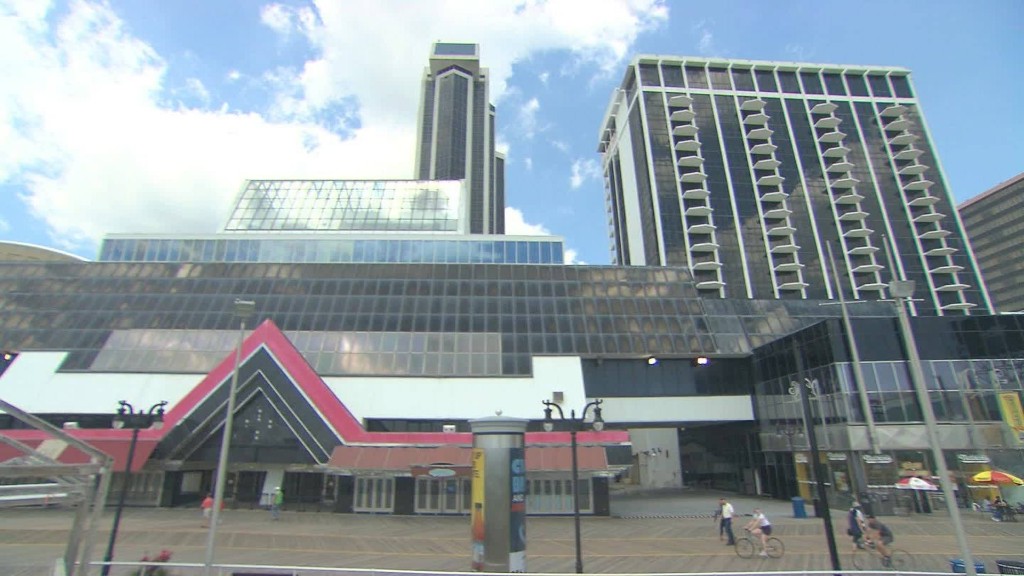 Atlantic City's problems might get worse.
Ninety-six percent of the workers at four of the city's casinos voted Thursday to go on strike on July 1 if the gaming industry "continues to hold down wages." Workers at a fifth casino have already authorized a walk-out. More than 6,000 workers at the five casinos could walk off the job if the strike occurs.
The union that represents the workers, UNITE Here, has set a July 1 strike deadline if there's no deal before the start of the holiday weekend.
The union says workers are paid an average of $11.74 an hour, and that veteran workers have received wage increases of just 80 cents over the last 12 years. It also says many of its workers rely on public assistance, such as government-subsidized health insurance and food stamps.
"Service workers at the casinos are frustrated by billionaire private equity investors who swoop in to ostensibly 'rescue' businesses, but focus instead on squeezing out profits at the expense of working people," said the union's statement.
Management hopes to avoid a strike.
"Our goal remains to negotiate a fair resolution to keep our employees at work for their sake and to continue supporting Atlantic City's revitalization," said Caesars Entertainment Operating Company, which owns and runs three of the casinos where workers are voting. Results should be available later Thursday evening.
But union president Bob McDevitt pointed to the lack of constructive offers from management so far.
"They may come to their senses, but if they don't, we're prepared to walk," he said Thursday.
Related: More Atlantic City casinos may close says Moody's
The union says that last year was the casinos' best in almost a decade, with profits up 40%.
But profits improved, in large part, because four Atlantic City casinos have closed in the last few of years. Moody's credit rating service suggested in December that even more of the eight remaining casinos may close, as out-of-state competition heats up. The city government itself is trying to avoid its own bankruptcy.
The last Atlantic City casino strike came in 2004, lasted 34 days, and cost the casinos more than $60 million in revenue, according to the union.
UNITE believes that the remaining casinos are in good enough financial shape that a strike won't put them out of business. But, McDevitt warned, "A strike will cost the industry far more than a fair contract will cost."
Union members say they're prepared to walk out again.
"In the last negotiations in 2011 the union workers gave a lot of concessions to the casinos to help them survive," said Elaine Malloy, 48, a union steward and a cocktail waitress who has worked at Bally's for 25 years. "Now that they're turning a profit, management is able to give themselves bonuses. They can afford to give us what's fair."
Malloy said she makes $8.99 an hour plus tips, and works 31 hours a week.
"I couldn't support my family on that," she said. "It really takes a two incomes for a family to survive working in the casino industry." Her husband also works at Bally's.
Workers at Trump Taj Mahal have already authorized a strike. Despite the name, Donald Trump no longer runs or owns that casino; instead it just leases the Trump name. The workers voting Thursday work at Caesars, Bally's, Harrah's and Tropicana.
The Trump Taj Mahal and Tropicana were both purchased out of bankruptcy in recent years. The parent company of both Caesars and Bally's has been operating under bankruptcy court protection for the last 18 months. Harrah's is also owned by Caesars parent, but it is excluded from the bankruptcy at this time.