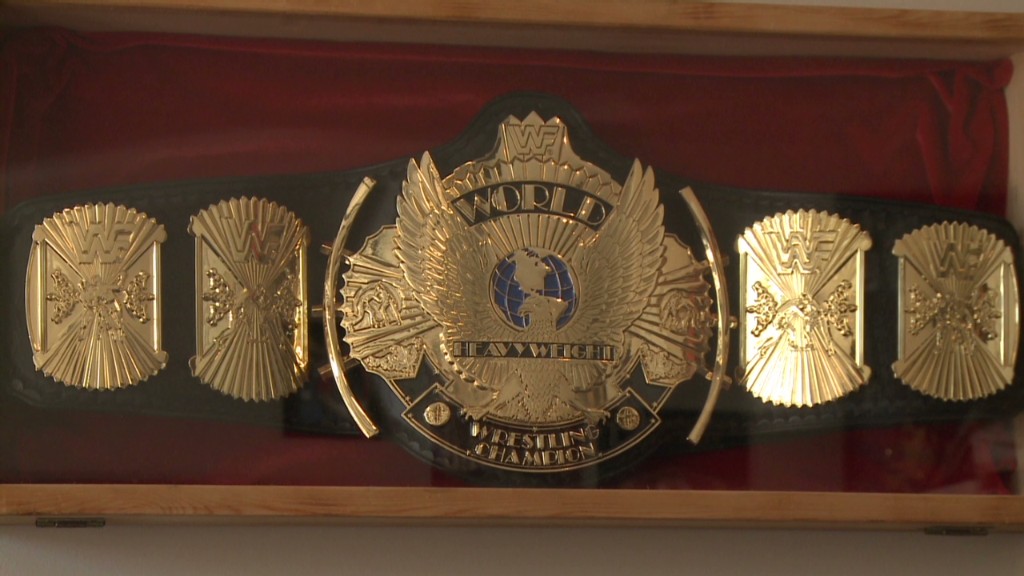 How do you say body slam, suplex and figure-four leglock in Mandarin? We may soon find out.
Wrestling company WWE announced a major expansion in China on Thursday, including the signing of the first Chinese wrestler to a contract.
This isn't the WWE's first foray into the Chinese market. The company first staged a live event in Shanghai in 2010. But the WWE's next event in Shanghai in September will be the company's first time back in China in more than three years.
Shares of the WWE (WWE) rose more than 4% on the news.
The WWE also announced a multi-year deal with Chinese streaming media firm PPTV to broadcast the company's popular "Raw" and "SmackDown" shows on TVs and mobile devices. And perhaps most significantly, the WWE signed local Chinese wrestler Bin Wang to a development contract. BTIG analyst Brandon Ross called that a brilliant move that likely helped win the support of officials in Beijing.
Ross added that he fully expected Bin Wang to be portrayed as a hero and not a so-called "heel." It's not in the WWE's best interests to make China look bad. This isn't the 1980s -- when the WWE capitalized on Cold War fears with Russian wrestler Nikolai Volkoff and also had an Iranian villain named the Iron Sheik battle former WWE (then WWF) star Hulk Hogan. (In his pre-Gawker sex tape days of course.)
"This is just good strategy. There are a lot of benefits to expanding in China," Ross said. "If I were the WWE, I would make Bin Wang a good guy. That would be a quick way to gain a lot of fan support in China."
Related: Critics hate the 'Warcraft' movie, but China loves it
Ross added that he now expects the WWE to announce that it will launch its WWE Network streaming service in China sometime later this year.
The WWE is not the only media company looking to China for growth of course.
Disney (DIS) just opened its long-awaited theme park in Shanghai. The latest "Transfomers" film from Viacom's (VIAB) Paramount in 2014 had numerous scenes filmed in China and the movie wound up being a huge hit there. Big screen movie operator IMAX (IMAX) has a major presence in China and even took its IMAX China unit public in Hong Kong last year.
And DreamWorks Animation (DWA), which is being bought by Comcast's (CMCSA) NBCUniversal, co-produced this year's "Kung Fu Panda 3" with a partner named Oriental DreamWorks -- a joint venture it set up in 2012 with several Chinese investment firms.
It is true that operating in China still has its challenges. Just ask Apple (AAPL). The Chinese government has halted iPhone 6 sales due to allegations of patent infringement.
But China is just too big to ignore.
WWE chairman and CEO Vince McMahon said in the company's press release that it has a "long-term commitment to China" and added that the signing of Bin Wang "will enable us to engage our fans in China like never before."
Related: Hollywood makes big bet on China's kids
And Stephen Zhang, general manager of PPTV Sports, said the new exclusive partnership will "bring passion and family-friendly fun of WWE programing to millions of fans here in China just like in the U.S."
This probably won't be the WWE's last major international deal either.
BTIG's Ross said that the WWE has ample opportunities to take advantage of the fact that its programming is a big draw on social media. So the challenge is going to be to convert fans consuming short video clips on Google (GOOG)'s YouTube and Facebook (FB) into fans who want to go to live events and pay for the WWE streaming service.
"There is a huge international opportunity for the WWE. Digital engagement is big and a majority of that audience is coming from outside the U.S. The statistics on social platforms have been eyeopening for the WWE."
It looks like it won't take a steel chair to the head to get that message across to WWE executives ... or investors.