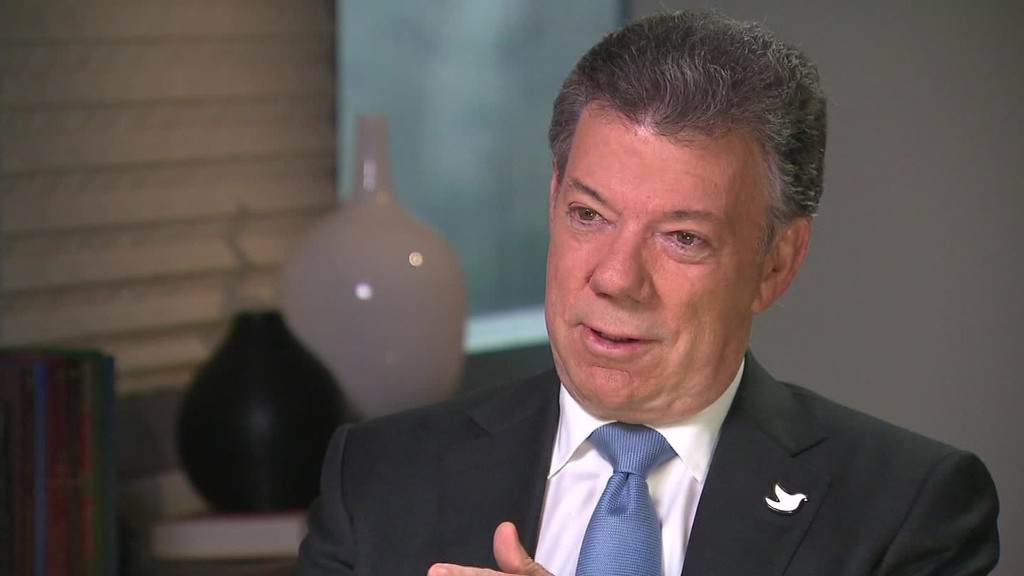 Colombia's days of drugs, "narcos" and dogged warfare are fading -- even if a certain Netflix show is heating up.
Once Pablo Escobar's battleground for drug war, Colombia is shedding its image as a cocaine capital, countering that with an economy that's growing, weaving closer ties with the U.S., and taking steps to end its civil war.
Today, it is playing host to the 2016 World Economic Forum for Latin America.
"Colombia's contribution to the economic progress of Latin America will be the ending of the domestic armed conflict," President Juan Manuel Santos said Thursday at the WEF in Medellin, Colombia.
Santos, a Harvard-educated former journalist, is close with President Obama. The two met in February and Obama pledged $450 million to help aid Colombia's peace deal, which would end a bloody, 50-year civil war.
Related: Brazil dives deeper into recession
It's not just politics -- Silicon Valley, car companies and airlines are all buddying up to Bogota. Mark Zuckerberg's first international meeting as Facebook (FB) CEO was to Colombia in January 2015. Ford (F) and General Motors (GM) have operations there while Jetblue (JBLU), American (AAL), Spirit (SAVE) and Delta (DAL) have increased flights to Colombia in recent years.
As key Latin American neighbors suffer through recession, Colombia's economy is growing, even though that growth has slowed lately along with crash in commodities prices. The IMF predicts Colombia's growth will pick up again next year as the final details of a peace deal are ironed out.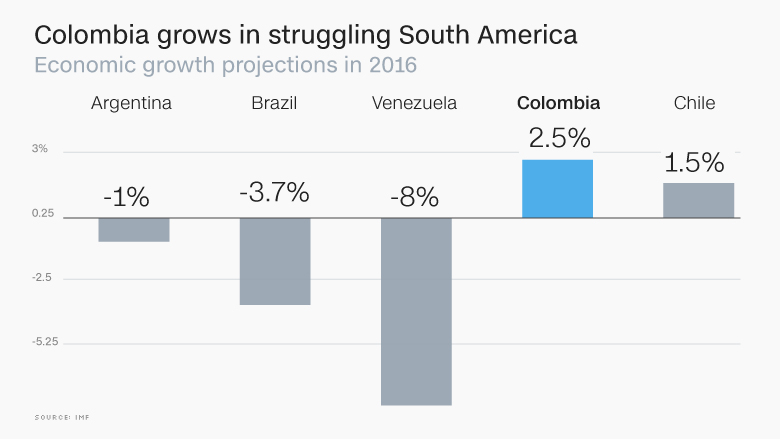 Related: China dream project hindered by Brazil crisis
Compared to that, its next door neighbor, Venezuela, is in a severe economic and humanitarian crisis and Brazil is in its worst recession in decades amid a political crisis. Argentina and Ecuador's economies are also expected to contract this year.
A key part of Colombia's economic strength has been its amplified effort to cut down on the drug trade. Just in May, Colombian police made the country's biggest drug bust ever.
Its notoriously high murder rate is falling fast too. This week, President Juan Manuel Santos announced that the murder rate has fallen to its lowest point in 40 years.
And last month, Colombian officials advanced peace talks with the guerrilla army known as FARC, or Revolutionary Armed Forces of Colombia.
Related: Venezuela is running out of everything
Peace will have a "positive effect on national and international investment, which...will accelerate growth," says Miguel Urrutia, an economist at the University of the Andes in Bogota.
Urrutia notes that implementing peace will be costly: Millions of Colombians live in FARC-controlled territory. Integrating them into civilian life poses a big challenge. But overall peace will help Colombia's economy prosper in the long-term.
Colombia isn't free of economic problems. Inflation has run high recently, and its currency lost 25% of its value last year against the dollar. The fall in commodity prices has hurt its economy.
Yet it's still lauded by world leaders: this week the IMF gave Colombia an extra $11 billion in emergency credit. It doesn't intend to use the extra cash, but such a commitment reflects how much trust the government has gained since its days of drug lords.