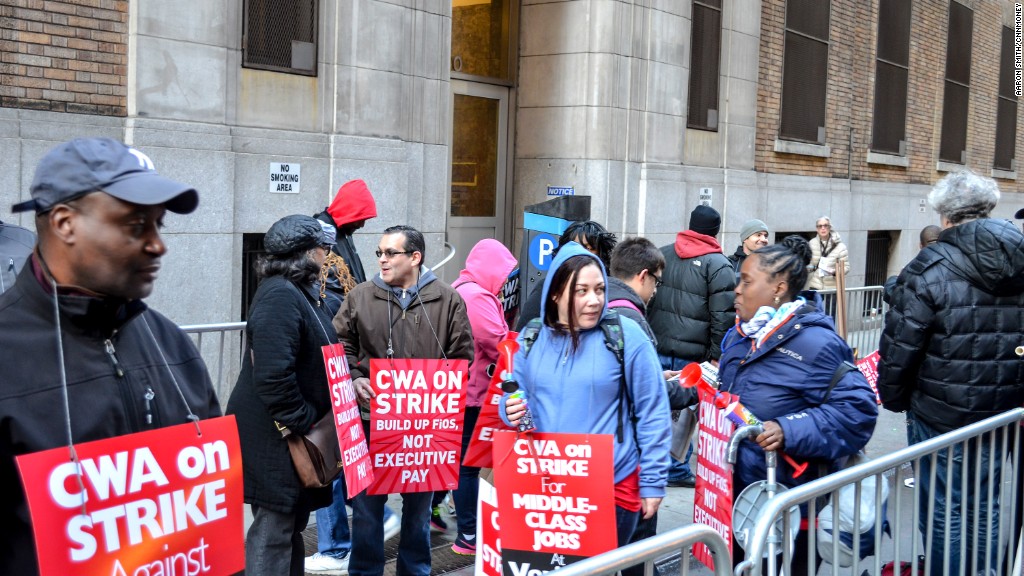 The "Can you hear me now?" guy may be endorsing Sprint instead of Verizon these days. But Verizon is the one that's getting a much better reception from Wall Street.
Can that last if Verizon (VZ) winds up scooping up troubled Yahoo (YHOO) though?
Verizon stock has surged 17% this year. That makes it the third best performer in the Dow, only slightly behind UnitedHealth (UNH) and Exxon Mobil (XOM).
Verizon has done better than wireless rivals Sprint (S) and T-Mobile (TMUS) as well as cable king Comcast (CMCSA). It is slightly lagging that of its former parent AT&T (T) though.
Why are investors so enamored with Verizon? The big reason is that the company pays a juicy dividend -- which yields 4.2%.
That makes "Big Red" (as well as Ma Bell, which yields 4.7%) attractive to conservative investors worried about a sluggish global economy and a possible Brexit in Europe who crave a higher yield than what you can get from government bonds.
The 10-Year U.S. Treasury has a rate of just 1.68%. Yields in Germany recently dipped below zero, joining Japan and Switzerland in the negative rate club.
Related: Striking Verizon workers score raise and bonuses
So it's understandable why investors desperate for any sort of income would like Verizon. But that's not the only thing the company has going for it.
Verizon recently settled a labor dispute with striking landline workers. That should allay some fears investors had about the possibility that Verizon would fall behind in new customer installations for its FiOS TV and phone service.
But the damage may already be done. Verizon's CEO and CFO both warned that results for the second quarter could be hurt by the strike. Analysts responded by cutting their earnings forecasts for the quarter and full year in the past month.
That's a bad sign considering that Verizon isn't the most dynamic of companies to begin with. Earnings are only expected to increase by about 3% a year, on average, for the next few years. Sales are barely budging at all as well.
And that's why the possible Yahoo acquisition could be a problem for Verizon.
Verizon is said to be one of the leading bidders for the core assets of Yahoo, which has been struggling to turn its fortunes around for pretty much the past decade.
Would adding Yahoo -- a company that is expected to post a sales decline of nearly 10% this year -- make sense?
Sure, there is an argument to be made that Verizon can strip out some redundant costs by combining Yahoo with AOL -- which Verizon bought in 2015 for $4.4 billion.
AOL chief Tim Armstrong would likely run the combined company -- leaving his former Google (GOOGL) colleague Marissa Mayer presumably getting a golden (purple?) parachute for her troubles.
Related: Warren Buffett-backed group also in bid for Yahoo
But investors would have valid reasons to be worried that trying to fix Yahoo -- a reclamation project that has led to the ouster of numerous Yahoo CEOs since 2001 -- could turn out to be too much of a distraction for the company.
Verizon has to deal with more challenges on the video front from AT&T following Ma Bell's acquisition of DirecTV.
And on the wireless side of the business, T-Mobile has proven to be a pesky pink pest that has helped push monthly prices down across the industry.
Adding Yahoo to AOL could turn out to be a brilliant move for Verizon -- especially if it doesn't have to pay much. According to several reports, bids are coming in around $3 billion. So Verizon wouldn't exactly be betting the mortgage on Yahoo.
Still, investors seem to like the way things are going with Verizon right now -- without Yahoo. What's that saying, about not fixing what isn't broken? Verizon might need to keep that in mind.