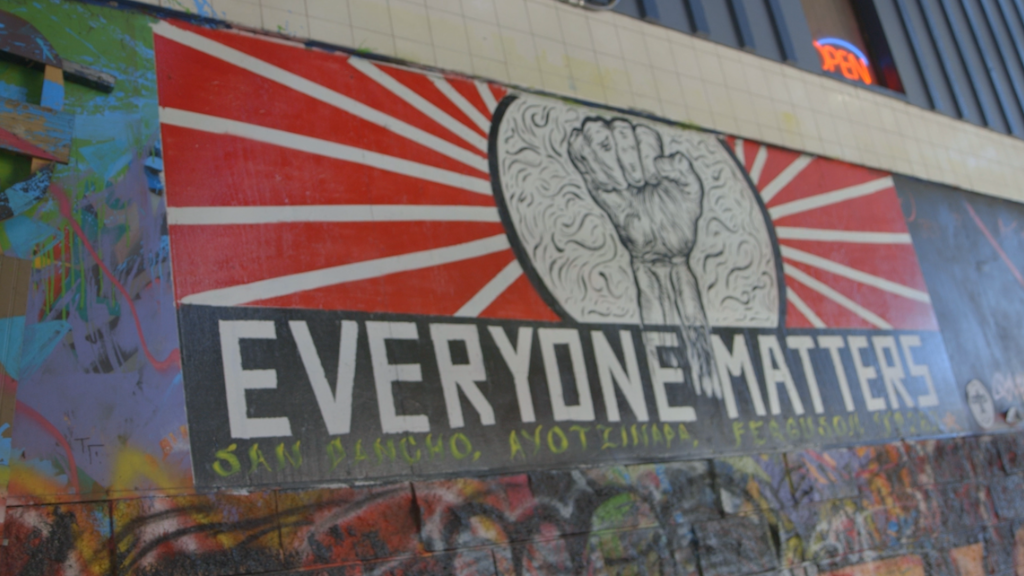 More Americans are struggling to make rent.
The number of renters dedicating at least half of their income toward housing hit a record high of 11 million people in 2014, according to the annual State of the Nation's Housing Report from the Joint Center for Housing Studies of Harvard University.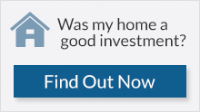 A total of 21.3 million are spending 30% or more of their paycheck to cover the rent -- also a record high.
Personal finance experts generally suggest budgeting around 30% of monthly income to cover housing costs.
But that's getting harder to do with rent prices rising faster than wages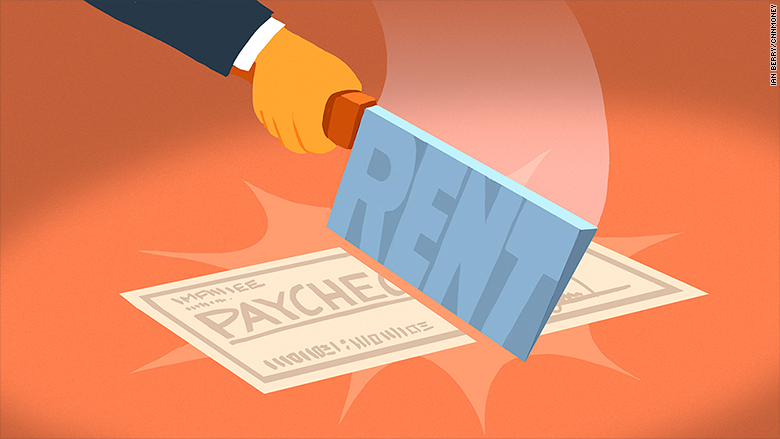 Household budgets are taking a hit
Losing such a large portion of a paycheck to cover housing means cutting back in other areas.
"When you have to dedicate such a high proportion of your income to rent every month, it forces you to make difficult decisions," said Dan McCue, a senior research associate at the Joint Center.
Not only does that mean less spending on essentials like food, clothing and health care, it also makes it tougher to achieve long-term financial security by saving for an emergency fund, a down payment or retirement.
Related: Men are making more money off their homes than women
Middle-class renters in expensive cities are struggling
In the 10 cities with the highest housing costs, renters with middle-class incomes are having a particularly hard time making ends meet. Nearly 75% of renters earning $30,000-$44,999 and 50% of those making $45,000-$75,000 living in these hot markets are considered "cost-burdened" -- meaning they spend at least 30% of their income on rent.
Related: These cities have the highest rents in the country
It's not just young people who are renting
"The shift toward renting has been widespread among age groups, incomes and different types of households," said McCue.
Last year saw the biggest surge in new renters in history, according to the report, bringing the number of people living in rental units to around 110 million people -- or about 36% of households.
Middle-aged renters made up a lot of the new demand, with 40% of renters aged 30-49.
And renters are sitting on both ends of the pay scale: almost half of new renters in 2015 earned less than $25,000, while top-income households have been the fastest-growing segment of new renters for the past three years.
Related: America's upper middle class is thriving
Low-income renters are getting squeezed out
More affluent renters are staying in the rental market longer and driving up the demand for housing. Traditionally, the wealthy would move on to become homeowners, but tight inventory in the housing market is keeping them in rentals longer.
And developers are focusing on building luxury apartments that tend to provide a higher return on investment. That's dragging overall rents higher and leaving a dearth of affordable rentals.
The median rent on a new apartment was $1,381 in 2015, according to the report, which means a renter would have to make at least $55,000 a year to be able to afford the rent.
And with the typical renter making about $34,000 a year, that means an affordable rental would be about $850.
Homeownership is becoming more affordable
While renters are paying more, affordability is improving for those who own their homes. The number of cost-burdened homeowners declined in 2014 for the fourth consecutive year, according to the report, thanks to low mortgage rates.
Are you paying more than half of your income to cover rent? Email us with your story, and you may be included in an upcoming article on CNNMoney.