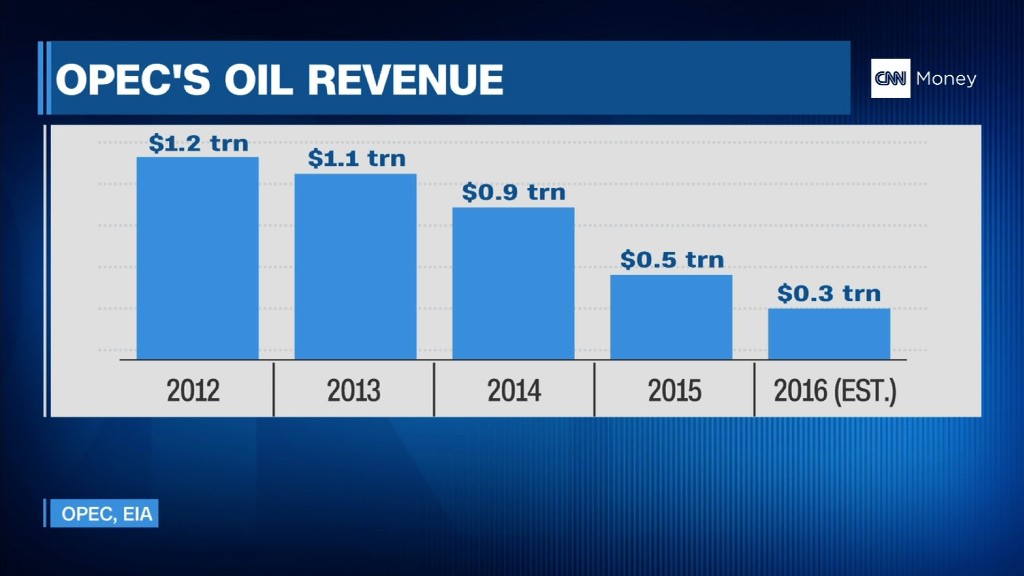 OPEC's 13 member countries saw oil export revenues slump to their lowest level in a decade last year.
Crude revenues fell nearly 46% to $518 billion in 2015, according to OPEC's annual bulletin published Wednesday.
Collapsing world oil prices also meant that OPEC countries spent more importing goods than they raised from exports for the first time in 17 years.
The cartel posted a combined current account deficit of just under $100 billion in 2015, compared with a surplus of $238 billion in 2014.
Only four OPEC members managed to keep their current accounts in surplus in 2015 -- Qatar, Kuwait, the United Arab Emirates and Iran.
Related: Iran's oil exports have tripled since late 2015
Crude prices dropped a whopping 35% last year to levels not seen since the global financial crisis. Oil markets became increasingly unbalanced throughout the year.
On the one hand, demand for oil was slowing, especially in China. On the other, the world's biggest oil producers were pumping at record levels in a battle for market share. Even OPEC itself was unable to agree a strategy to support prices.
Saudi Arabia posted the biggest current account deficit of the group -- $41.3 billion.
Saudi Arabia has been used to sponsoring lavish social programs for its citizens, and subsidizing energy and water prices. It also splurges billions on imports.
Related: Saudis will soon be paying tax on soda and tobacco
But Saudi oil revenue plunged 23% in 2015. As a result, the government spent $98 billion more than it raised. It has responded with widespread spending cuts and has started to look for revenue sources elsewhere.
The world's top oil exporter has unveiled an ambitious plan to diversify its economy. It is planning to invest in tourism and give a boost to the private sector.
It also wants to sell part of state-owned Saudi Aramco -- the biggest oil company in the world -- and introduce new taxes to raise extra cash and create an investment fund.