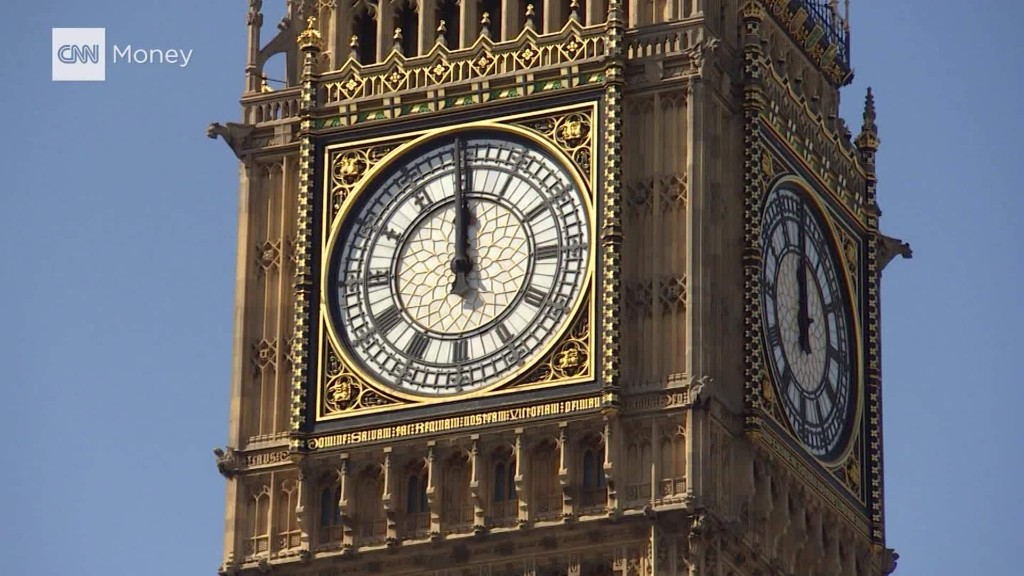 As the Brexit fallout starts to rain down over Europe, the airline sector will need almost immediate cover.
For the past 20 years, the basic rule has been that any airline based in a European Union country can fly anywhere within the single market whenever it wants.
That access has driven the success of Europe's low-cost carriers. London's EasyJet, Dublin's Ryanair and Spain's Vueling have opened new bases and routes that crisscross the continent.
Consumers have benefited from lower fares and more flights.
Now the decision by U.K. voters to quit the European Union puts that all in doubt.
It was no surprise that British airline stocks fell dramatically -- several north of 20% -- after the Brexit vote was announced on Friday.
As part of its divorce proceedings from the European Union, Britain will need to negotiate anew access to that single aviation market. It will also need to find its own place in the so-called Open Skies agreement, which for years has allowed European airlines and U.S. airlines smooth access to one another's markets.
There will be a price to be paid for this. The U.K. may need to accept the supremacy of EU aviation regulations and possibly the freedom of movement of workers. Both conditions would be absolute no-no's for Brexiteers.
Related: 3 huge headaches facing the U.K.
EasyJet (ESYJY) is one of the airlines in an undeniably tight spot. While 20% of its business is U.K. based, its biggest growth area has been in mainland Europe, with flights that never touch the U.K.
EasyJet has opened bases in Spain, Portugal, France, Germany and the Netherlands, without needing special permission from each. Securing separate certificates from each country would be extremely time consuming and expensive.
The carrier wasted no time raising the alarms.
"We have written today to the U.K. government and the European Commission to ask them to prioritize the U.K. remaining part of the single EU aviation market," EasyJet CEO Carolyn McCall said Friday.
And on Monday, EasyJet warned its investors that its profits would likely suffer.
Another airline to watch closely is Ryanair, Europe's largest carrier. It will fly more than 100 million passengers this year and suffers the opposite problem from EasyJet.
Ryanair, from Dublin, flies on an Irish operating certificate, so its mainland European bases will be safe. But its U.K. operations across more than a dozen bases may need a new British operating certificate. Ryanair has already forecast that fares will rise because of Brexit.
Related: London banks will pay a 'price'
British Airways owner IAG (ICAGY) has a mind-boggling path ahead. It also owns Aer Lingus, Iberia, Vueling and OpenSkies. British Airways and OpenSkies are certified in Britain. Aer Lingus is regulated by the Irish authorities. And Iberia and Vueling operate under Spanish certificates.
But the biggest headache for IAG could be BA's transatlantic routes from the U.K. to the United States, currently governed by the Open Skies treaty. The U.K. will have to either agree to be covered by the existing European Union treaty or quickly negotiate a new bilateral agreement with Washington.
And that would have to happen within two years, when the U.K.'s secession from the European Union is expected to be completed.
The uncertainty for the airline, and its high-spending business customers, led IAG to be among the first companies to warn Friday that its short-term profits will tumble.
What happens next?
Europe must agree to allow U.K. airlines access to the single market. But it's highly likely the Europeans will extract a high cost. And meanwhile, competitors like Lufthansa and Air France may well take the opportunity to restrict formidable competitors like Easyjet from European skies.
The airline industry has been one of the strongest beneficiaries of the single market. Unless there's at least a sign that both sides are willing to reach a deal, uncertainty will fester and fares will go up. A generation of open skies may be about to close.