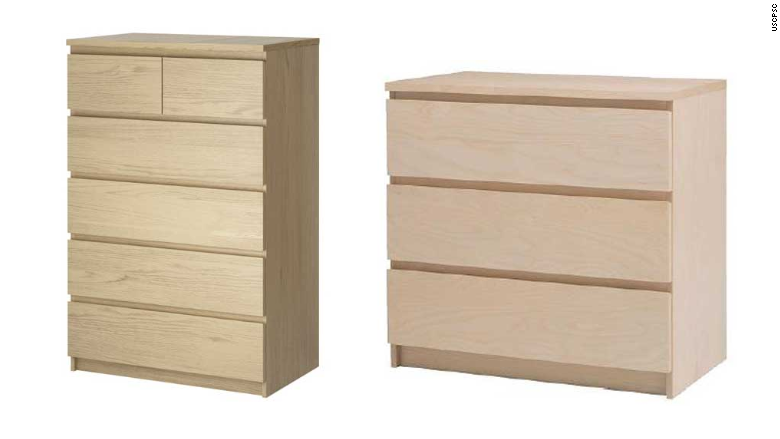 Ikea is offering refunds as part of a recall of 29 million chests and dressers. The furniture is prone to tipping over and has been linked to the deaths of several children.
In a statement on Tuesday, the company said it would offer full and partial refunds, as well as free home installation of wall brackets.
The full and partial refunds will be issued once customers return the furniture. They can either bring their items back to the closest store or arrange for free pick-up.
The size of the refunds will depend upon the circumstances. Here's the breakdown:
Full refund: If the chest of drawers was manufactured between January 1, 2002 and June 28, 2016.
Store credit for 50% of original price: If the item was manufactured before January 2002.
Store credit of $50: If the manufacturing date cannot be determined.
Related: Volkswagen agrees to record $14.7 billion settlement over emissions cheating
The recall includes Malm chests and dressers with 3, 4, 5 and 6 drawers, as well as children's chests and dressers taller than 23.5 inches and adult pieces taller than 29.5 inches.
The dressers can topple if not properly anchored to the wall.
All of the recalled furniture was sold through June 2016.
For more information, visit Ikea's website or call Ikea at (866) 856-4532.
Related: Jeep owners sue Fiat Chrysler over defect
"Every two weeks a child in the U.S. is killed in a tip-over related incident involving furniture or TVs," CPSC chairman Elliot Kaye said in a statement Tuesday.
Kaye urged consumers to respond to the recall quickly: "Do it now and you may save the life of a child."
On Monday, Ikea issued a statement explaining that it was recalling the furniture "given the recent, tragic death" of a 2-year-old boy from Pennsylvania.
There have been five other deaths related to Ikea dressers since 1989.
Related: Toy jewelry kit recalled for lead threat
Ikea started a repair program last July after two toddlers were killed. It issued replacement wall brackets but did not change the design of the furniture or take it off the market.
On Tuesday, Ikea released a statement saying the remaining chests and dressers in its inventory comply with industry standards, and the company is making changes to those that don't comply.