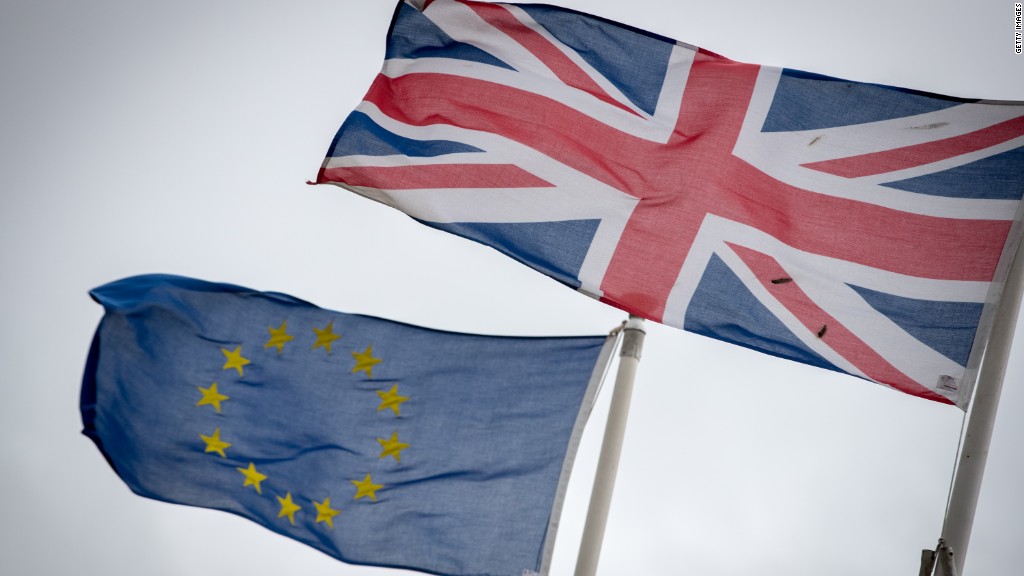 Cities around Europe are getting ready to fill the big Brexit-shaped hole emerging in London.
Britain's vote to leave the European Union rocked the global financial markets and tanked the pound. One of the main concerns is the future of London as the financial and tech capital of Europe.
Many global companies said they might have to move some of their operations away from the British capital to protect their EU status. And cities are already lining up to welcome them.
Frankfurt
Frankfurt is eager to welcome bankers fleeing London. The German city is home to the European Central Bank, the Bundesbank, as well as the European Insurance authority.
Under EU rules, banks and insurance companies can operate anywhere across the EU if they establish operations in one of its member states. The city of choice has been London, but Frankfurt hopes it could become the next finance hub after Brexit.
London bankers after Brexit: Shock and fear for the future
"Frankfurt is well-equipped as a stable financial center to embrace those looking for a new base of operations within the Eurozone," Frankfurt Main Finance, the body representing Frankfurt's finance industry, said in a statement following U.K.'s vote to leave the EU.
Frankfurt also regularly ends high on quality-of-living rankings. According to Mercer's 2016 survey, Frankfurt is the 7th top place to live, ahead of London, Paris and New York. The city is also smaller and more affordable than London.
Luxembourg
Luxembourg punches way above its weight when it comes to finance and banking. The Grand Duchy is already home to 143 banks with combined assets worth 800 billion euros ($885 billion).
Bankers could be attracted by Luxembourg's cosmopolitan community -- nearly half of its 563,000 inhabitants are foreign.
Related: Brexit will mean higher taxes, less spending for U.K.
Luxembourg is also home to the European headquarters of several big global corporations, including Paypal, Skype and Delphi. The companies are attracted by Luxembourg's low corporate taxes.
Paris
Financial services firms in Paris already manage 2.6 trillion euros worth of assets, according to the French government. The city is also home to Euronext, Europe's second largest stock exchange, just behind London in terms of transaction volume and stock market capitalization.
Paris is also key for the bond markets; firms in Paris carry out nearly 35% of total bond issues in the eurozone.
Related: Brexit's broken promises
But many international companies might be reluctant to set up large-scale operations in Paris because of France's strong worker protection laws.
Dublin
Dublin is already rivaling London as a major European tech hub. Google (GOOGL), Facebook (FB), Dropbox and Twitter (TWTR) have set up their European headquarters in the Irish capital.
English is Dublin's main language and the city could attract some banks. More than 50% of the world's leading financial services firms already have subsidiaries in Dublin, according to the city's International Financial Services Centre.
Berlin
Berlin is a huge magnet for younger tech talent, thanks to its attractive culture scene and cheap rents. The city claims a startup is founded every 20 minutes. Local success stories include Zalando, SoundCloud (originally from Sweden), Wooga and Delivery Hero.
Related: Can globalization survive 'Brexit' and Trump?
More than two thirds of the money invested in Germany in 2015 flowed to Berlin.
In 2014, Google (GOOGL) and Lufthansa launched Factory Berlin, a tech campus to foster cooperation between the city's many start ups.
Amsterdam
Amsterdam is fast becoming one of Europe's leading tech hubs and would be keen to welcome companies that might be looking for new European headquarters.
After all, Netflix (NFLX), Uber and Tesla (TSLA) have set up their regional offices in the Dutch capital. The Amsterdam Internet Exchange is now one of the world's largest data transport hubs.
Edinburgh
Scottish leaders are eager to remain the European Union -- even if it means pushing through another referendum to gain independence from the U.K. In 2014 the Scots voted 55.7% to 44.7% to not break away.
Edinburgh is the U.K.'s second largest financial center after London and home to a cluster of asset management companies. The Royal Bank of Scotland (RBS) is headquartered there.