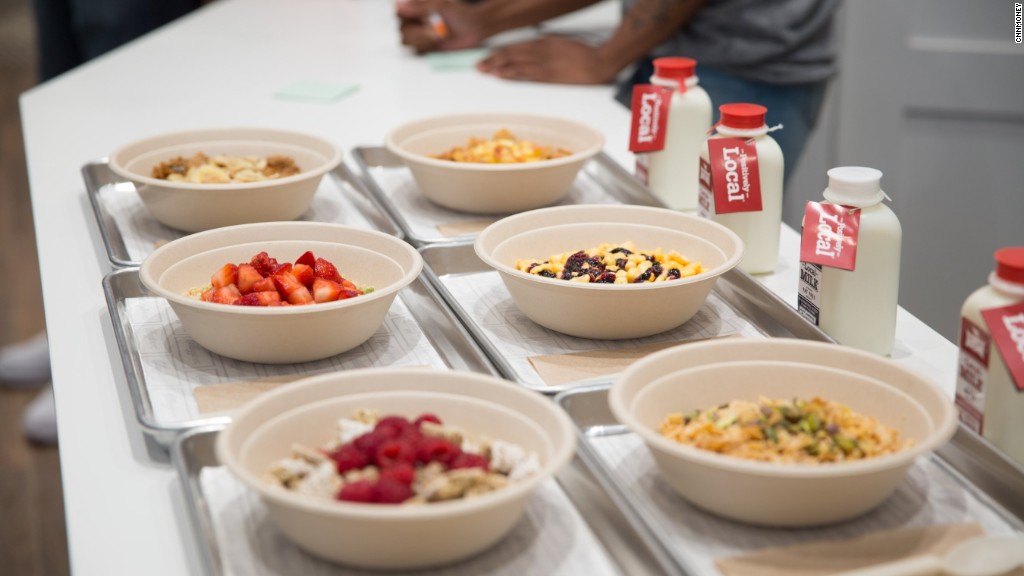 Kellogg's is raising the stakes in the all-day breakfast wars. A new cafe in New York City will feature dishes made entirely from its cereals.
The cafe, called Kellogg's NYC, launches on July 1 in the heart of Times Square. It will be the brand's first-ever permanent restaurant.
The menu features 10 items, priced between $6 and $8, made from cereals like Raisin Bran, Special K and Froot Loops.
An order of "Life in Color" includes a bowl of Froot Loops with lime zest, marshmallows and passion fruit jam. Order "Honey Buzz" and you'll get a bowl of Honey Smacks with honey, toasted pecans and banana chips. Prefer ice cream? You can swap that for the milk.
Chef Christina Tosi, founder and owner of Momofuku Milk Bar in NYC, helped develop the recipes.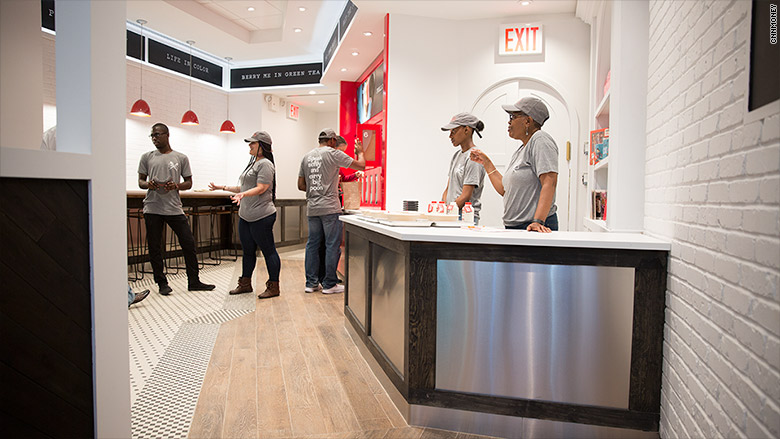 Kellogg's first collaborated with Tosi in 2014 when she created cereal recipes for a temporary pop-up shop in NYC.
"People were so wowed by her recipes that we felt we were onto something," said Noel Geoffroy, Kellogg's SVP of marketing and innovation. "We wanted to continue this partnership with her."
Geoffroy said the permanent restaurant makes sense given cereal's perennial popularity -- especially with millennials.
"One-third of cereal consumption happens outside of breakfast hours," said Geoffroy. "Cereals are meeting people's meal needs across all parts of the day -- in between meals, after school, even after dinner."
Related: Paging Jerry Seinfeld! Kellogg near all-time high
The cafe itself is also designed to offer a unique dining experience, said Anthony Rudolf. He's the founder of Journee, a collaborative New York space for people in the restaurant industry, which partnered with Kellogg (K) to open the cafe.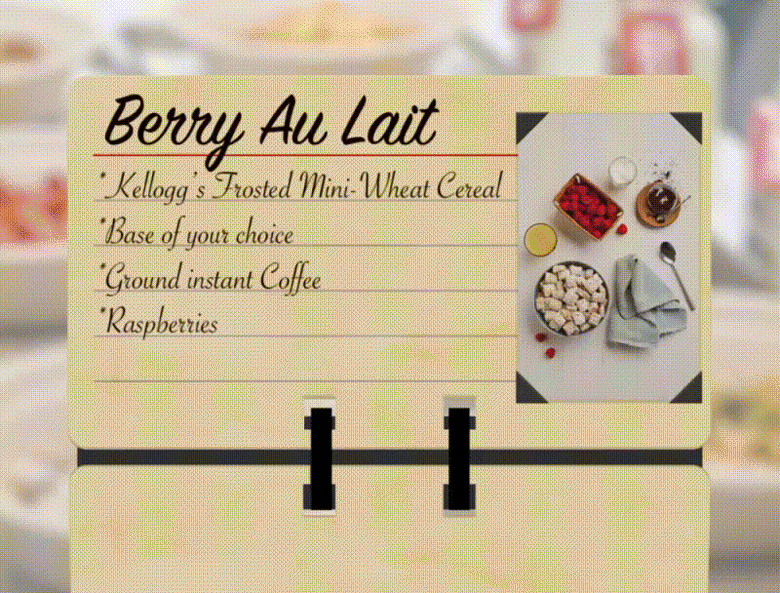 Customers place their order at the counter and are given a buzzer. When it's ready, the buzzer lights up with the number of a cabinet where the food can be picked up.
"The idea [with the cafe] is to take something that is already very familiar and make it new and fun," said Rudolf.
Related: iPads replace cashiers at SF's quinoa restaurant
Even though it's located in Times Square, Rudolf said the goal was to create an "antithesis" to the loud noises and giant LED screens in the busy tourist hub. The cafe has a retro feel, with white brick walls, tile floors and countertop seating.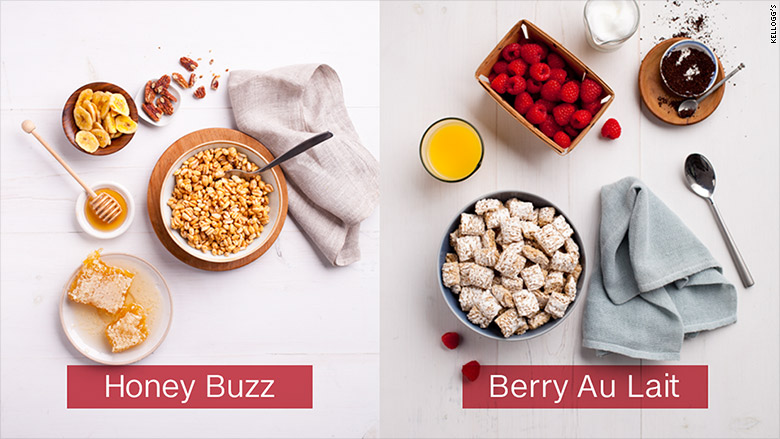 Rudolf said the concept cafe has been in the works for the past year.
"Kellogg and Journee are co-owners of the cafe, but our approach is to run it like a small business," he said.
He said the cereal-only cafe makes sense because consumers have broken boundaries when it comes to meals.
"People are eating chicken and salads during breakfast hours and cereals any time of the day," he said.
Related: Breakfast is changing. Is it for the better?
Fast food chains like McDonald's (MCD) have capitalized on these blurred lines; last fall, McDonald's rolled out its all-day breakfast menu.
While Kellogg is funding the venture, Journee is responsible for its operations and creative direction. Rudolf isn't taking the commitment lightly.
"Before this, we had a team of eight at Journee," he said. "We've now added 40 people to focus on the cafe."
Related: London's first cereal cafe milks nostalgia
He's also not rushing ahead with expansion plans. The cafe is locked into a five-year lease in the Times Square location for now.
"In today's [business] environment, it doesn't work well to rush," he said. "We're going to really do our best with this one first."