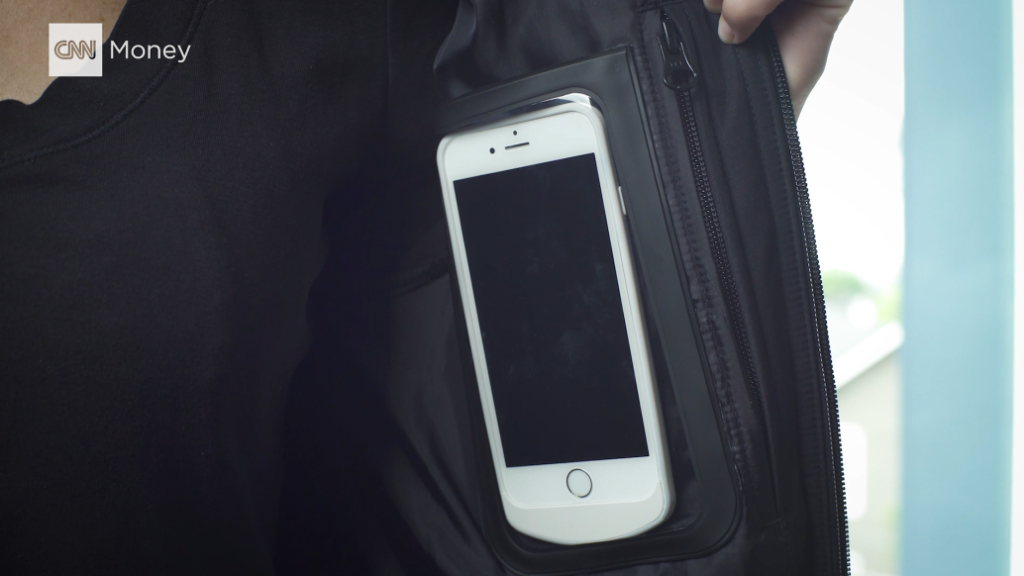 Hiral Sanghavi is at it again.
Less than a year after the Kickstarter campaign for his BauBax jacket raised a whopping $9.2 million, he's debuting his next project -- clothes that wirelessly charge your devices.
The project launched Tuesday on Kickstarter with a goal of raising $100,000.
With this line, his Seattle startup Baubax is turning jackets, jeans and shorts into mobile charging stations.
Related: The travel jacket that does 15 things at once
The clothing, which is machine washable, has copper wire built into it and a wireless charging pad that's stitched inside a pocket.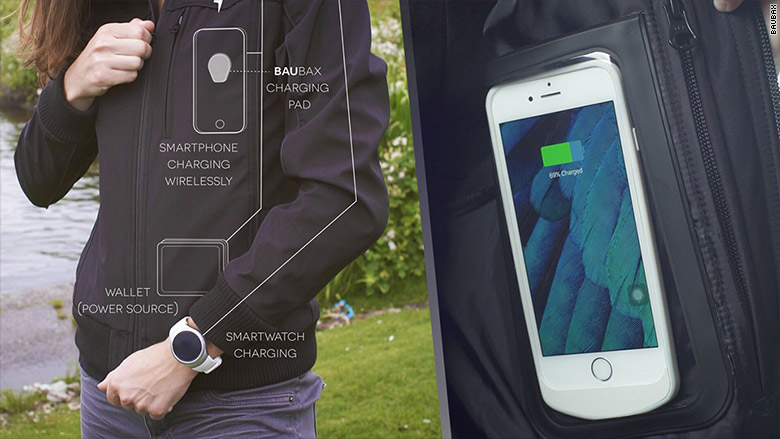 You charge an iPhone by putting it into a BauBax iPhone case and slipping it into the pocket. Android phones don't require the case because they have built-in wireless charging capability. The power source is a battery bank that fits into a wallet you carry in the clothes.
Sanghavi said the battery bank can provide one full charge to a smartphone, two charges to a smartwatch and four to bluetooth earphones.
The battery bank can be charged with a special BauBax charging pad. It takes two to four hours to recharge the battery bank.
Related: Kickstarter campaign that needed $20,000 got $9 million
Sanghavi, 30, had the idea for this wireless charging system when he was in Hong Kong.
"We were there for meetings with manufacturers. We were using our devices for GPS and other things a lot and constantly draining the battery," he said.
In all, BauBax is designing 27 products for wireless charging, including sweatshirts, jackets and wristlets, which can charge a smartphone inside of it. The clothes range from $140 to $170.
The collar in each jacket also features a plug-in point to charge wireless earbuds. A separate charging unit inside the jacket's sleeve can charge an AppleWatch.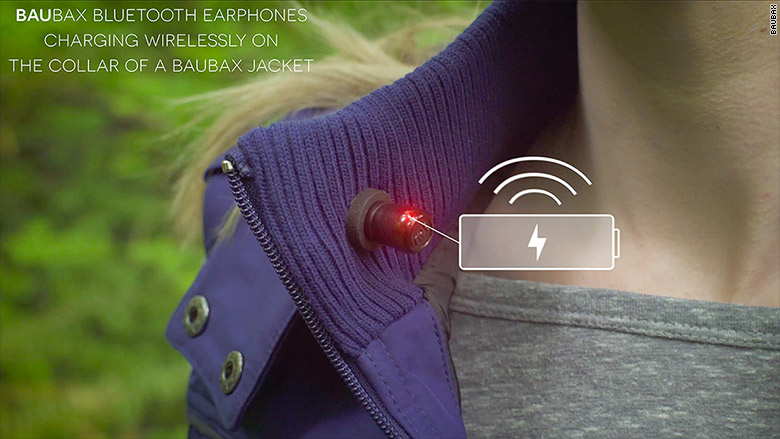 All the accessories, including the BauBax battery bank, charging pad, iPhone case, wristlet and wallet, are sold separately.
The company expects the clothing to be ready for consumers by January 2017. However, the products come with a caveat: people with pacemakers shouldn't use them because the electromagnetic fields may interfere with the pacemakers.
Related: This device can diagnose malaria in 5 seconds
Sanghavi hit a home-run with his first Kickstarter project. His campaign for the BauBax travel jacket -- which has 15 features that do everything from inflating an attached neck pillow to holding your soda can -- was the fourth most-funded on Kickstarter.
His company is already profitable, but it hasn't been without some backlash from consumers. The jacket was expected to be delivered in December and didn't start shipping until early spring.
"There was a four-month delay because we ran into supply chain problems," said Sanghavi. "It was a painful learning experience for us."
He said the vast majority of his 45,000 backers were happy with the travel jacket.
"We did have a 10% to 15% return rate for it," he said, adding that the most common complaints were about it being the wrong size or color.
He said the company is working with new distributors in order to avoid the same problems.
For Sanghavi, the second campaign isn't about money, per se.
"This one is about market validation," he said. "We want to know if there really is a need for this type of product."