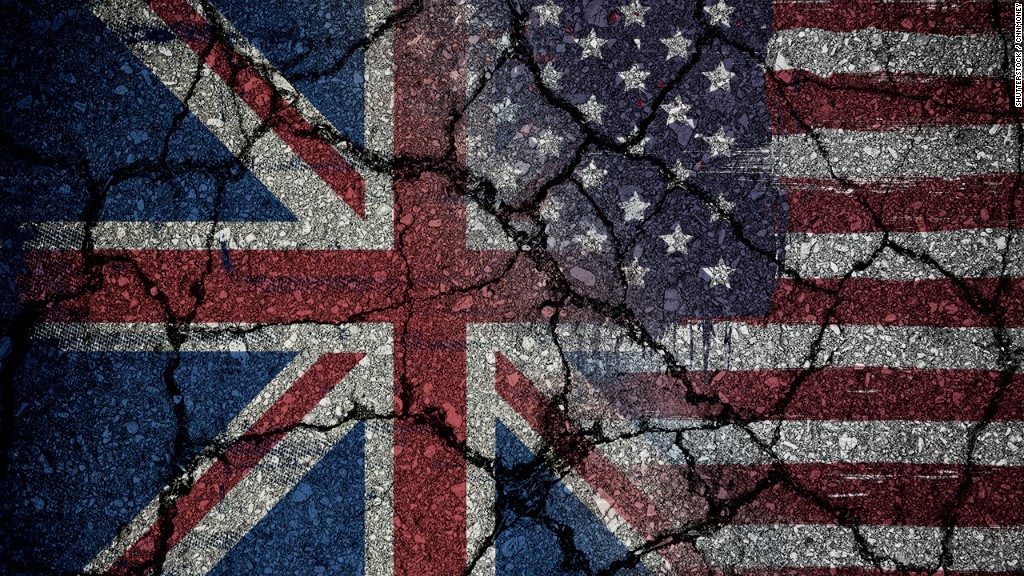 Still nervous about the impact Brexit will have on the global economy and stock markets? Relax. Have a glass of Scotch. And a cigarette.
Or invest in the big British makers of them. That's what an analyst at Goldman Sachs is recommending.
Goldman upgraded shares of U.K. consumer giants Diageo (DEO) -- the maker of Johnnie Walker Scotch whisky and Guinness beer -- as well as cigarette giant British American Tobacco (BTI) -- the owner of Lucky Strike, Dunhill and Pall Mall cigarettes.
Both stocks fell sharply Friday after the Brexit vote. They were down again Monday but bounced back Tuesday and Wednesday. And Goldman analyst Mitch Collett thinks Diageo and British American Tobacco could continue to rebound.
He argued in a report that both stocks have been oversold and that they might actually benefit a bit from Brexit.
Collett wrote that Diageo should get a boost from the fact that the British pound has been shellacked following the Brexit vote.
That's because Diageo is a huge exporter of Scotch, beer and other alcoholic beverages. More than 90% of its sales come from outside the U.K. So the weaker pound will actually boost its earnings from international markets.
Related: 20 stocks to buy after Brexit chaos
What about British American Tobacco? Collett thinks investors are focusing too much on the British part of its name and not enough on the American. (And other parts of the world for that matter.)
Only about 1% of British American Tobacco's sales come from the UK and just 20% is from Europe.
British American Tobacco, with a 42% stake, is the majority owner of U.S. cigarette giant Reynolds American (RAI). British American Tobacco also has a 30% stake in Indian cigarette maker and consumer staples giant ITC Limited.
Collett also likes the fact that both stocks offer dividends that are much higher than the rates for most government bonds.
Diageo yields 2.4% and British American Tobacco's dividend yields 3.8%. By way of comparison, the British 10-year bond is below 1% while the U.S. 10-year yield is only 1.5%. Rates are negative in Germany and Switzerland.
But Collett thinks British American Tobacco is a better bet than Diageo. He had previously rated both stocks as a sell -- a rarity since most big investment banks do their best to not alienate potential investment banking clients with that four letter dirty word.
His new rating on British American Tobacco is a buy while he still rates Diageo as only a neutral -- essentially a hold rating. Collett argues that it remains to be seen how Diageo will be impacted by new trade agreements with the EU in the post-Brexit world.
Still, it looks like investors are slowly beginning to realize that the indiscriminate selling of all companies with ties to the Union Jack was probably overdone.
And companies in the food and beverage and tobacco businesses usually hold up better than other consumer firms when the market is freaking out.