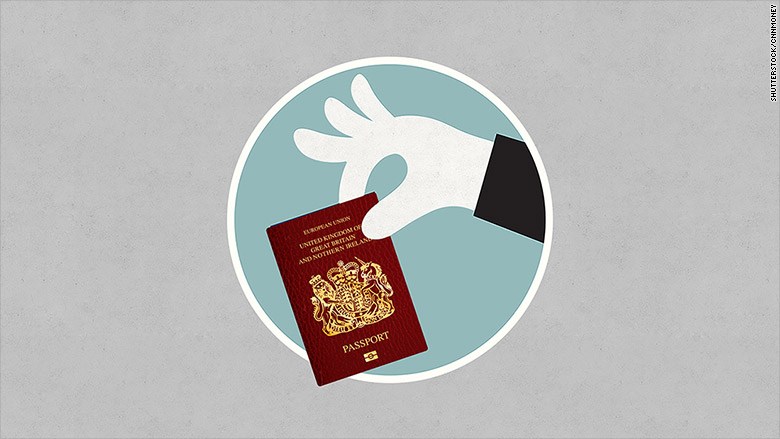 The coveted British passport is losing its luster in the eyes of many U.K. residents and foreigners following Britain's decision to leave the European Union.
The U.K. passport is currently considered one of the most powerful in the world, giving holders a huge amount of global mobility.
But as the U.K. is expected to exit the European Union in roughly two years, that would revoke British citizens' automatic right to move freely through 27 other EU member countries.
Any restrictions that may be placed on British travelers will be dependent on negotiations between London and Europe's de facto capital, Brussels.
In a worst-case scenario, these states could require Brits to apply for visitor visas, noted Armand Arton, president of Arton Capital, a financial firm that specializes in helping wealthy individuals obtain multiple citizenships.
The U.K. ranks #2 on Arton Capital's latest "Power Rank" index, which ranks passports based on how many countries passport holders can visit without a visa.
U.K. passport holders are currently able to visit 157 countries without a visa, just behind the 158 countries that German and Swedish passport holders can visit.
Arton warns that if and when the U.K. exits the EU, the British passport might only get you visa-free travel to 123 nations. That would give it a ranking at #26 and put it slightly below Mexico.
Related: Brits search for Irish passports after Brexit vote
On Friday, many British citizens began frantically looking for ways to keep their European citizenship after it was announced that U.K. voters chose to leave the EU.
Many turned to Ireland because British citizens with Irish parents or grandparents are entitled to hold Irish passports.
"Following the U.K. referendum, there has been a spike in interest in Irish passports in Northern Ireland, Great Britain and elsewhere," noted Ireland's minister for foreign affairs and trade Charlie Flanagan this week.
"An unnecessary surge in applications for Irish passports will place significant pressure on the system and on turnaround times and is likely to impact those with a genuine need for passports to facilitate imminent travel plans," he warned in a written statement.
The Republic of Ireland, which is separate from the United Kingdom, will remain in the European Union following a U.K.-EU divorce.
Ireland quickly created a dedicated Q&A section on its Foreign Affairs website to answer citizenship questions from curious Brits.
Related: I'm moving to the U.K. Should I be worried?
On the flip side, Arton expects the U.K. will receive significantly lower passport applications, especially from rich investors who would rather apply for citizenship from an EU nation like Cyprus, Malta, Spain or Portugal.