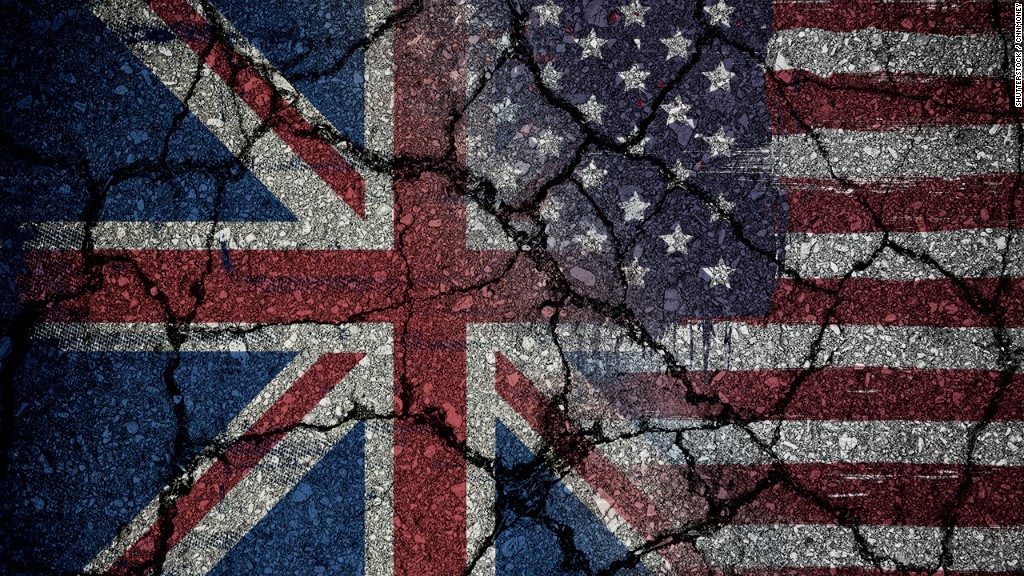 The Bank of England could act soon to stimulate the U.K. economy in the wake of last week's Brexit vote shock.
Governor Mark Carney said the bank's forecast that there would be a significant slowdown in growth in the event of a vote to leave the European Union was likely to come true.
"Does anyone in the country think that these risks have not begun to manifest?" he told reporters on Thursday.
"In my view ... the economic outlook has deteriorated and some monetary policy easing will likely be required over the summer."
The pound fell by 1.5% to $1.32, not far above the 31-year low hit in the immediate aftermath of last Thursday's EU referendum. The total loss since last Thursday is about 12%.
Related: Obama: Global growth could be hit by Brexit
Many independent forecasters have already slashed their forecasts for the world's fifth biggest economy for this year and next. The U.K.'s credit rating has been cut.
Some are even predicting recession, as the uncertainty about Britain's future weighs on spending and investment by consumers and businesses. The sharp fall in the pound could help exporters, but it will push prices of imported goods and energy higher, leaving people with less money in their pockets.
Carney said the central bank would make a preliminary assessment of the fallout on July 14, before considering how to respond in August.
Related: 3 hard truths for U.K. in EU divorce talks
U.K. interest rates currently stand at a record low of 0.5%. The Bank of England could cut them further, or revive a program of quantitative easing -- creating new electronic money to buy assets such as government bonds.
The program was launched in January 2009, and the bank has already bought assets worth £375 billion ($495 billion). It hasn't raised the ceiling since July 2012.
The asset purchases are designed to get more cash flowing through the economy.
But Carney has just one vote on the bank's monetary policy committee. Whether it responds quickly to the Brexit threat will depend on the views of the other eight members.
-- CNNMoney's Ivana Kottasova contributed to this report