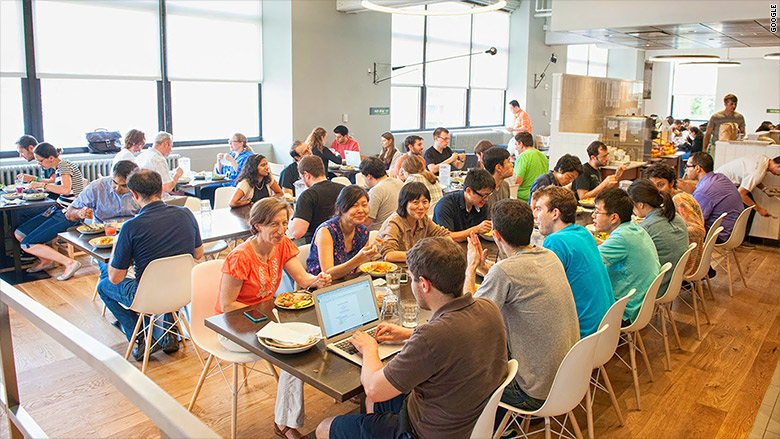 Google has mapped the world, indexed millions of books and launched giant balloons that beam Internet to remote regions.
But hiring more employees who aren't white men? Apparently that's tough.
Google acknowledged on Thursday that it failed to make any progress increasing the percentage of black, Hispanic and multiracial employees in its workplace in 2015 despite a very public commitment and millions of dollars in resources to improve its diversity.
Just 2% of Google's overall workforce was black and 3% was Hispanic as of the end of 2015, unchanged from the year before when Google first released its internal numbers. The vast majority of Google employees (59%) are white, down a slim 1% from 2014. Another 32% of employees are classified as Asian.
The only silver lining in the report: the percentage of women in leadership roles at Google hit 24% in 2015, up from 22% a year earlier.
"We saw encouraging signs of progress in 2015, but we're still far from where we need to be," said Nancy Lee, VP of people operations at Google.
Apple (AAPL), Facebook (FB), Microsoft (MSFT) and many other technology companies have committed to releasing annual transparency reports amid criticisms that the workforces of these increasingly influential businesses remain dominated by white men. Like Google, however, these companies have made limited progress.
Last year, Google (GOOGL) pledged to spend $150 million on diversity programs internally and for the tech industry more broadly. The company offers unconscious bias training workshops, reviews its promotion processes and recruiting from historically black colleges and universities.
This week, Google launched a space in its New York office for Black Girls Code, a non-profit organization, and appointed its first black board member in a nod to improving diversity.
Part of the problem is simply Google's sprawling size. The company has more than 60,000 employees worldwide, according to its most recent earnings report. It would take hundreds of new diverse hires just to make a dent.
In an article this week about decades of failed corporate diversity programs, Harvard Business Review framed Google's efforts as a grand experiment.
"Leading companies like Bank of America Merrill Lynch, Facebook, and Google have placed big bets on accountability in the past couple of years," the publication wrote. "They're now posting complete diversity numbers for all to see. We should know in a few years if that moves the needle for them."