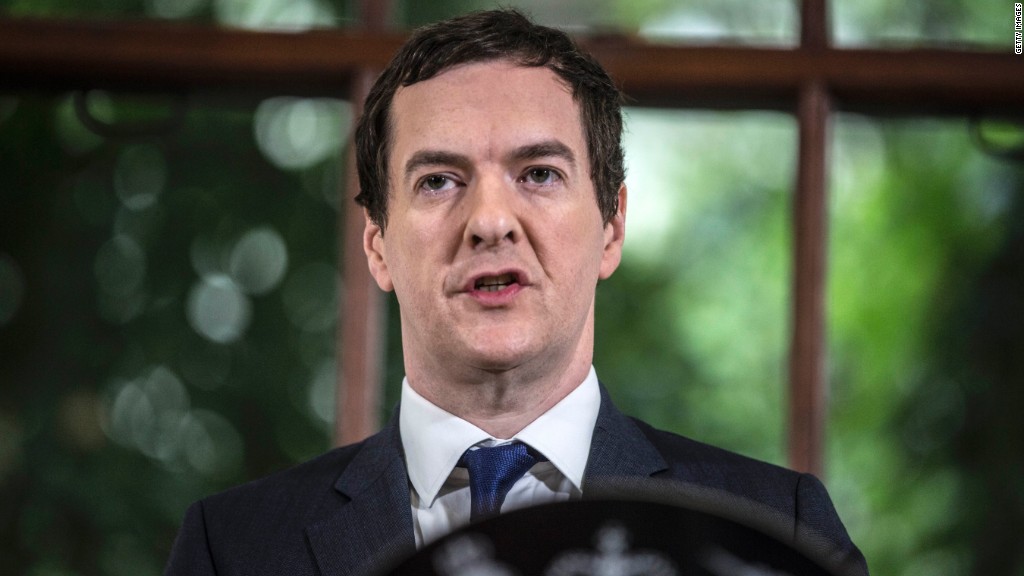 Brexit is starting to look like 2008 all over again for British bank stocks -- and some of their European rivals for that matter. But is this really the start of another worldwide financial crisis?
The leading U.K.-based financial institutions have all been pummeled since the British people voted to leave the European Union nearly two weeks ago.
An attempt by Bank of England governor Mark Carney to reassure frazzled investors on Tuesday did not work. The British pound has continued to plunge, wreaking havoc on several leading bank stocks.
Shares of Lloyds Banking Group (LYG) and Barclays (BCS) are each down about 30% since June 23. Royal Bank of Scotland (RBS) has plunged more than 40%.
The pain has spread to some big banks on the continent as well. Deutsche Bank (DB) is down about 25%, and near an all-time low. Many Italian bank stocks have plummeted too, raising worries about bad loans and insolvency.
The drops have been so severe that even the "better" performing banks -- companies like Credit Suisse (CS) and HSBC (HSBC) -- are still nursing double-digit percentage losses.
Related: Pound drops to lowest level in more than three decades
Big American banks won't be immune from Brexit pain either. Analysts at KBW recently issued a cautious outlook for the rest of the year for Bank of America (BAC), Citigroup (C), Goldman Sachs (GS), JPMorgan Chase (JPM), Morgan Stanley (MS) and State Street. (STT)
The KBW analysts cut their earnings forecasts for this group of big banks for this year and for 2017. They're now factoring in slower economic growth and weaker capital markets following Brexit.
Still, is the sell-off overdone? Maybe. Maybe not.
It's worth noting that while big banks are still down significantly from their pre-Brexit levels, the broader market has bounced back.
But that happened in 2008 too.
Shortly after Lehman Brothers collapsed, some thought that the worst might finally be over and stocks staged a little relief rally. It turned out to be a sucker's rally.
"History may be repeating itself right here before our eyes, given the huge selloff in stocks after the Brexit results were known, and then the bounce back of stocks a few days later." wrote Chuck Butler, managing director with EverBank Global Markets, in a note to clients Wednesday.
However, others were quick to point out that the Brexit saga is in many ways, more a political crisis than an economic one.
Related: Investors bail out of U.K real estate following Brexit shock
The good news -- if you want to call it that -- is that Brexit is not likely to lead to another global financial collapse like 2008.
"The disruption to commercial and legal structures caused by the extraordinary legal process that looms ahead will not ... cause systemic contagion à la Lehman Brothers as some analysts have worried," wrote Christopher Whalen, senior managing director with Kroll Bond Rating Agency in a report.
The bad news? It's still not going to be pretty.
Whalen added that the big risk for banks from Brexit is "a slowdown in economic activity that could materially impact volumes and earnings in the global banking industry."
And when you look at how miserably the big British, European and American financial stocks have done in the past two weeks, it's clear that the market does not think the worst is over for the big banks just yet. Not by a long shot.