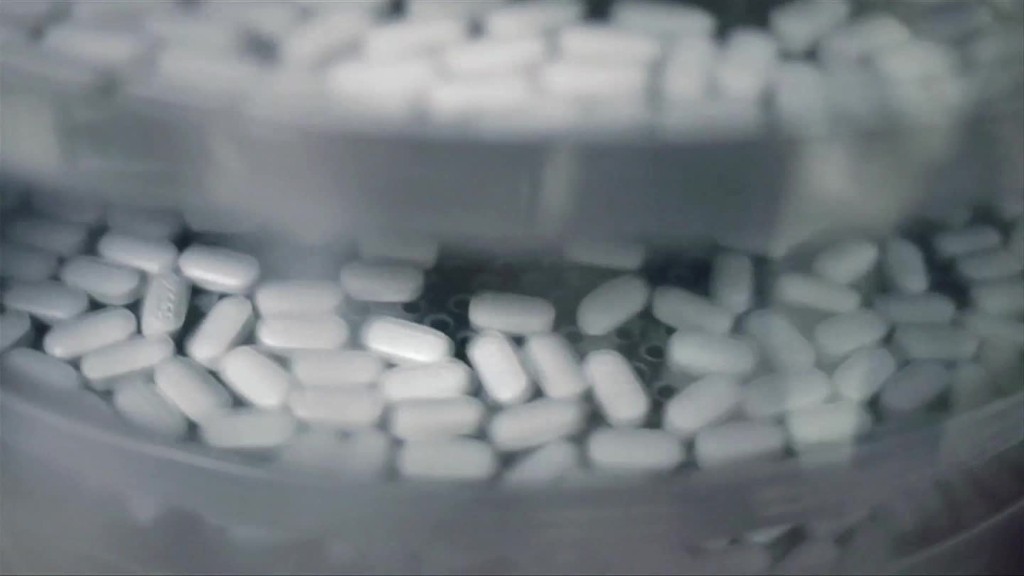 Will some Tylenol cure that pounding Brexit headache investors have been suffering from for the past two weeks? Probably not.
But owning some shares of Tylenol maker Johnson & Johnson could help alleviate some of the pain.
Johnson & Johnson (JNJ) is up 4% since the Brexit vote and has gained more than 18% this year. That's good enough to make J&J one of the top five Dow performers of 2016.
Only UnitedHealth (UNH), Verizon (VZ), Walmart (WMT) and Exxon Mobil (XOM) have done better -- and not by that much. No more tears, indeed! (That's a reference to J&J's classic marketing slogan for its baby shampoo, by the way ... not the Ozzy Osbourne album.)
So why are investors in love with J&J?
The company's dividend is a big draw. J&J yields more than 2.6% -- significantly higher than what you'd get from owning a U.S. government bond.
Related: Give me safety: U.S. bond yields hit record low
J&J's sales and earnings are also growing at a steady, if not spectacular, pace. Analysts are predicting that profits will be up about 6% this year and in 2017.
And Wall Street has even raised the consensus forecasts for J&J during the past few months. Good luck finding many other blue chip stocks where that's happened recently.
The company has a blockbuster arthritis drug called Remicade, which has more than held up well despite worries of increased competition.
Sales rose more than 11% worldwide to $1.8 billion in the first quarter. That makes Remicade J&J's biggest selling drug.
J&J is also doing well even as many other big healthcare stocks have been relatively flat. The Health Care Select Sector SPDR (XLV) exchange-traded fund, which has J&J as its largest holding, is up only 1% this year.
Related: Insurers want to hike Obamacare premiums 10% for 2017
Part of that is due to worries about the global economy. But there are also questions about how the sector could fare if Hillary Clinton defeats Donald Trump in November.
There are some concerns that Clinton may look to go beyond the Affordable Care Act -- aka Obamacare -- and enact even tougher rules governing health care.
A tweet last September about "price gouging" sent the biotech sector into a tailspin.
But it looks like J&J investors aren't fearing a Clinton (or Trump) administration. Instead, J&J seems to be the perfect place to hide if you're worried about all the turmoil outside the United States.