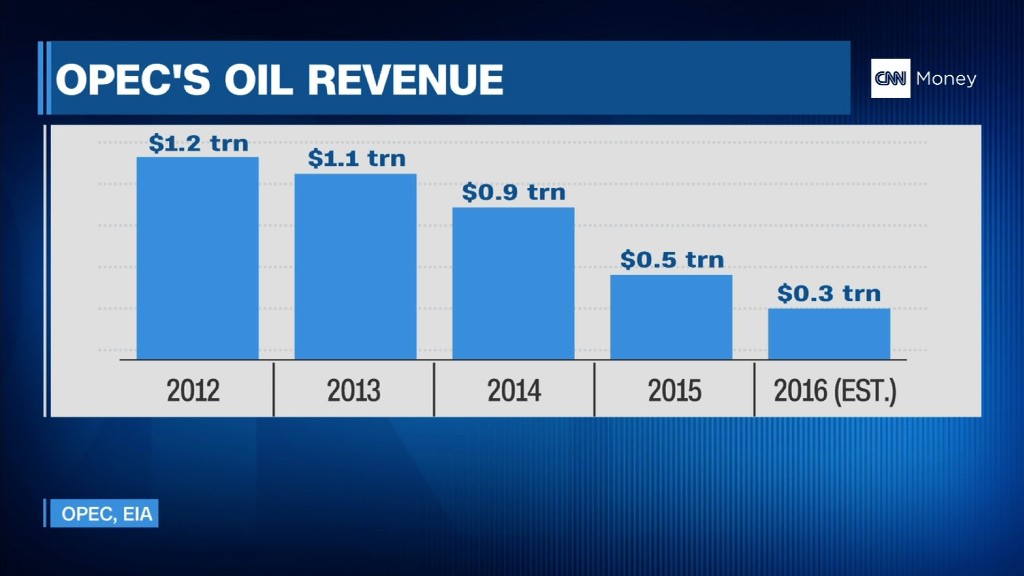 New cracks have emerged in the U.S. oil boom, thanks to the crash in prices orchestrated by OPEC.
U.S. oil production is down seven straight months and recently dropped below the 9 million barrel mark for the first time in nearly two years.
It's further evidence of how the supply glut and relentless pumping from Saudi Arabia, Iran and other OPEC nations have forced American shale companies to hit the brakes.
But OPEC has hardly dealt the U.S. oil boom a death blow. Production is still twice what it was in 2008 and there are early signs of a rebound thanks to the rally in oil prices. Goldman Sachs recently predicted American production will continue declining this year, but then resume growing in 2017 and beyond.
"Reacceleration of U.S. oil production may be gradual initially, but the world will still need U.S. shale longer-term," Goldman analysts wrote in a report this week.
In other words, don't expect U.S. production to fall off a cliff.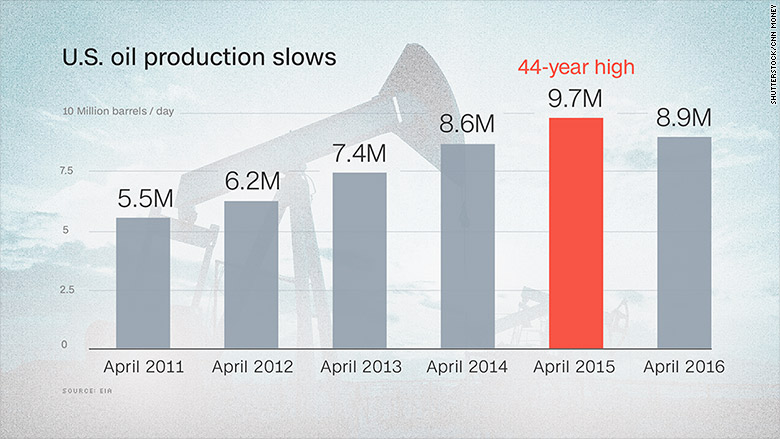 Related: Resilient U.S. oil companies start pumping again
It's clear there is tons of shale oil just waiting to be tapped when prices rise. The U.S. is sitting on 264 billion barrels of oil reserves, more than Saudi Arabia, Russia or any other country on the planet, according to Rystad Energy.
The U.S. pumped 8.9 million barrels per day in April, according to recently-released stats from the U.S. Energy Information Administration. That leaves output at a 20-month low and down by nearly 8% from April 2015, the best month for U.S. oil production since 1971.
The pullback in U.S. output makes sense given the crash in oil prices from above $100 a barrel in mid-2014 to as low as $26 this past February. That's simply too cheap for most of the shale oil fields that fueled the U.S. oil boom to be profitable.
But the recent surge in oil prices back to around $50 a barrel is already encouraging more U.S. production from the likes of Pioneer Natural Resources (PXD) and RSP Permian (RSPP), which have said they would add rigs at these levels.
Related: Why the U.S. oil stash has shrunk 6 weeks in a row
The closely-watched Baker Hughes oil rig count has increased in four of the last five weeks. And Goldman Sachs thinks that's just the beginning. The investment bank predicted depressed rig counts will double to 909 by the end of 2017.
Each new rig can pump an average of 27,000 barrels of crude per day, according to Capital Economics. That's quadruple the rate of two years ago, thanks to production gains and new technology.
Oil supply from the Lower 48 U.S. states could jump by 600,000 to 700,000 barrels per day between the fourth quarter of 2016 and the end of 2017, Goldman predicted. Analysts believe the shale ramp-up will focus on these four key oil plays: the Eagle Ford and Permian Basin in Texas, North Dakota's Bakken and the DJ Basin in Colorado.
"We're probably in the bottoming phase on production," said Tom Kloza, global head of energy analysis at the Oil Price Information Service.
That may be good news for U.S. consumers. The ability of shale companies in Texas and North Dakota to start pumping again could keep a lid on oil and gasoline prices.