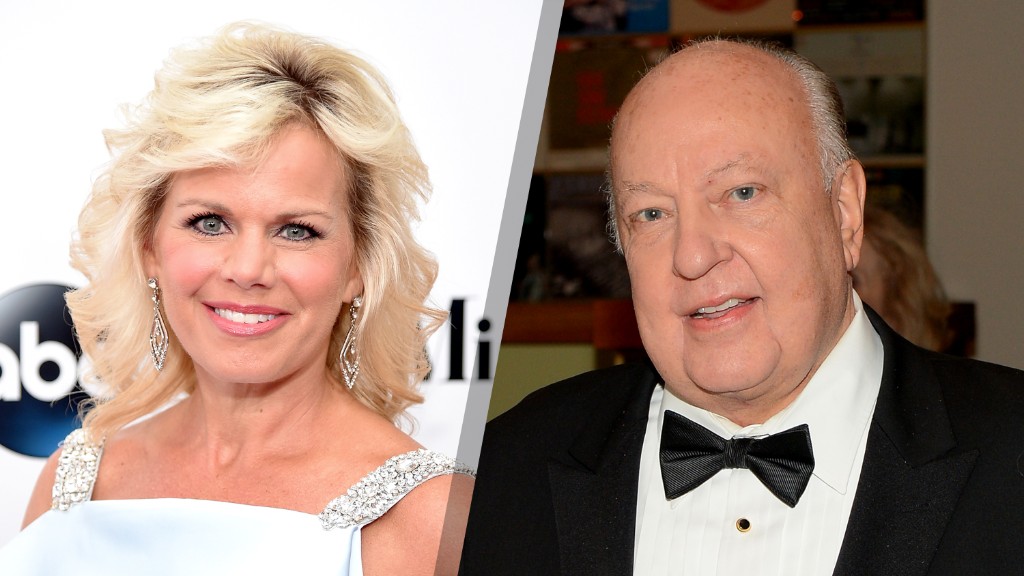 Former Fox News host Gretchen Carlson is suing the network's CEO and chairman Roger Ailes, alleging a pervasive practice of sexual harassment.
Now Ailes is vigorously denying her accusations and Fox's parent company is conducting an "internal review."
Carlson, 50, was removed from her 2 p.m. newscast "The Real Story" in late June. The lawsuit said she was terminated for "refusing Ailes' sexual advances."
But Ailes said in a Wednesday evening statement that the allegations are "false."
"This is a retaliatory suit for the network's decision not to renew her contract, which was due to the fact that her disappointingly low ratings were dragging down the afternoon lineup," he said. "When Fox News did not commence any negotiations to renew her contract, Ms. Carlson became aware that her career with the network was likely over and conveniently began to pursue a lawsuit."
Earlier in the day, Carlson's attorney Nancy Erika Smith, of the firm Smith Mullin, told CNNMoney that the lawsuit "didn't begin with her termination."
Smith asserted that Ailes' harassment was "very consistent and very pervasive."
In the hours since the lawsuit was announced, "at least ten" other women have contacted the law firm, wanting to speak about Ailes' treatment, according to a spokesman for the firm.
Smith emphasized that Carlson is only suing Ailes, not the network, but the lawsuit also describes "sexist" treatment from a fellow Fox host, Steve Doocy.
Just before Ailes spoke out, his bosses -- Rupert Murdoch and the two Murdoch sons who run 21st Century Fox -- issued a corporate statement.
"The Company has seen the allegations against Mr. Ailes and Mr. Doocy," the statement said. "We take these matters seriously. While we have full confidence in Mr. Ailes and Mr. Doocy, who have served the company brilliantly for over two decades, we have commenced an internal review of the matter."
The Murdochs had no further comment.
But Ailes did.
He said Fox News "provided her with more on-air opportunities over her 11 year tenure than any other employer in the industry, for which she thanked me in her recent book."
His statement concluded, "This defamatory lawsuit is not only offensive, it is wholly without merit and will be defended vigorously."
The lawsuit is a bombshell that could have serious consequences for Fox. In the tight-knit, ultra-competitive television business, there was immediate speculation about whether other women at Fox would come forward to back up Carlson's claims.
Ailes, now 76, founded Fox News in 1996 and has run the network with an iron fist ever since, with employees famously loyal to him. He signed another multi-year contract last year.
Ailes is known for having a bawdy, politically incorrect sense of humor. But Carlson's lawsuit alleges that he went much further with her.
It alleges that Ailes repeatedly "injected sexual and/or sexist comments" into conversations; made "sexual advances by various means;" and said to her last September, "I think you and I should have had a sexual relationship a long time ago and then you'd be good and better and I'd be good and better."
The suit says Carlson requested the September meeting because she was seeking to "bring to an end the retaliatory and discriminatory treatment she had endured."
Instead, the suit alleges, the "retaliation" continued through June, when her contract was not renewed.
The eight-page lawsuit, filed with the Superior Court of New Jersey on Wednesday, specifically alleges that Ailes violated the New York City Human Rights Law.
Asked whether Carlson has any recordings or other evidence, Smith said, "We are very confident in our evidence. We have very powerful evidence. But we don't want to discuss what the evidence is outside of the courtroom."
Smith said that the 2014 book about Fox and Ailes, "The Loudest Voice in the Room," by Gabriel Sherman, contains other accusations of sexual harassment by Ailes.
"The law is very clear that other victims' testimony is relevant in a sexual harassment case... We may be asking these other women to testify," she said.
At the same time the lawsuit was announced, Carlson wrote on Facebook, "As you may have heard, I am no longer with Fox News. I value your support and friendship, especially now, so please stay in touch with me."
In a statement, she called the lawsuit "a difficult step to take," but said, "I had to stand up for myself and speak out for all women and the next generation of women in the workplace."
Carlson, a Stanford graduate and a former Miss America, joined Fox News in 2005 after five years at CBS. She hosted the channel's flagship morning show "Fox & Friends" before being reassigned to the 2 p.m. hour.
In the complaint, Carlson's attorneys also spelled out what they said was "sexist and condescending" treatment that she experienced at the hands of another coworker: her longtime "Fox & Friends" co-host Steve Doocy.
Doocy, the complaint alleges, "engaged in a pattern and practice of severe and pervasive sexual harassment of Carlson, including, but not limited to, mocking her during commercial breaks, shunning her off air, refusing to engage with her on air, belittling her contributions to the show, and generally attempting to put her in her place by refusing to accept and treat her as an intelligent and insightful female journalist rather than a blond female prop."
In response to Carlson's complaints about Doocy, Ailes allegedly called Carlson a "man hater" and "killer," and admonished her to "get along with the boys."
That episode happened in 2009, according to the complaint. In 2013, the complaint claims, Ailes moved Carlson from the morning show to the 2 p.m. hour as "further retaliation for her refusal to accede to sexual harassment and retaliation."
The ratings for Carlson's program "The Real Story" were, by Fox standards, relatively weak, even though the numbers are up year-over-year thanks to the election news cycle.
Executives at Fox were well aware that the program had been falling behind CNN in the 25- to 54-year-old demographic.
"The Real Story" has been hosted by fill-ins in the days since her contract was not renewed.
On Wednesday it was hosted by 5 p.m. co-host Kimberly Guilfoyle, who made no mention of the controversy.
Meanwhile, Carlson's biography was taken off of the Fox News web site.
--Tom Kludt contributed to this report.