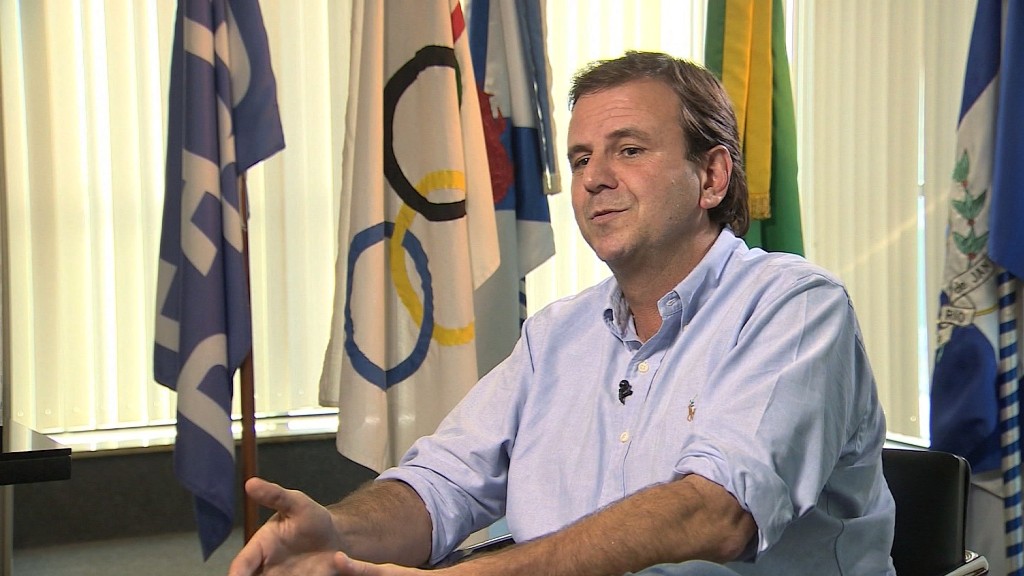 Rio de Janeiro still needs to prove its ready for the Olympic Games, which start in just one month.
Still on the punch list: How to deal effectively with the Zika virus and city crime. Finish a key subway line. Oh, and manage the ongoing fallout from an unprecedented political and economic crisis.
Two Brazilian tourism officials told CNNMoney that Rio will be ready for the Games. They say that security will be beefed up and the number of Zika cases in Rio has plummeted in Brazil's winter months. All the athletic facilities are now complete too.
Still, athletes and would-be tourists to the Olympic Games are concerned. Here's why.
The unfinished subway line
A subway line that would connect Rio to the Olympic facilities is still incomplete. It's supposed to be finished on August 1, just four days before the Olympics begin.
The state of Rio de Janeiro is responsible for its construction. The government declared a state of financial emergency, and last week it received a federal bailout of about $900 million.
However, none of that money went to the subway line. It's been used to beef up security and get cops overdue pay.
Officials say the subway line will be done on time. When pressed, Antonio Pedro Figueira de Mello, tourism minister for the city of Rio, told CNNMoney last week that the subway construction will meet its deadline. "I'm sure, I'm 100%. The metro is going to be there."
Related: Rio mayor - State doing 'horrible' security job
Zika and crime raise concerns
"We are not worried about mosquitoes," Antonio Pedro said about Zika.
But some athletes are scared about Zika. Among those who have said they will skip the games are golfers Rory McIIroy and Jason Day.
Jose Antonio Parente, the president of Brazil's tourism institute, Embratur, said there were 8,000 reported cases of Zika in Rio in February, but by June that number had shrunk to 366 cases.
"By August we expect that number to be very close to zero," Parente told CNNMoney through a translator.
Related: Rio police warn tourists at the airport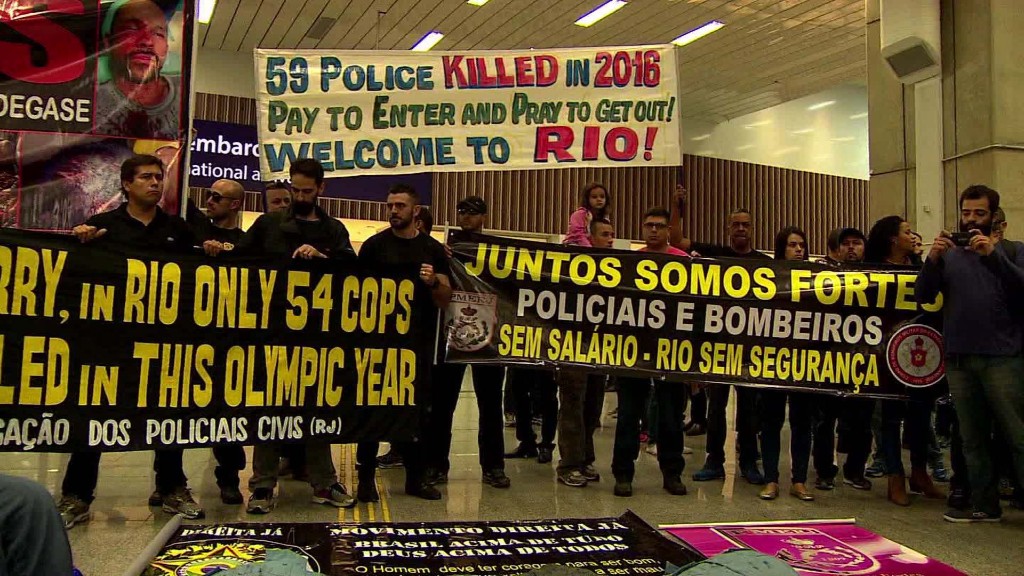 Crime is another concern.
Two weeks ago, several armed men barged into a hospital in Rio that has been designated to treat tourists for the Olympics. Shots were fired as they attempted to rescue a druglord. One person died and two others were injured.
On top of that, a paralympian from Australia was mugged in broad daylight recently.
Parente says there will be 85,000 military and police officers in Rio during the games, which would be about twice the amount of the London Games.
Officials brush off the incidents.
"It's something that just happens in big cities," said Antonio Pedro, referring to the paraolympian's mugging.
Related: Body parts wash up on Rio beach
Political tumult and economic crisis
The Summer Games were supposed to be Brazil's big moment. When it won the games in 2009, the country was considered an emerging power -- its economy was bigger than the United Kingdom's in 2011.
Now, Brazil's economy is in its longest recession since the 1930s, triggered by a steep fall in commodity prices and the widespread corruption scandal at Brazil's state-run oil company, Petrobras.
In May, Congress voted to begin an impeachment trial against President Dilma Rousseff. That suspended her presidency for six months, and interim President Michel Temer isn't having much more luck. Three of his ministers have resigned due to corruption allegations.
Related: Brazil dives deeper into recession
Brazil's tourism officials say the upheaval is not that much different than it was in 2014, when the country hosted the soccer World Cup.
"If you look at the World Cup [in 2014], we are living in more or less the same moment," Antonio Pedro said.
Before the World Cup, demonstrators took to the streets to protest spending on stadiums. And the economy was starting to turn south.
But Brazil's unemployment rate was 6.8%. Today it's 11.2%. Its economy was flat in 2014 and will contract severely in 2016. And of course the president had not been impeached.