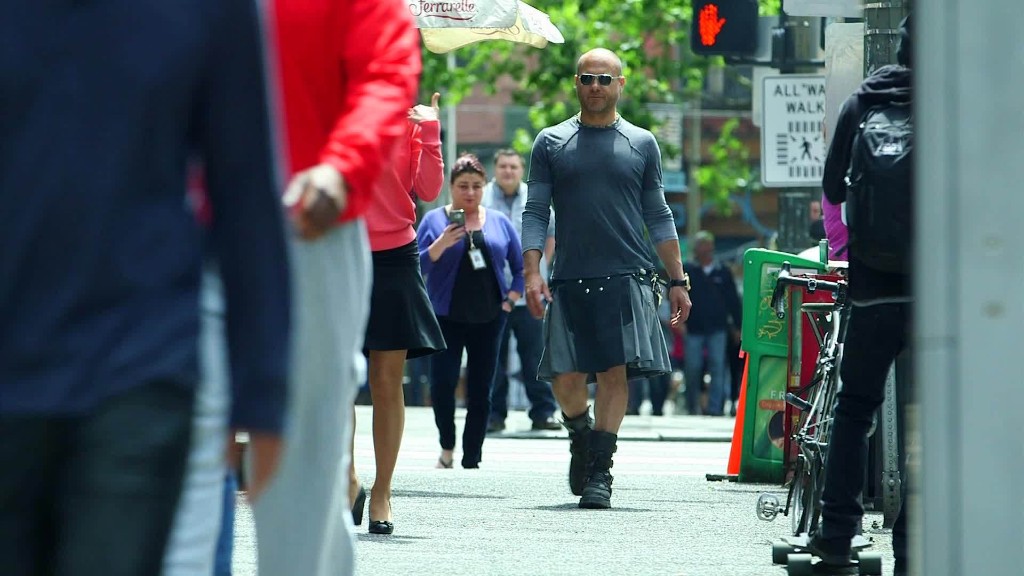 Steven "Krash" Villegas was dying from the heat working construction jobs in Spain nearly 20 years ago when the idea popped into his head.
"I was looking for something that was practical -- cooler than pants or shorts for sure-- and that was something I could wear all day long, something else than big tough jeans," says Villegas, owner of Utilikilts.
"I thought that the traditionally Scottish kilts were a great idea, but I wasn't Scottish. So I got around to saying I want something that's like a Scottish kilt but with pockets and belts and washable," says Villegas.
So he cut up an old pair of Army pants and created a kind of kilt with pockets and belt loops.
"It worked quite well and one day I wore it out in public and got a lot of compliments. Then I started wearing it a lot more and I started refining the idea."
When Villegas got back to the U.S., he started his company Utilikilts in 2000 based on that prototype. Sixteen years later, Villegas says his store has sold about 250,000 utility kilts.
"Physically, physiologically, men should be wearing the skirts," he says. "It's something men should've claimed a long time ago."
The California native sells them online, in his shop on Seattle's historic Pioneer Square and at festivals around the country.
"Comic-con, Sci-fi, Celtic... we'll do anything that is a cool, fun event," says Villegas.
He and his team of eight employees have been designing and making them ever since on the second floor of his store as well as small factories north of Seattle.
"We're profitable but it's expensive -- a real long road, takes a lot of diligence," says Villegas.
"A flag for the freethinker"
Villegas says his customers have no particular demographic but are all "free-spirited."
"They don't worry about what people are thinking about them. They have something more important to say. They're more practical, they're more comfortable," says Villegas.
The utility kilt is not just for counterculture types, says Villegas. He thinks it's practical menswear for the mainstream. But he says utility kilt wearers aren't wallflowers.
"If he's wearing a Utilikilt, the guy's got some authority. The guy's got some boss in his soul and it's gonna be projected."
A steady stream of customers from single men to families came into his Seattle store on one Friday in June. Villegas says half of his customers are women buying the kilts for their boyfriends and husbands.
"He wears it to music festivals, he wears it on the job, he wears it everywhere," says Kendra Goepfert, a customer who walked into the store looking for another kilt for her husband.
"You get a lot of glances and looks but it's a conversation piece, it's kind of a statement to say I'm a forward thinker, I'm cool with who I am," she says.
For Villegas, the Utilikilt is not just clothing but what he calls "a flag for the freethinker." The eccentric 49-year-old spent part of his youth traveling through Europe giving street performances as an actor and artist.
"In the beginning this was established as a very strong mark of my creativity, independence and originality. I turned it into a product where a lot of people could identify with that," says Villegas.
Related: See inside Utilikilts
The kilts come in several colors and four main models from casual to special occasion -- all with pockets and belt loops. But they're not cheap.
"Our prices right now start at $200 and go up to about $330," says Villegas.
The price is right, Villegas says, considering how complicated the production process is compared to making pants or shorts.
"It's more hours to build it, more material to build it. It lasts longer than most clothes because you're not going to blow out the knees or rip out the crotch."
And it's made right in Seattle.
"The fabrics are made in the States -- the thread, the labor, everything," says Villegas. "You gotta take care of your own backyard."