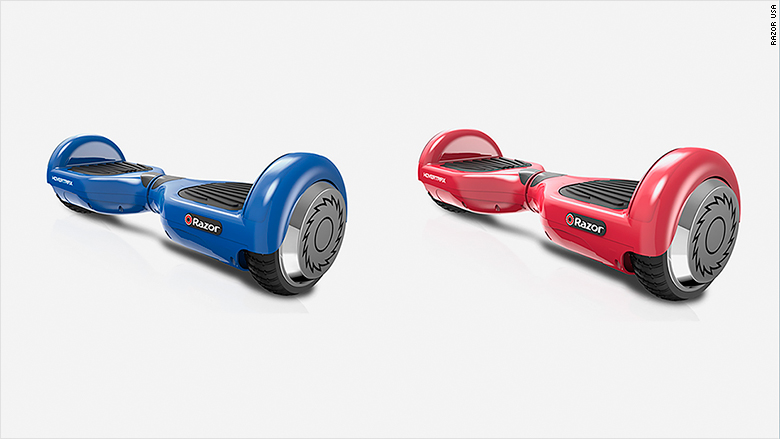 Razor, whose wildly-popular scooters have become a marquee brand, recalled all 28,000 of its hoverboards as part of this week's broad safety action by regulators.
The U.S. Consumer Product Safety Commission on Wednesday said it was recalling more than 500,000 hoverboards. In all, 10 companies were involved in the recall.
Razor started selling its Hovertrax last fall, shortly before the CPSC announced an investigation of hoverboards over their lithium-ion battery packs.
The concern was that the battery packs could easily overheat, posing a fire hazard.
The CPSC investigation prompted retailers like Amazon (AMZN) and Overstock to ban several of the brands until the safety concerns were resolved.
At the time, Razor's CEO Carlton Calvin said the issue didn't affect Hovertrax.
"Ours is a certified product that meets its safety requirements," Calvin said in December, when no universal industry safety certification existed for hoverboards.
The company said its safety endorsement of Hovertrax was based on whatever applicable safety standards existed then.
"We believe our products were the best initially on the market and met all [those] safety standards," the firm said in a statement to CNNMoney.
Related: Half a million hoverboards recalled due to fire hazard
In January, the industry established UL 2272, the first universal safety guidelines and requirements for hoverboards.
While not mandatory, the CPSC indicated to manufacturers that it would consider hoverboards that didn't meet the new voluntary safety standards to be defective and could potentially seek to recall them.
Katherine Mahoney, Razor's vice president of marketing, said the firm applied for UL 2272 certification for Hovertrax in January. The testing requirement involved evaluating the safety of the electrical system, including the battery and charger system.
Hovertrax qualified for the certification in June, Mahoney said.
"We couldn't then retroactively apply the certification to the products we had already made and sold," she said. For that to happen, Razor would have had to have consumers return all of the Hovertrax it had sold since November and have them retested under the new guidelines.
"We could only apply UL 2272 to new products going forward," Mahoney said.
Instead, she said, Razor participated in the CPSC recall to remove its older line from households and replace it with a newer model: Hovertrax 2.0 is consistent with the industry certification. The company said the new Hovertrax was inspected to meet UL standards.
It is expected to launch in August.