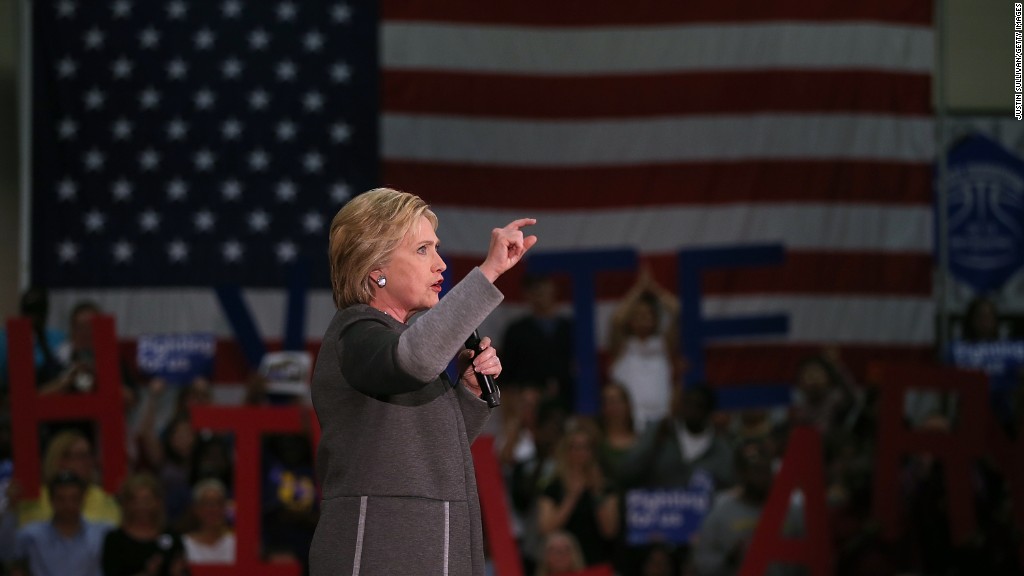 Donald Trump has promised to "save" America's long suffering coal industry.
In West Virginia, Trump promised coal miners he would save their jobs by pulling the plug on President Obama's "job-destroying" executive actions and dramatically cutting funding for the EPA.
"I'm going to put the miners to work," Trump said in May, accepting the endorsement of the West Virginia Coal Association, which represents mining companies. "We'll start winning, winning, winning, and you are going to be very proud, and for those miners, get ready because you're going to be working your asses off!"
If Trump does manage to reverse Obama's policies, it could help ease the pain in coal country. But a Trump victory in November won't be a cure-all for an industry that is reeling from a long list of challenges that extend way beyond regulation.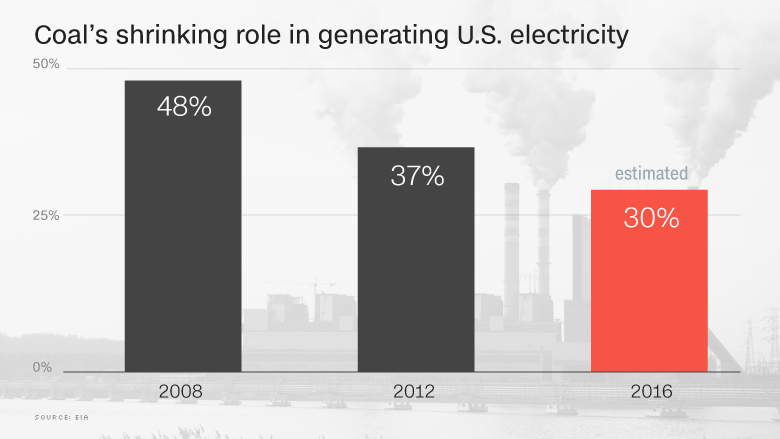 Related: Does Donald Trump's energy plan make sense?
Things have gone from bad to worse for coal -- just three months ago, the world's largest private coal producer Peabody Energy (BTU) filed for bankruptcy citing "unprecedented" industry pressure.
One of the biggest game changers for the industry is the abundance of cheap natural gas in the U.S. that comes from fracking or drilling shale formations. The coal industry views gas-fired power plants as its biggest threat. As natural gas has replaced other forms of power generation, coal's share of U.S. electric generation has gone from 48% in 2008 to an estimated 30% this year, according to the EIA.
Trump has made it clear that he is on coal's side. His Democratic rival Hillary Clinton, meanwhile, infamously promised in March to "put a lot of coal miners and coal companies out of business."
"This is one of the key differences between the two candidates and one of the biggest consequences of the election for the energy industry," said Joe McMonigle, senior energy analyst at Potomac Research Group who served as chief of staff in the Energy Department under President George W. Bush.
Clinton has voiced support for Obama's Clean Power Plan (CPP), a proposal currently being challenged in court that aims to lower pollution in part by discouraging coal-fired power plants. The plan is a critical element towards the U.S. meeting its pledge to lower carbon emissions as part of the UN climate change agreement recently reached in Paris.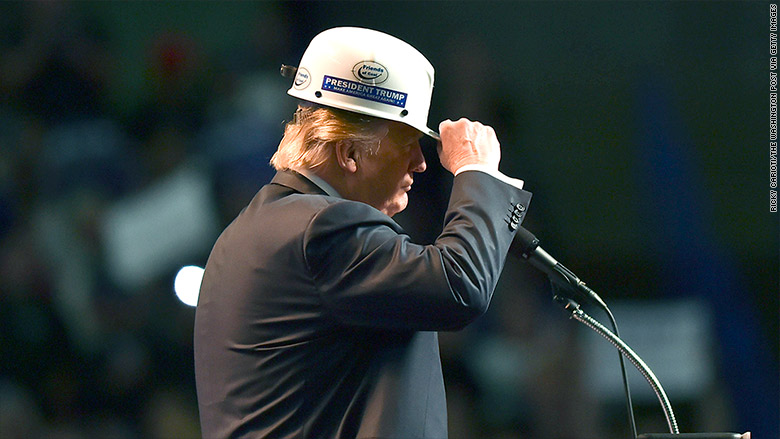 Related: Hillary Clinton can't kill coal. It's already dying
If CPP survives the legal challenge (and November election), U.S. coal production will shrink by another 26% through 2040, the U.S. Energy Information Administration recently projected.
"The impact of CPP is extremely significant. Some of the mines will just be shut down completely," said Sheila Hollis, a partner specializing in energy matters at law firm Duane Morris.
However, if CPP goes away, the EIA believes U.S. coal production would remain relatively flat through 2040. In other words, things would go from really bad to merely not good.
"Scrapping CPP would not save the coal industry. It would slow the decline of the coal industry," said Jason Bordoff, a Columbia University professor on global energy policy and former Obama adviser.
Of course, it's not clear that a Trump victory translates to the imminent death of CPP. Some believe a new president's hands are tied once the EPA rulemaking process has already begun. Others disagree, pointing to the enormous power Obama wielded on executive actions.
"It's nearly impossible to build a new coal generation plant in the U.S. right now. So the coal industry would settle for a less onerous regulatory structure and view it as a big relief," McMonigle said.
Related: Coal miners become computer coders
No doubt, coal, which is the biggest contributor to greenhouses gases, has also been hit by government support for cleaner energy sources like solar and wind and reduced Asian demand.
But cheap natural gas remains its biggest threat.
Trump, however, says he's also a fan of natural gas and has promised to boost already-robust natural gas production. That could run counter to his pledge to save coal.
So coal still faces daunting challenges, no matter who wins in November.
That's why Bordoff knocked Trump for making "empty promises" to bring back jobs instead of "serious plans to help workers in coal regions."
Editor's note: An earlier version of this story incorrectly described the West Virginia Coal Association as a miners union. It actually represents mining operators.