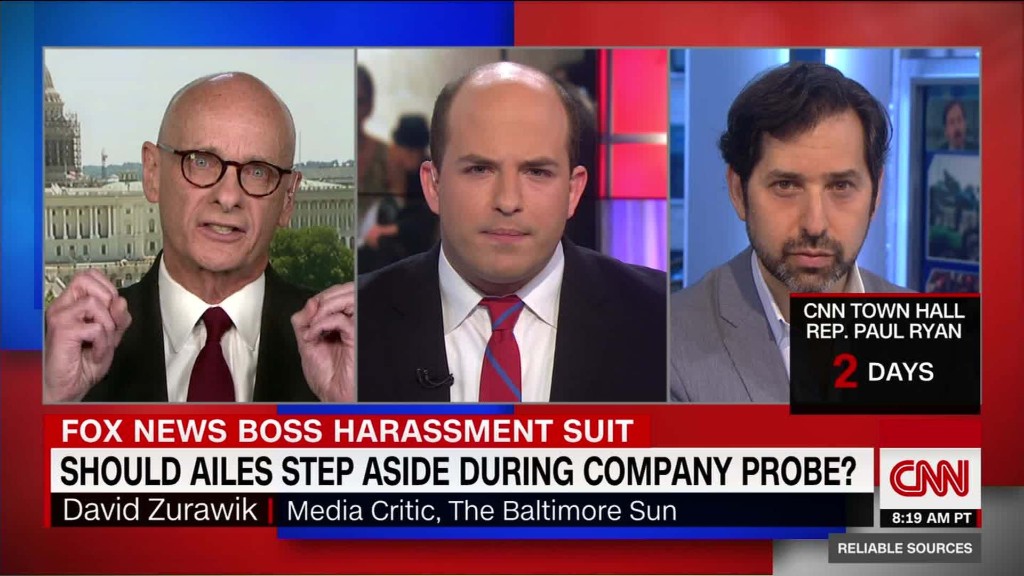 With one year to go before his contract with Fox News expires, Bill O'Reilly says he's not sure how much longer he wants to host "The O'Reilly Factor."
The "Factor" is the No. 1 show on cable news, and has been for over a decade, so this could be a big deal.
Or maybe O'Reilly is just posturing for an even higher paying contract.
Either way, his interview with AdWeek was eye-opening.
In the interview with reporter Chris Ariens, published on Monday, O'Reilly, 66, was asked, "How much longer do you want to do a nightly TV show?"
"I don't know. I go day to day," he answered. "I don't want to work this hard much longer. I know that. Because I work hard. I earn my money."
Related: Megyn Kelly says Bill O'Reilly didn't have her back with Donald Trump
O'Reilly's contract will come up for renewal in late 2017, according to two people with knowledge of the deal.
O'Reilly reportedly makes at least $15 million a year.
If he is serious about not working "this hard much longer" -- retirement or some form of semi-retirement -- it would be one of the biggest changes in the 20 year history of Fox News.
O'Reilly, as the host with the best ratings record of anyone, is the cornerstone of the network.
Replacing him would be a serious challenge for Fox News executives. (Watching them try would probably be a thrill for Fox's rivals, including executives at CNN.)
But there's reason to be skeptical about any retirement talk.
Related: Megyn Kelly broadens profile with Trump-powered interview special
Even if O'Reilly says he's going "day by day," he knows he has something special -- a loyal audience and a daily show that allows him to promote his other media and business ventures.
He publishes historical books, holds live events and produces a weekly Fox News history series, "Legends & Lies." It might be hard to walk away from his top-rated perch.
In the interview with AdWeek, he added this O'Reillyesque statement: "But the shocking thing to me is nobody beats me. These young gunslingers, they should be kind of beating me — but they're not."
O'Reilly keeps an extremely close eye on his ratings and his rivals' ratings. He's having a great year, just like the wider cable news world. In the second quarter of 2016, the "Factor" at 8 p.m. averaged almost 3 million viewers a night. The next highest rated show, "The Kelly File," which follows his at 9 p.m., averaged 2.4 million viewers.
Cable news advertisers covet the 25- to 54-year-old demographic. While O'Reilly's audience skews older, he has the biggest audience in the demo, too: an average of 464,000 in the second quarter. Kelly averaged 434,000 in the same demo.
O'Reilly and Kelly have an ongoing ratings rivalry, but they have something in common: looming contract talks.
O'Reilly's comment is the latest headline to raise questions about the future of Fox News.
O'Reilly has a very close relationship with Roger Ailes, the Fox News chairman and CEO. Ailes is under scrutiny due to sexual harassment allegations by ex-host Gretchen Carlson, who filed suit against him last week. Ailes has denied the accusations. 21st Century Fox says it has full confidence in Ailes but is conducting what it calls an "internal review" of the allegations.
O'Reilly and Kelly haven't publicly commented on the matter, but several other prominent Fox hosts have rallied to Ailes' defense.
And Kelly's deal with Fox expires in the summer of 2017 and has publicly said she's not sure if she will stay at the network.
O'Reilly didn't go that far in the interview with AdWeek.
He was also asked, "So who's the next Bill O'Reilly?"
"I don't wish that on anyone," he responded. "I think everybody has their own unique presentation. There will be somebody that comes. But it's not as easy as it looks."