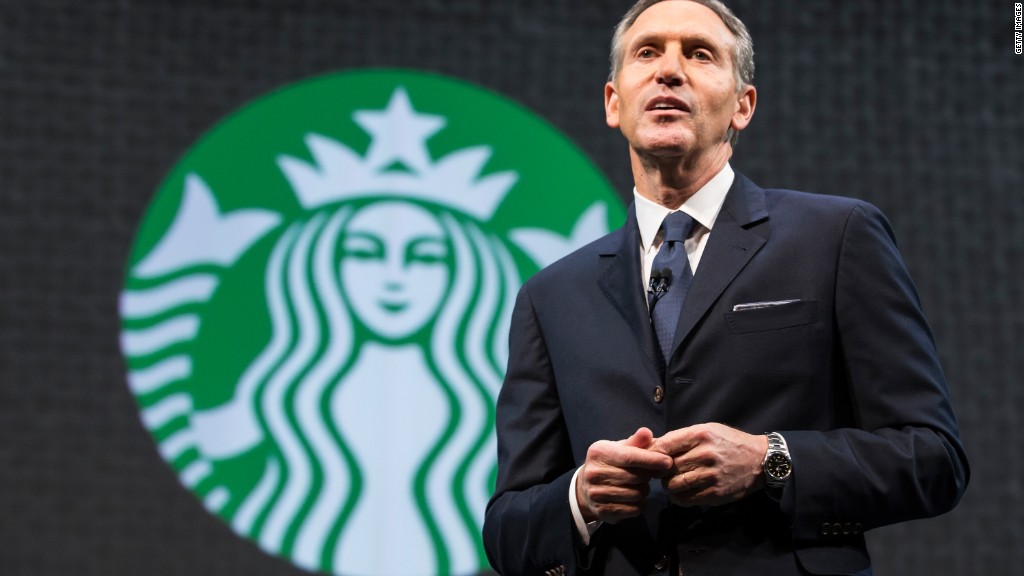 Starbucks employees will get a raise of at least 5%, the company said Monday.
In a memo sent to all 157,000 U.S. employees, CEO Howard Schultz announced a wage hike for all store employees and managers as of Oct. 3. Starbucks will also double the company stock awards for employees who've been there two or more years. Altogether, these changes will boost total compensation between 5% to 15% for all workers.
The raise applies to workers in Starbucks' 7,600 company-operated stores, but not in the nearly 5,000 licensed locations operated by other companies. It is the latest major U.S. retailer to raise wages as it tries to fill positions in the face of an improving labor market.
Starbucks employees earn an average of $9.43 an hour, according to Glassdoor.com, which tracks salaries and surveyed 2,600 of the chain's employees. The average annual wage came to nearly $20,000, including tips, company stock, and other bonuses, according to the website.
The company would only say that its pay range depends on where an employee lives.
Related: New Starbucks rewards customer program
The news of pay raises also comes the day before Starbucks institutes price hikes on many of its products. Some prices could go up by as much as 30 cents.
The pay hike comes at a time when the company is under fire from employees, who are unhappy that Starbucks has cut their hours. An online petition posted on coworker.org 18 days ago claims that cutbacks in hours and staffing at stores is killing employee morale and hurting customer service. It's already garnered 12,800 signatures.
Schultz addressed the issue about hours in his letter, saying "you have my personal commitment that we will work with every partner to ensure you have the hours you need."
He also said there would be changes in the health care program that will allow employees to buy less comprehensive, less expensive coverage that could save them between $800 to $2,600 a year, depending on whether they have individual or family coverage.
And finally to address morale he said the company is loosening its dress code "providing more room for self-expression."
Related: Starbucks CEO says voters are embracing 'fool's gold'
Schulz told CNN this spring that the moves in many states and cities to raise the minimum wage are "heading in the right direction." Despite a push for a $15 national minimum wage by Democrats and labor groups, Schultz said he believes minimum wage increases are better done at the local level rather than nationally. He said Starbucks has always paid more than minimum wage in every market.
The cost of the raises were not disclosed, but the company had previously said it would spend $275 million in 2015 and 2016 on "digital and partner investments." A significant part of that cost will go to employee wages, said spokesman Corey duBrowa.
He said the company does not expect pushback from shareholders on the cost of the wage hikes. The company has posted record profits in the first two quarters of the current fiscal year. But Starbucks (SBUX) shares are down 6% so far this year.