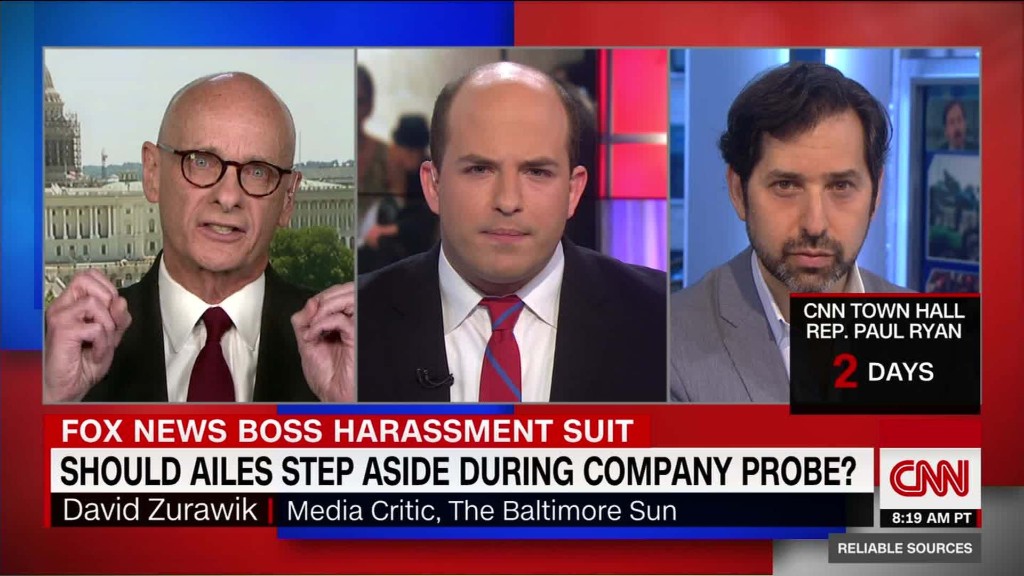 The female employees defending Fox News chief Roger Ailes against allegations of sexual harassment are doing more than supporting an embattled boss; they are also going to the mat for the channel's broader workplace culture and treatment of women.
The allegations against Ailes were made in a lawsuit brought last week by former Fox anchor Gretchen Carlson, who claims, among other things, that Ailes propositioned her for sex nine months before he ended her career at the channel.
In her complaint, Carlson also alleges Ailes ogled her in his office and asked her "to turn around so he could view her posterior," while urging her to wear outfits that "enhanced [her] figure."
Fox News anchor Sandra Smith dismissed any idea that Ailes had gone too far in instructing female employees how to look, telling The Hollywood Reporter that "image is important" in television.
"Amazing, a television executive who cares what his television screen looks like," Smith said. She also said that she has "never been instructed on the length of my skirt or the color of my lipstick."
Smith and other Ailes defenders have made points like that in recent days. Some have, at least judging by their published quotes, spent as much time defending Fox itself -- including the glossy, sexualized way it often depicts its female employees on-air -- as they have sticking up for Ailes.
That is at least in part because of the questions asked by reporters interviewing them, but the fact that the reporters have asked the questions says something, too. The coverage is not just about Ailes; it's about the perception, long held by many observers, that Fox has taken television's obsession with image further than other news networks, especially when it comes to its female on-air talent.
During a 2014 interview on CNN's "Reliable Sources," former Fox anchor Kiran Chetry admitted that the channel placed a greater focus on appearance than other shops. (Chetry also used to be an anchor at CNN.)
Asked by host Brian Stelter whether there had been more of a focus on her looks at Fox News than other places, Chetry responded, "Yes. ... [T]he joke was we should all buy stock in Mac lip gloss because we go through it. We used to call the hair and makeup studio, we used to call it the magic shop because we'd drag ourselves in at 2:00 in the morning and come out looking completely different."
But Chetry defended her former boss last week, saying she "never felt uncomfortable around Roger Ailes."
"In my mind, a boss complimenting me on how great I looked on air in a dress (or conversely saying how awful it read on TV) would be no different than a fashion designer telling a model 'I love that outfit on you, it makes you look beautiful' Or a photographer telling someone he photographed 'you look amazing in this picture," Chetry wrote on The Huffington Post.
Separately, in an interview with Mediaite published Monday, Fox host Harris Faulkner said, "We want eyeballs on the screen."
Other Ailes defenders, responding to questions from reporters, have taken issue with something that isn't mentioned in Carlson's complaint.
Faulkner and her Fox colleagues, Matha MacCallum and Ainsley Earhardt, all insisted that Ailes doesn't really have a strict prohibition on women in pants.
Ailes's purported leg obsession has been a well-traveled rumor in media circles for years.
Appearing at an event in 2013, NPR media correspondent David Folkenflik described what he called a "leg cam," saying that certain female hosts and guests are positioned on set in a way that allows the camera to showcase their legs.
And Gabriel Sherman's unauthorized 2014 biography of Ailes, "The Loudest Voice in the Room," contains multiple anecdotes about the mogul's insistence to get a woman's legs in a shot.
But Earhardt said she's "never been told you can't wear pants," and she denied the existence of a "leg cam."
Carlson hasn't levied any such accusations at Ailes, and her representatives contend that the wardrobe-related testimonials miss the point.
"We are glad that these women apparently are having a better experience at Fox News than Gretchen had," Carlson's attorneys, Nancy Erika Smith and Martin Hyman, said in a statement provided to CNNMoney. "None of them claims to have been in the room with Gretchen and Roger Ailes when he made sexual advances and inappropriate comments."
On Tuesday, in her first interview since filing the lawsuit, Carlson told the New York Times that Ailes' harassment was "continuous," and that she was "intimidated" by Fox's culture.
In response to a request for comment, a Fox News spokesperson directed CNNMoney to Ailes' original statement in which he called Carlson's allegations "false" and said the lawsuit "is not only offensive, it is wholly without merit and will be defended vigorously."
The spokesperson also echoed Faulkner, MacCallum and Earhardt in saying that Fox has no edict related to pants.
Carlson herself discussed Fox's dress code when she was still employed there. In a 2013 radio interview, she seemed to make light of the channel's rules on legwear.
"Now, pants were not allowed on 'Fox & Friends,' remember?" she said.