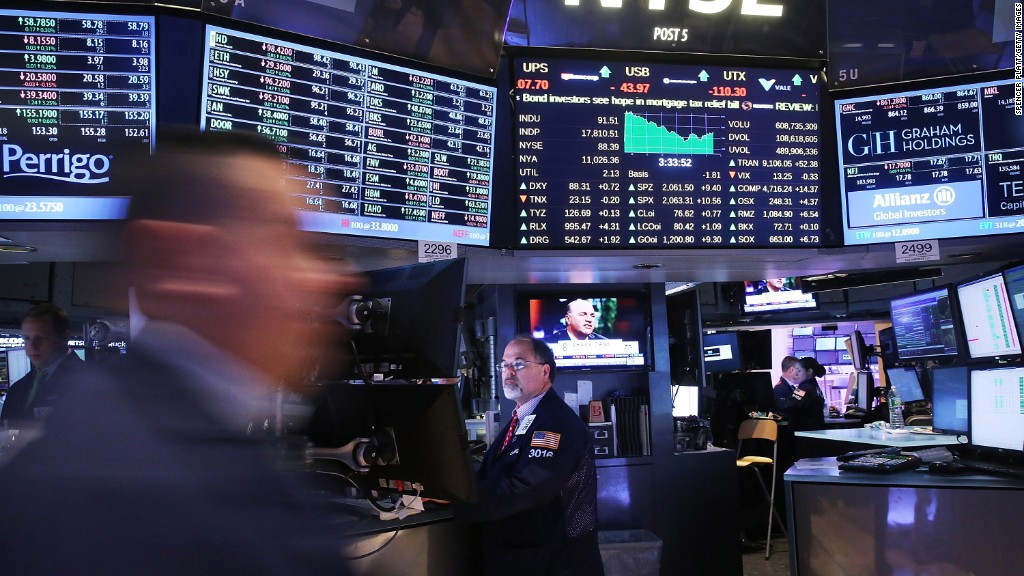 U.S. stocks look set to punch through to new record highs Thursday.
The CNNMoney Fear & Greed Index shows investors are feeling extremely greedy right now.
Here are the five things you need to know before the opening bell rings in New York:
1. On a high: U.S. stock futures are climbing again.
The Dow Jones industrial average and S&P 500 finished Wednesday at fresh closing highs. But investors are still looking to buy.
European markets are also rising in early afternoon trading, with some key indexes up by about 1%. Most Asian markets ended the day with small gains.
However, the Singapore Exchange had problems Thursday. It had to halt trading in the morning following issues with "duplicate trade confirmation messages," according to a tweet from the exchange's official Twitter (TWTR) account. It remained shut for the rest of the day. It plans to resume trading Friday.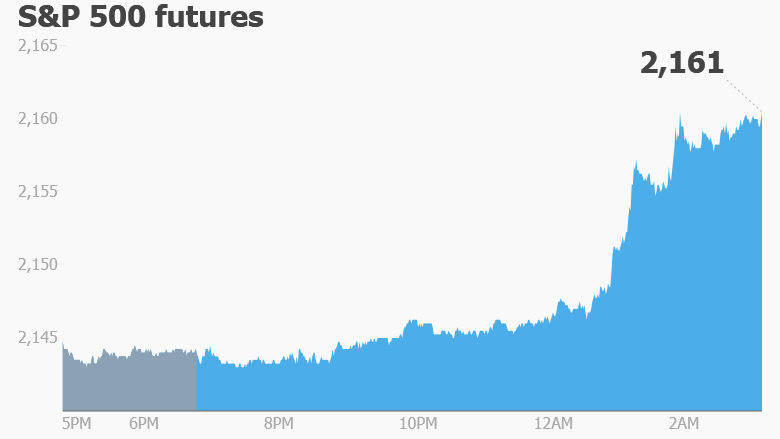 2. No easing in England: The Bank of England has left interest rates unchanged Thursday but said it could ease monetary policy in August to support the U.K. economy.
The Bank of England's key interest rate is already at a record low of 0.5%, but traders had expected a further cut.
The central bank decision caused the pound to shoot up to nearly $1.35 from $1.32. It has since given back some gains. The FTSE 100 dipped into negative territory after rising earlier in the day.
The U.K.'s Brexit referendum on June 23 led to extreme market volatility and political uncertainty. Business sentiment has slumped and consumer confidence has taken a hammering. The housing market is freezing up.
3. Earnings: Earnings season is really kicking off right now. Companies including JPMorgan Chase (JPM), Delta Air Lines (DAL), Progressive (PGR) and BlackRock (BLK) are reporting ahead of the open.
Yum Brands (YUM) -- which is the parent company for Taco Bell, Pizza Hut and KFC -- saw shares jump by about 5% in extended trading after it boosted its profit expectations for the year.
The fast food giant now projects core operating profit will grow at least 14% this year, compared with its previous forecast of 12% growth. The boost was buoyed by a turnaround in its business in China.
Related: Yum expects stronger growth as China rebounds
4. Biggest tech IPO of 2016: Silicon Valley and Wall Street are transfixed right now by an app that most people in the U.S. have never downloaded. (Hint: It's not Pokemon Go!)
Line is the operator of a Japanese messaging app that's popular in Thailand, Indonesia, Taiwan and Japan. Line shares will begin trading in New York on Thursday, and then in Tokyo on Friday, in the largest public offering by a tech company this year.
Line has about 218 million monthly users and offers a mish-mash of services similar to WhatsApp, Skype, Twitter, Zynga, Spotify and Uber.
The company is currently valued around $6 billion.
5. Rounding up the rest -- Viacom, Hyundai: Investors will be closely monitoring Viacom (VIA) after the Wall Street Journal reported the firm is looking to sell a large stake in its Paramount Pictures movie studio to a major Chinese firm, Dalian Wanda Group.
Dalian Wanda, which is run by the outspoken Chinese billionaire Wang Jianlin, has been expanding its global footprint and operates a huge real estate and entertainment business.
In the auto industry, shares in Hyundai Motors dipped by 3% Thursday after unionized workers in South Korea voted to go on strike due to deteriorating talks on wages.