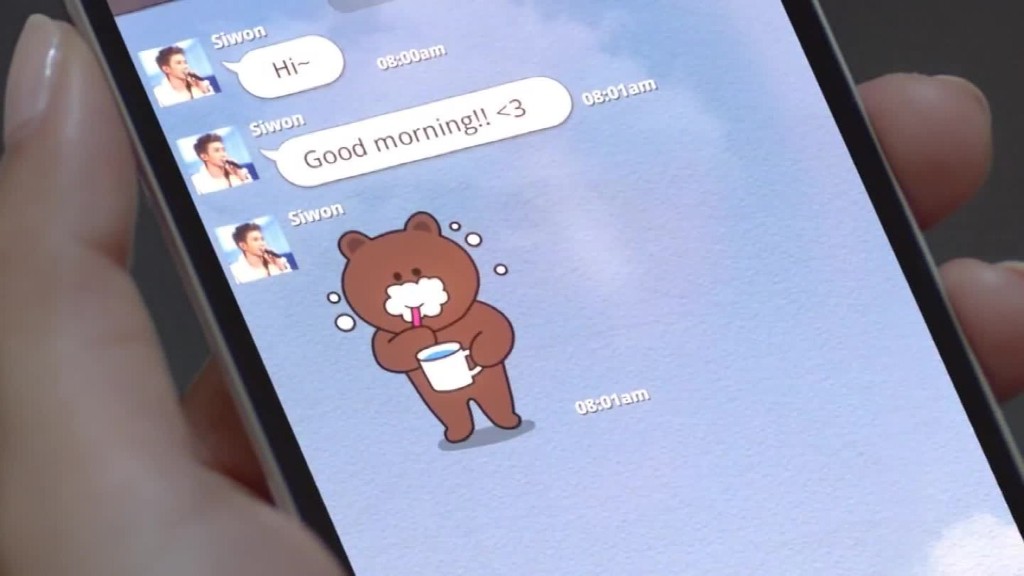 Message received. Wall Street still has an appetite for big tech IPOs.
Line, operator of a messaging app popular in several Asian countries, soared in its debut on the New York Stock Exchange on Thursday morning after completing the largest public offering of any tech company this year.
Line, trading under the ticker symbol "LN," opened at $42. The stock dipped slightly in later hours, but ended the first day of trading at $41.58, up 27% from its IPO price -- with a market value of about $8 billion.
The debut performance was evidence of strong investor demand despite lingering concerns over user growth and Line's ability to compete against apps from Facebook and WeChat.
The company raised $1.3 billion from selling shares on the stock market in New York and in Tokyo, which followed its U.S. success with a 50% pop at the open, before settling up 32% at market close.
Executives rang the opening bell while standing next to a life-sized frowning brown bear and winking rabbit, paying homage to two of the many virtual stickers that drive more than $250 million a year in sales for the company.
"We have evolved to a one-stop service where you can enjoy everything you want in a smartphone environment," Jung-ho Shin, chief global officer of Line, told CNNMoney's Paul La Monica on the floor of the stock exchange. That includes providing music streaming, payments, news and entertainment.
Shin added that he sees "big opportunities" for Line well beyond messaging -- as well as expanding to other geographic regions.
Related: What you need to know about the year's biggest tech IPO
The public debut is a long time coming. Line previously pulled plans for an IPO in 2014. But this year it's a hot commodity.
The messaging app maker is just the fifth tech company to go public in 2016, as billion-dollar startups wait out the volatile global markets and lean on private venture funding instead. A strong public debut for Line could push companies to reconsider that strategy of staying private.
For investors, the appeal of Line is similar to the appeal of social networks like Facebook (FB) and Twitter (TWTR). It has a large audience of devoted users who practically live inside the app -- and the potential to make money off of them through ads, virtual goods and transactions.
"It's a near-monopoly messaging platform in Japan," Atul Goyal, an analyst with Jefferies, wrote in an investor note this week. "This position is similar to that of Tencent (China), Kakao (Korea), and Facebook (Western markets)."
If Facebook and Twitter are any indication, though, the real test will come in the next few months as investors scrutinize its user and sales growth.
Line's user growth has slowed to a halt in recent quarters, hitting 218 million monthly actives in March. It has also struggled to gain traction in markets outside Japan, Thailand, Indonesia and Taiwan. Sales climbed to more than $1 billion in 2015 for the first time, but the company is not consistently profitable.
Maybe that's why the bear was frowning at the stock exchange.
--CNNMoney's Paul LaMonica and Sophia Yan contributed reporting.