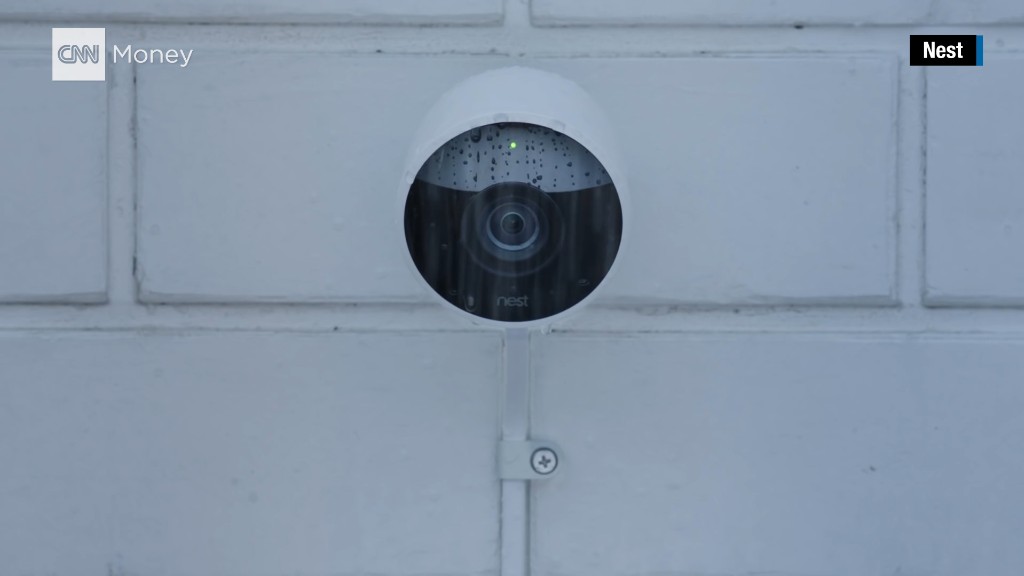 The next time an unwanted animal or human visitor is lurking outside your home, casing the joint or just taking a dip in the pool, you can catch them in the act.
Nest is finally releasing a new product, an outdoor version of its connected security camera. The $199 Nest Cam Outdoor takes the guts of the Nest Cam and puts them into a slick new weatherproof shell. The white metal casing is designed to withstand the elements and comes with a 25-foot power cord and a magnetic base to mount it.
Aside from the rugged design, the main new feature is a software update that adds Person Alerts. Using computer vision advances, the camera's motion detection can now differentiate between a person walking by and, say, a cat or errant shrub.
Related: Nest's new security camera lets you watch your pets
It might not be the most groundbreaking new product, but an outdoor security camera has been highly requested by customers, according to Nest. The company says 30% of Dropcam and Nest Cam customers perch their cameras in windows so they can catch the action outside.
The company could use a hit after the rough year it's had. Founder and CEO Tony Fadell left in June amid reports of a toxic culture and intense leadership style that were slowing down product development.
Google purchased Nest for $3.2 billion in 2014, and now runs it as an independent company under Alphabet (GOOGL). In that time, Nest has not released an original smart home product.
Since its launch in 2010, Nest has only created two product lines from scratch: its flagship Nest smart thermostat and the Nest Protect, a smoke and carbon monoxide detector that has struggled with glitches and a recall.
Related: Nest founder and CEO is stepping down
In 2015, Nest debuted a third product line, the Nest Cam connected indoor security camera, lightly redesigned and rebranded version of the Dropcam. Nest acquired that company for $555 million in 2014, a sale Dropcam founder Greg Duffy later said he regretted.
Nest is also updating its app with features that will work for indoor cameras and other devices. Spaces will let people organize their connected devices into rooms, a stab at turning the app into a smart home hub. Meanwhile, the Private Sharing tool will allow people to share password-protected camera feeds.
Like the existing Nest Cam, the outdoor version will have night vision, 130-degree view and two-way audio so you can yell at intruders or scare your postman. Older Nest Cams will also get the People Aware feature. It's only available to users with a Nest Aware subscription, which starts at $10 a month.
The Nest Cam Outdoor is now available for pre-order and will start shipping in September.