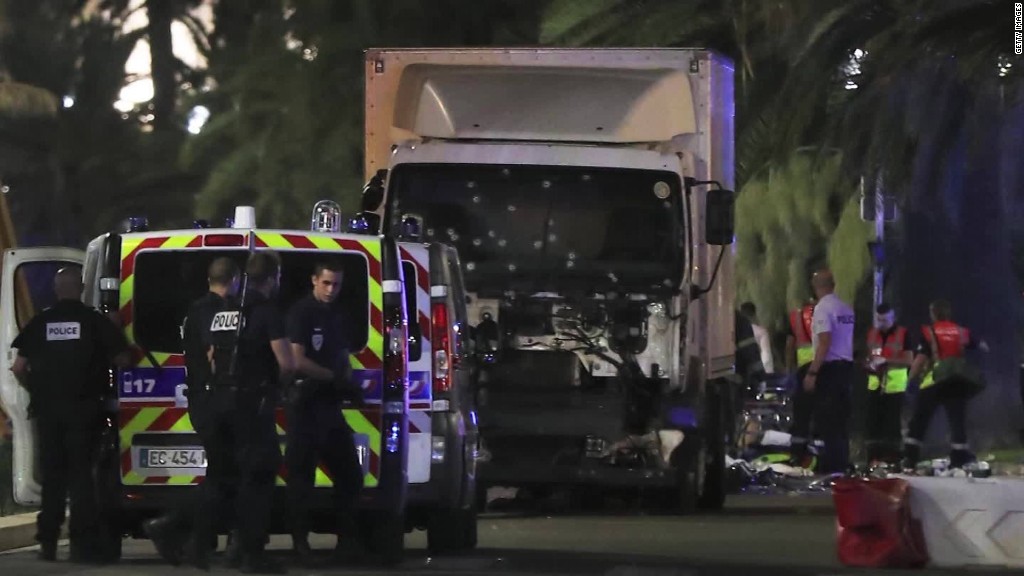 Businesses in Nice are rushing to help victims of Thursday's deadly attack.
Taxi companies in the area were offering free rides to people searching for relatives and hotels opened their doors to survivors in need of shelter after terror struck at the heart of the French city.
A truck drove into a crowd at Nice Bastille Day celebrations late Thursday, killing at least 84 people and leaving scores injured.
Police ordered people to evacuate the area and stay home. Local taxi services offered free transport to those who needed to get out of Promenade des Anglais, the main street in Nice where the attack happened.
Bastille Day attack: What we know so far
Eyewitnesses on social media described how many taxi drivers worked throughout the night, helping people get to safety.
"Taxi drivers are about to collapse. Many volunteered all night to help people looking for their loved ones in hospitals," Dov Alfon said on Twitter.
Uber also joined the effort, announcing free rides throughout the night. A spokesperson for the company said passengers who used the app in Nice would be reimbursed.
Related: Travel slump deepens as Nice suffers attack
Hotels in the area were offering free shelter to people who were unable to get to their homes and hotels. Hotel Negresco, one of Nice's most famous hotels, was turned into a makeshift hospital, offering shelter to people fleeing the chaos.
Other hotels followed suit. Offers of free accommodation flooded social media after Nice officials instructed people to find safe space using hashtag #PortesOuvertesNice, or "doors open in Nice." A similar hashtag was used following deadly attacks in Paris in November.
A charity campaign Give for France, which was first set up following the Paris attacks last year, is now raising money to help victims in Nice. It uses the funds to pay for psychological support and gives legal and financial assistance to families.
The effort is backed by the independent agency Fondation de France, which was established by the French government in 1969.