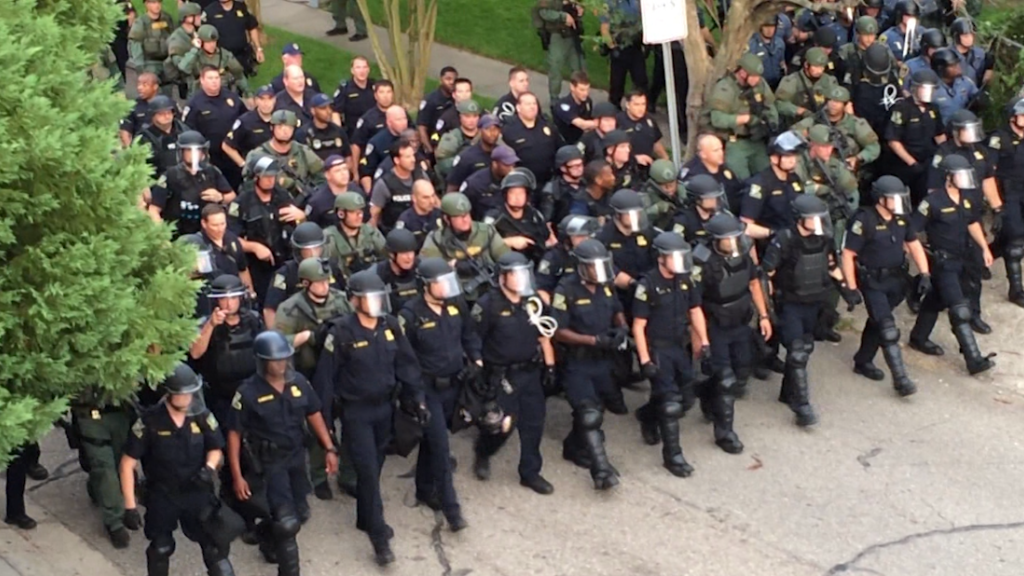 The city of Cleveland will have an army ready when the Republican National Convention opens on Monday.
Concern over security was heightened after an ambush on police in Baton Rouge, Louisiana, killed three police officers and wounded three others.
Cleveland Mayor Frank Jackson said on ABC's "This Week" there were "no specific and credible threats for the convention," which is expected to nominate Donald Trump for president.
Nevertheless, he said, "We are prepared. And we're prepared not only on a local level, but state and the national level."
There's $93 million in federal money being pumped into security for the convention in Cleveland this week and in Philadelphia next week when the Democrats gather.
That money is paying for thousands of officers equipped with some of the latest gear.
City officials in both places have said they want to avoid having cops look like a military force, especially when dealing with protesters. But that will be hard to avoid with the battalions and arsenal being deployed.
$49.9 million
That's how much Cleveland got from the federal government to bulk up security for the Republican National Convention. Most of that will go to pay cops' overtime, according to the Congressional Research Service. But much of it will also be used for equipment.
4,000 federal personnel
Expect agents from ATF, FBI, FEMA and elsewhere. There will be 3,000 agents from Secret Service, TSA, Customs and Border Protection, and other agencies -- plus another 1,000 "U.S. government personnel." That's according to congressional testimony from Jeh Johnson, head of the Homeland Security Department. On Thursday, he told the House Homeland Security Committee, "There will be a lot of security and a lot of preparation in place."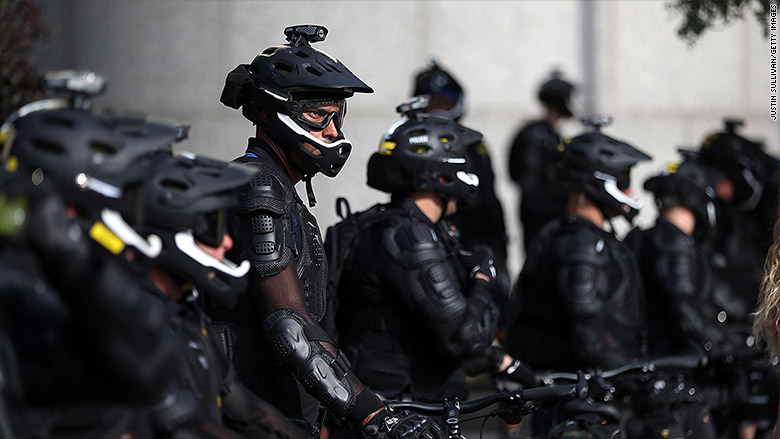 3,000 police officers
Cleveland police has 550 officers -- a third of the department -- guarding the RNC. The rest are coming in from outside police departments. Cleveland city councilman Matt Zone told CNNMoney. Cleveland police will get backup from the Cuyahoga County Sheriff and Ohio state troopers, according to government documents. The city told CNNMoney it's spending $5 million on bomb squads and dogs from regional transit police and others.
The U.S. military
The Department of Defense told CNNMoney that specialized teams of the Ohio National Guard will wait quietly in the background ready to respond if there are suspicions of radioactive and biological weapons in the area. U.S. Northern Command, the sector of the military in charge of defending the country from foreign invaders, says it will be present as well. Even the U.S. Coast Guard will be around.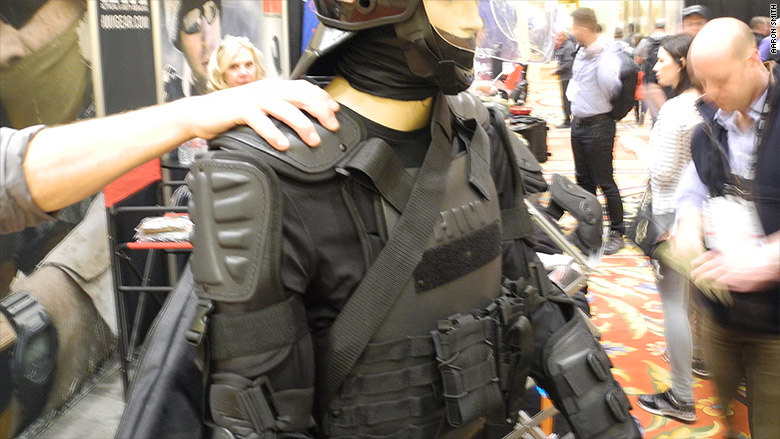 Riot armor and batons
Cleveland police ordered 2,000 sets of HWI Elite Defender riot armor and batons, as well as 24 sets of bulletproof armor, according to city suppliers.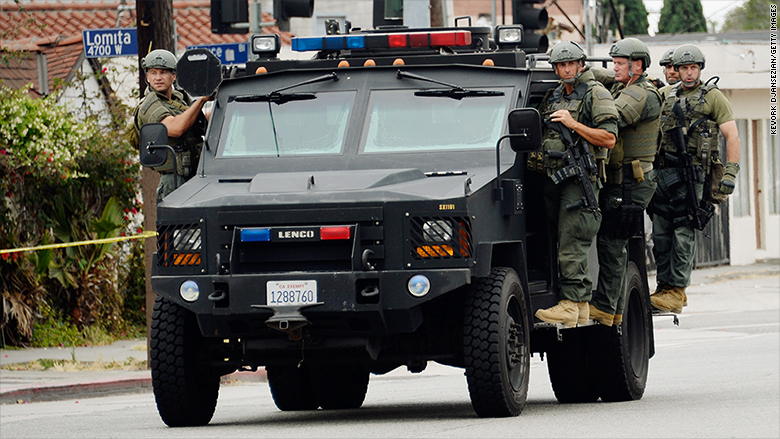 Armored trucks
Last year, Cleveland police asked nearby police agencies for several BearCats, large armored trucks made by the company Lenco. It's not known if the BearCats have been supplied to Cleveland.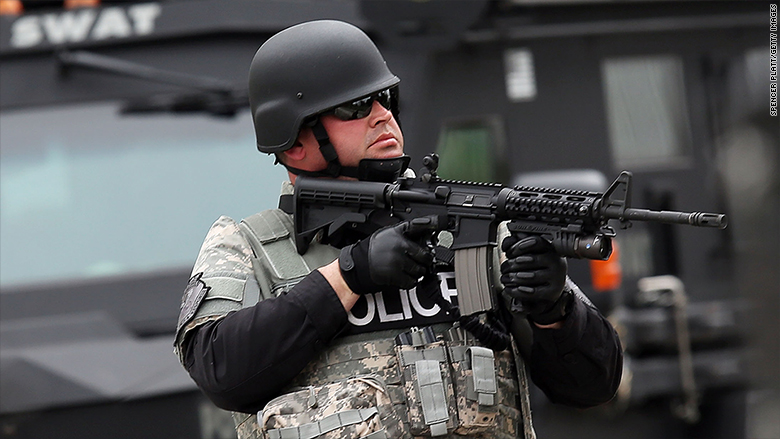 Assault rifles
Citing terrorism fears, law enforcement agencies have started carrying AR-15 semi-automatic rifles while monitoring protests. Some carry military-style M-14 rifles, typically reserved for snipers.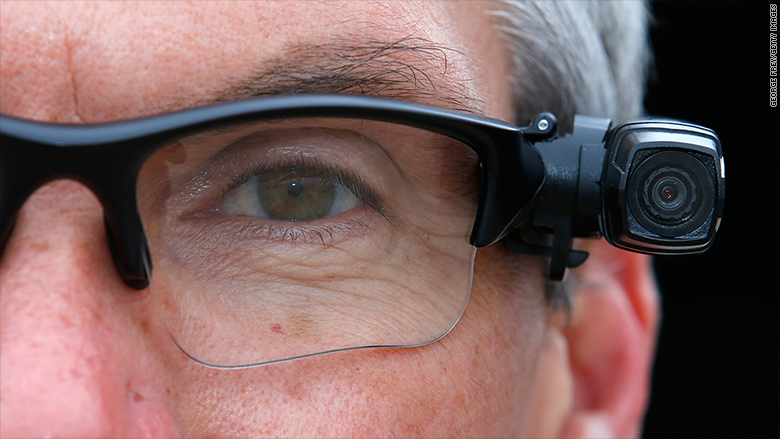 1,500 body cameras -- one for every Cleveland cop
Police officers will be wearing Axon body cameras made by Taser (TASR), which also loaned the department 300 mounts that can be worn by "frontline" officers.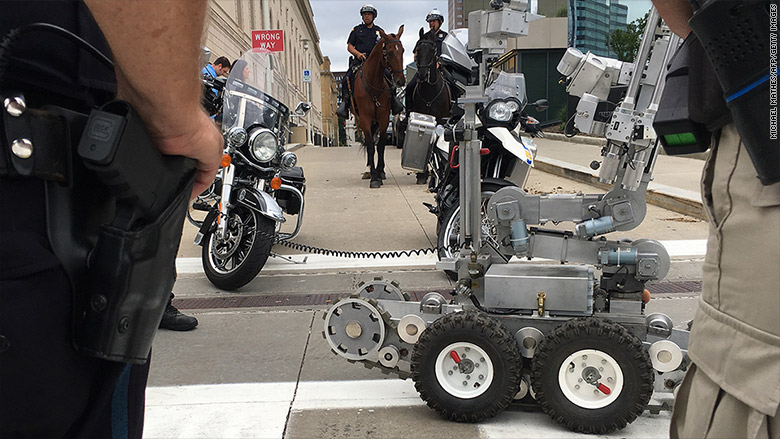 Bomb diffusing robot
Cleveland police have an Explosive Ordnance Disposal robot similar to the one that Dallas police used to carry a bomb that was detonated near the shooter who killed five officers.
Expect air restrictions
The sky around the convention will be a "no-drone zone." The Federal Aviation Administration is restricting flights within 30 miles of the Quicken Loans Arena, where the RNC will be held.
Expect damage
Last month, Cleveland's city government jacked up its "protest insurance" policy to $50 million.
It's similar in Philadelphia
Philadelphia got $43.1 million in federal grants for security, which it's mainly spending on personnel and equipment. Philadelphia police tell CNNMoney "there are not any plans to use any specific equipment or devices during this event."
But that city is preparing for the worst, too, just in case.
It's getting reinforcements from the Pennsylvania State Police, regional transit police, as well as Pennsylvania National Guard and all the federal agencies listed above.
Philadelphia is also deploying a cadre of 75 Medical Reserve Corps volunteers and 50 specialists from the health department.