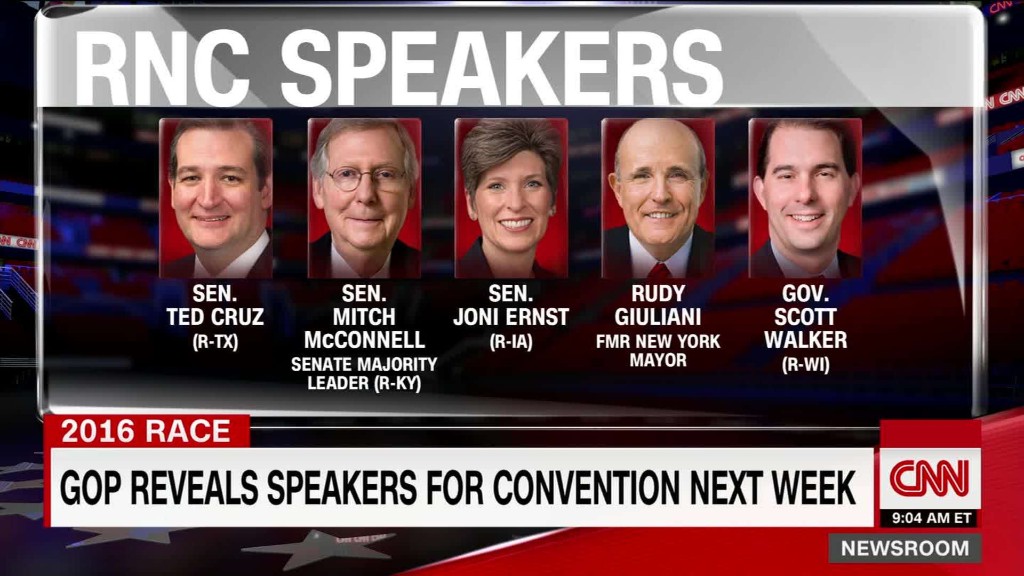 CLEVELAND — "It's very important to put some showbiz into a convention," Donald Trump said recently, "otherwise people are going to fall asleep."
If Trump wants showbiz at this week's Republican National Convention, he'll likely have to provide it himself. Because the celebrity guest list is severely wanting.
Republican conventions have long suffered from a celebrity deficit — Democrats bring Hollywood A-listers to their conventions while the Grand Old Party makes due with lesser stars; the Dems get will.i.am and Scarlett Johansson, the GOP gets Fred Thompson and Gary Sinise — but even by those standards, Trump's Republican convention promises to be woefully deprived of star talent.
Until late last week, Trump's most famous scheduled guest was Tim Tebow, a free-agent quarterback who hasn't thrown a pass in a regular-season NFL game in four years. On Thursday, Tebow announced that he wasn't going, and had never planned to. The whole thing was "a rumor," he said.
The dearth of star power in Cleveland may be an indicator of Trump's limited popular appeal. The celebrity endorsement has been a feature of presidential campaigns for decades, and can have significant influence among the vast majority of American voters who don't closely follow politics. It explains why Barack Obama courted Bruce Springsteen; why Hillary Clinton courted Katy Perry; and why Clint Eastwood was allowed to go onstage at Mitt Romney's convention, without script or teleprompter, and conduct an infamously awkward interview with an empty chair.
So what does it mean that Trump, a celebrity, can't find advocates among fellow celebrities?
"The bar is very low for Republicans: Kid Rock, Duck Dynasty, Pat Boone. So Trump, who hasn't even reached that celebrity threshold, can hardly say he is 'winning,'" said Frank Rich, the New York Magazine columnist and an Executive Producer on HBO's "Veep."
On Sunday, in a last-minute scramble, the Republicans added a few names to the list of scheduled speakers, including Duck Dynasty's Willie Robertson and actor Scott Baio, of "Happy Days" fame. They will join a list that includes golfer Natalie Gulbis, Ultimate Fighting Championship president Dana White and former underwear model Antonio Sabàto Jr.
The absence of star power can't simply be attributed to Hollywood's progressivism. Republicans are never especially popular with celebrities. But Trump is uniquely toxic. By aligning with him, a celebrity would risk alienating fans and followers, perhaps even putting professional relationships or sponsorship deals in jeopardy.
"Trump is the most unpopular national politician in the country. He's said things that are toxic -- calling Mexicans racists, fighting with the Pope -- that no one who has a large audience wants to associate with," said Stuart Stevens, the Republican strategist who served as Romney's senior adviser in 2012.
Still, Trump has hobnobbed with celebrities for his entire adult life. For 14 years, he hosted a television show called "Celebrity Apprentice," which, as the name suggests, featured celebrity contestants. He has claimed friendship with the likes of New England Patriots quarterback Tom Brady, and yet there are no plans for Brady to attend the convention, let alone speak. (Brady has said he supports his "good friend" Trump, but has shown signs of wanting to stay out of the campaign.)
Trump also wanted former Indiana University basketball coach Bobby Knight to speak — which he will do, albeit by video — and boxing promoter Don King. As The New York Times reported on Sunday, the Republican National Committee was not willing to associate itself with a man who was convicted of manslaughter.
Political celebrities, too, will be lacking. Both Presidents Bush will not be there; nor will the previous two Republican nominees, Romney and Sen. John McCain. Trump has also alienated major American brands. At least two dozen companies that were planning to sponsor the convention have jumped ship, including Coca-Cola, Visa and FedEx.
There is one major celebrity who will be at the convention, of course: Donald J. Trump. The reality television star-turned-Republican nominee is already planning to use his own star power to compensate for the lack of celebrities and party stalwarts. In addition to his own speech on the final night of the convention, CNN's Jim Acosta reports that Trump will introduce his wife Melania on the first night and appear via remote on the second. Given his penchant for turning introductions into speeches — see his 28-minute speech introducing Indiana Gov. Mike Pence as his running mate, on Saturday — it's possible that Trump's own remarks will serve as the main event on at least three of the four nights.
It's conceivable that all the available air time may end up being a boon to Trump, given that so much of his political success is due to his skills as a performer.
"We'll all be mocking him as he moves out to a ten point lead over Hillary in the polls," said Bill Kristol, the editor of The Weekly Standard and a staunchly anti-Trump conservative. "He's appalling. But I'm afraid Trump's reality TV will beat Hillary's bad version of the PBS News Hour every time."
Of course, "Trump's reality TV" is what the American people have been watching for much of the last 12 months. The point of additional speakers is to broaden the candidate's appeal to other groups. Outside of past presidents and political celebrities, no one is so instrumental in this effort as celebrities with the mass following.
In lieu of all-star performers, past presidents and party leaders, Trump will be relying on a hodgepodge of Republicans, members of his family, and, of course, himself. And given that there are four days to fill, he may need to improvise.
"If he can't land Clint Eastwood," said Rich, "maybe he can at least get Eastwood's chair?"