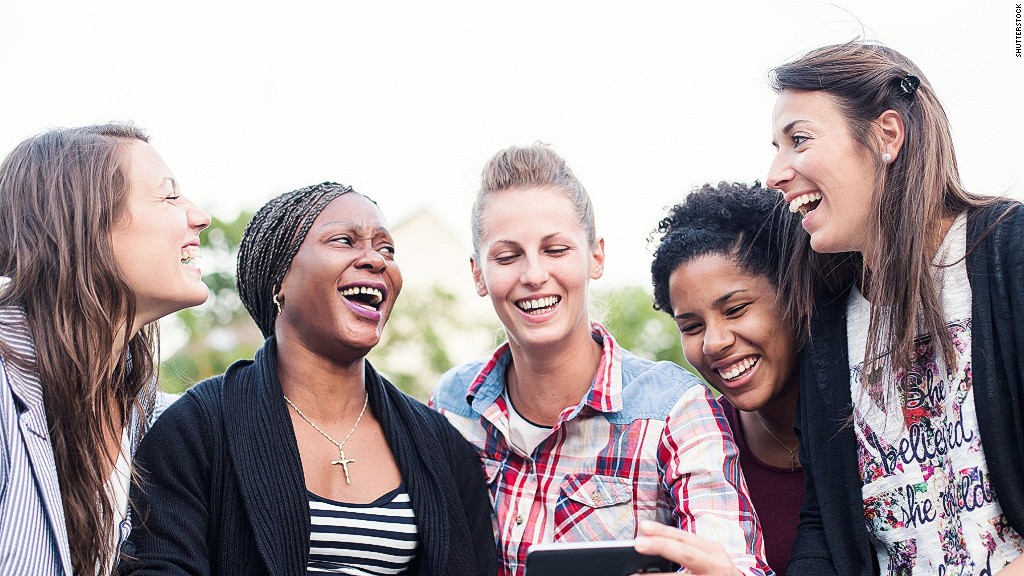 It felt like a reunion inside the TriBeCa cocktail bar in Manhattan where a crowd of 50 or so young professionals mingled.
Many of the happy hour-goers arrived alone, but quickly found a friendly face. Some greeted each other with hugs. Everyone wore a name tag. But they didn't all graduate from the same college or high school.
The one thing they did have in common was that they've all taken a loan from the same lender: SoFi.
That's right, Millennials are turning up to hang out with strangers at events sponsored by their online lender. About 8,000 people have gone to one of the 300 SoFi (Social Finance) events held across the country over the past year, and many are fully booked.
Elsa Yan refinanced her student loans with SoFi. Since then she's been to four events -- including a yoga class -- she told me while we sipped what would have been $13 cocktails.
There's no doubt the free food and booze is a big draw. But that's not the only thing bringing people to the events.
"You meet a lot of interesting, like-minded people," Yan said.
SoFi offers a short, but growing list of products including student loan refinancing, personal loans, mortgages (in some states) and wealth management.
And then there's everything SoFi does that you wouldn't expect from a traditional bank: happy hours, cooking classes, brewery tours, dinners at hard-to-get-into restaurants, workshops and career coaching -- all free for members.
You might even get your next date from SoFi. An app is in the works.
"We know people have been on dates after meeting at SoFi events, and we're embracing that," said Dan Macklin, the VP of Community and Member Success.
For now, SoFi is holding more "singles" events, but members can expect to see a "connections app," as Macklin calls it, that they can use to find friends, or something a bit more romantic.
Related: 4 steps to paying off $100,000 in student loans
When it first launched in 2011, SoFi only offered student loan refinancing to Stanford grads. Some Stanford alumni, seeing a safe investment in those unlikely to default on their loans, became some of the first financial backers of the company.
SoFi now refinances loans for students who graduated from most accredited colleges, but the higher your income and credit score, the more likely you'll qualify. That means a lot of SoFi's customers are young, successful and ambitious. There were plenty of MBAs, just like Yan, in the crowd at the Manhattan happy hour held earlier this summer.
Now, more half of SoFi's business is from its newer products, the personal loans and mortgages, Macklin said. It has about 150,000 members, is adding about 10,000 more each month, and received $1 billion in funding last year from venture capital firm SoftBank.
Related: Get cash back for your student loans
One reason SoFi is growing is because it makes dealing with your not-so-fun personal finances pretty easy. All the information you need is online, presented in a transparent and user-friendly way. Users say SoFi has a pretty good live chat function, too.
The lender also offers career strategy help.
Andy Beltran refinanced his student loans with SoFi, lowering his interest rate by about 3 percentage points. He talks with a SoFi career coach once every two weeks, usually for about an hour, about how he can map out his transition to a new industry.
"It's like a mix of a therapy session, a career coach, and somebody that just helps expand your perspective on yourself. So it's been pretty helpful," Beltran said.
Keeping borrowers employed could help SoFi's bottom line, Macklin says, but it's also the "right thing to do."
"We don't believe that you should just receive a statement from us once a month and that be it. We believe people are looking for more than that," he said.
The packed SoFi events could be evidence that Millennials are, in fact, looking for more from their bank. And this generation might need the support of a financially savvy community. They graduate with big debts, face having to fund their retirements all on their own -- and they aren't easily getting financial education from anywhere else.