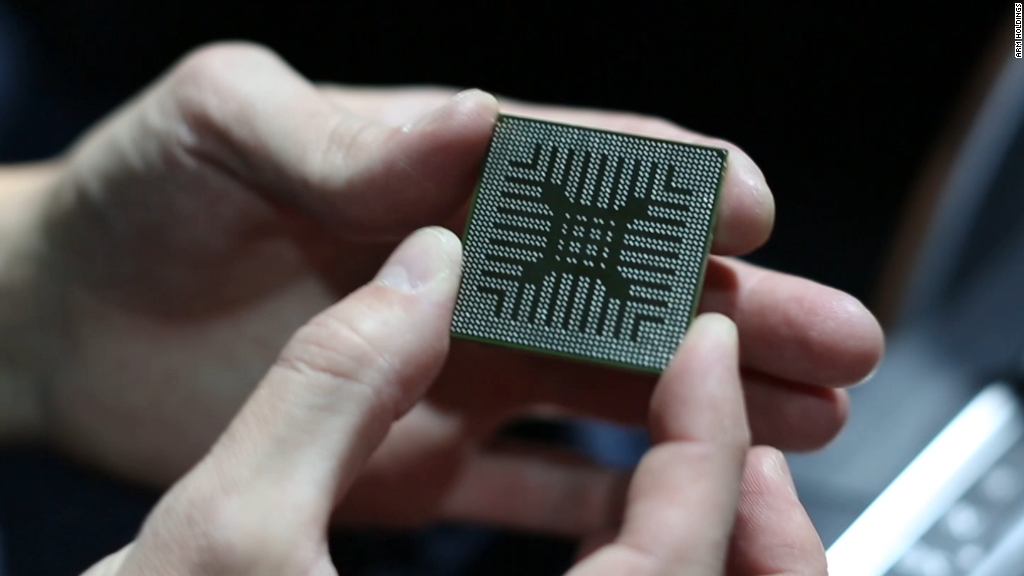 Softbank shares tumbled Tuesday as investors reacted to the company's $32 billion purchase of ARM Holdings, one of the U.K.'s most successful tech companies.
The deal is the largest investment ever from Asia into the U.K., but skeptical investors sent shares down nearly 11% in Tokyo trading. Japanese markets were closed Monday when the deal was announced.
The cash purchase, which has been agreed to by the boards of both companies, represents a major strategic bet by Softbank (SFTBF) CEO Masayoshi Son on mobile communications and the "Internet of Things."
Cambridge-based ARM is a leader in mobile computing, designing technology that can be found in popular smartphones including Apple's iPhone, making it a juicy takeover target for mobile-focused Softbank.
Related: Softbank buys Britain's ARM Holdings in record $32 billion deal
Son told reporters on Monday that the acquisition was his "big bet for the future," explaining that ARM was well positioned to capitalize as more and more devices -- household appliances, cars and censors -- are connected to the Internet.
ARM shares jumped more than 40% on Monday to match the £17 pounds ($22.50) per share offered by Softbank.
But analysts have questioned the premium that Softbank is paying for ARM, and asked whether the companies are really a good strategic fit for each other.
"Investors have to decide by themselves," Son said. "If investors do not like it, they will have to sell."
Related: Big shareholder Softbank dumping nearly $8 billion in Alibaba
The deal comes less than one month after the U.K. voted to leave the European Union, a shock event that rattled markets and caused the pound to plummet. Many investors are concerned that more political and economic uncertainty is ahead.
As part of the deal, Softbank committed to doubling the number of ARM (ARMH) employees in the U.K. over the next five years. Roughly 40% of ARM's 3,975 workers are currently based in Britain.
Softbank had been selling off assets to raise cash after taking a hit from its investment in struggling U.S. wireless carrier Sprint. In June, the company announced a plan to unload roughly $8 billion in Alibaba (BABA) shares, the fruits of an early investment in the Chinese e-commerce giant.
There have also been major changes to Softbank's leadership recently. Superstar executive Nikesh Arora, who was being groomed as Son's successor, resigned as company president in June.
-- Charles Riley contributed reporting.