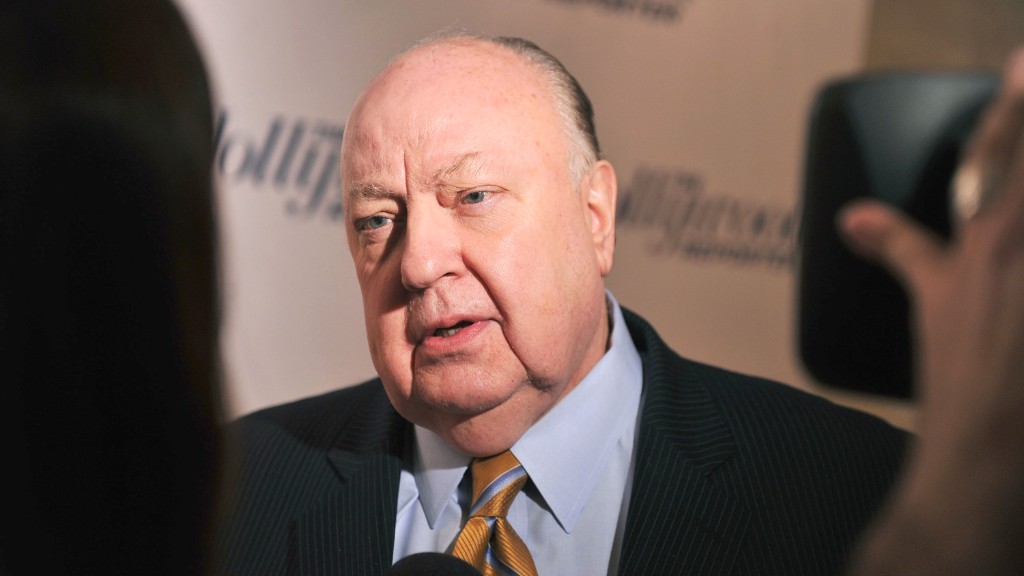 When Roger Ailes leaves Fox News, it will bring an end to an era — an era in which one man utterly reshaped American politics and media; wielded immense control over the Republican party; and, critics often charged, stoked the nation's political, cultural and racial divides.
In time, his departure also threatens to upend the the status quo at the nation's dominant cable news channel. In conversations with CNNMoney, television news executives and media industry insiders predicted that Ailes' exit would precipitate a flight of top talent, including the network's highest-rated hosts: Megyn Kelly and Bill O'Reilly.
"Roger is Fox News," one television news executive said. "Every aspect of the organization reported to him. He held the place together. He's the only person who's ever run it."
As of Tuesday evening, Ailes was in talks with 21st Century Fox that will likely lead to his departure following an investigation into reports of sexual harassment, though no agreement had been reached.
Earlier Tuesday, Gabriel Sherman of New York Magazine had reported that Kelly, the network's star anchor, had told investigators that Ailes had made "unwanted sexual advances" towards her about ten years ago.
A spokesperson for 21st Century Fox, who previously said that the review of Ailes was "not yet resolved," said the company was not commenting on Sherman's report.
Related: Mood at Fox is tense as Murdochs consider removing Ailes
Fox News will continue after Ailes. It is a business that brings in $1 billion a year in profit. But the accusations against Ailes have raised major questions about whether or not the network can maintain its record of success, keep its talent and continue to be a political juggernaut if and when the day comes that he is no longer at its helm.
"Roger had a unique ability to manage all that talent. He knew when and how to push people. He knew when and how to use those people to push the political agenda," another television news executive said. "That's a really hard thing to do."
The biggest problem Fox News faces is that Ailes has no heir apparent. The television executives CNNMoney spoke with speculate that 21st Century Fox will bring in someone from Sky, its British broadcaster. But while Brits may be able to run American news organizations, these executives said, it is much more difficult for a Brit to manage an American political organization — which is what Fox News is, these sources said.
Ailes, who was a media consultant to three Republican presidents before launching Fox News, is as much a political operator as he is a media executive. Through Fox, he continued to wield significant influence over and in the Republican party, even consulting with presidential candidates like Donald Trump, according to a source with knowledge of the situation, and trying to enlist certain people to run for office, including Gen. David H. Petraeus.
It's hard to see how any replacement, even an American replacement, could fill those shoes. Within Fox News, one name that has come up as a possible replacement is Bill Shine, the Senior Executive Vice President of Programming, who oversees primetime. But while Shine has strong relationships with the network's top talent, industry insiders say 21st Century Fox doesn't believe he's up to the task of replacing Ailes.
Related: Former Fox staffers have Ailes stories -- here's why they're afraid to speak
Without strong and certain leadership, media executives believe, the network could lose its most high-profile talent.
Kelly's contract is up in July of next year, and she is currently the most highly sought after talent in the television news game -- able to net an annual salary of between $15 to $20 million, according to the executives' estimates. Kelly has also expressed ambitions for a more high-profile gig, something she's likened to a blend between Charlie Rose and Oprah.
In order to keep Kelly, one television executive said, 21st Century Fox would need to offer her more than money: They'd need to convince her that she would be the face of the network going forward, and that it would abandon its image as the network of old, white, conservative men.
O'Reilly, the network's highest-rated anchor, could also leave. His contract is up at the end of next year, he's 66 years old and he's hinted at a desire to retire. "I don't want to work this hard much longer," O'Reilly told Adweek earlier this month. Given O'Reilly's platform and influence, he could leave television and continue to make plenty of income from books and speaking gigs, some of the executives reasoned.
O'Reilly, Greta Van Susteren and Sean Hannity have clauses in their Fox contracts that allow them to leave if Ailes does, according to a Financial Times report.
Television executives also speculated that some of the network's most high-profile political contributors, who are friends of Ailes', may also decide to cut ties.
But the biggest blow to Fox News would not be the loss of one host or contributor, but rather the void that would be left behind by an individual who had a singular knack for channeling, and often driving, the conservative zeitgeist.
"There is no other Roger Ailes," one of the television executives said.