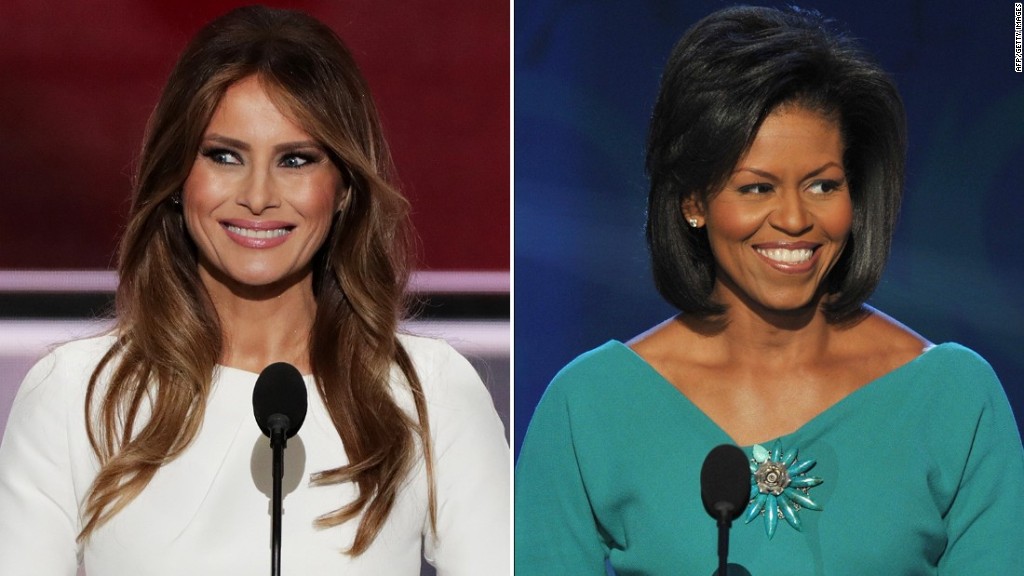 In previous election cycles, the Republican presidential nominee could count on a cadre of conservative media outlets to provide cover.
But 2016 is not a typical election cycle, and Donald Trump is anything but a typical GOP nominee.
And so the candidate and his campaign were forced to mount a defense largely on their own after news surfaced that Trump's wife, Melania, had plagiarized a speech from Michelle Obama at the Republican National Convention on Monday night.
"Yes, Melania Trump's speech plagarized (sic) Michelle Obama," tweeted RedState founder and Fox News contributor Erick Erickson. "The speech writer should be fired."
Writing for his website The Resurgent, Erickson noted that the portion lifted from Obama's speech, which the first lady delivered at the 2008 Democratic National Convention, dealt with "honesty, integrity, and character."
Such a reaction was probably to be expected of Erickson, one of several conservative pundits who have channeled their refusal to support the GOP nominee under the hashtag #NeverTrump.
Other members of the #NeverTrump contingent were similarly unforgiving.
National Review's Jonah Goldberg mocked the defense put forth by Trump campaign chairman Paul Manafort, who said that Melania Trump used words that are not "unique."
"Every word in Moby Dick is also in dictionary," tweeted Goldberg. "Melville didn't plagiarize dictionary because he changed the order."
Stephen Hayes, a senior writer at The Weekly Standard, ridiculed Manafort for calling the accusations "absurd."
"Absurd? That's arguably the best word to describe Manafort's attempt to spin blatant plagiarism and maybe the best word to describe the opening of the 2016 Republican convention," Hayes wrote.
MSNBC's Joe Scarborough and Mika Brzezinski, whose once-cozy relationship with Trump has turned frosty, both placed blame on Manafort.
"There is something wrong there," Brzezinski said. "Mark my words, he is going to have to go."
Scarborough agreed, saying "the way you fix it is by firing Paul Manafort."
The story was discussed extensively Tuesday on Fox News, where Trump has appeared almost exclusively as of late while shunning other TV requests.
Fox anchor Bret Baier said on the network's afternoon talk show "Outnumbered" that it amounted to "malpractice" for Trump's speechwriter.
The Trump campaign and its surrogates swatted away the plagiarism accusations. Manafort said the reaction is "just another example, as far as we're concerned, that when Hillary Clinton is threatened by a female the first thing she does is try to destroy the person."
New Jersey Governor Chris Christie said Trump's speech couldn't be considered plagiarism, given that "93 percent of the speech is completely different than Michelle Obama's speech."
And the Trump campaign did have some defenders in the media.
The Drudge Report, a widely read conservative news aggregator, linked out to a Politico article on Melania Trump's "strikingly similar paragraph to Michelle Obama."
But right below that headline were links to videos showing President Obama lifting words from a speech by former Massachusetts Governor Deval Patrick, a story that flared up during the 2008 presidential race.
By Tuesday afternoon, Drudge linked out to the staunchest defense yet: a story published on the conservative site Breitbart.
The story, which contains several examples of prominent Democrats being accused of plagiarism, asserts that Michelle Obama lifted lines from Saul Alinsky, the late community organizer and bête noire of conservatives.
The reaction from Breitbart, a staunchly pro-Trump outlet, was noted by Erickson.
"Even Breitbart is admitting Melania Trump plagiarized Michelle Obama," Erickson said on Twitter. "They're just trying to justify it."