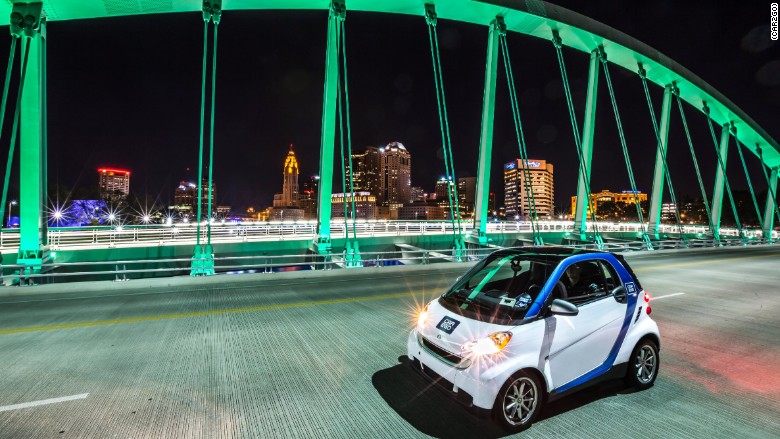 There's a promising fix for any city with transportation issues -- and car ownership has nothing to do with it.
A new study found that cities that turn to a flexible type of car-sharing stand to benefit from less pollution, less traffic and more parking.
Researchers at the University of California-Berkeley's Transportation Sustainability Research Center focused on the impact of car2go, which is different from car services like Zipcar and GM's (GM) Maven. With car2go, drivers paying a one-time $35 membership fee and can rent a vehicle parked on a nearby public street and leave it elsewhere in the city. There's no need to reserve a vehicle ahead of time, or return it to a designated parking lot. Car2go strikes deals with local governments so that its cars can be parked in public spots.
Drivers pay 41 cents per minute of usage. Car2go has nearly 2 million members, and operates 14,000 vehicles in 30 cities.
The researchers found that for every car2go in a city, between seven and 11 vehicles disappeared from that city's roads. This resulted from drivers either selling their car or hold off on a new purchase.
Related: Google tests new ride-sharing app
Miles driven by car2go members also dropped an average of 7%. Greenhouse gas emissions from those surveyed dropped an average of 10%.
"These types of data could help cities struggling with questions of how to address private vehicle ownership," said Susan Shaheen, who co-authored the research. For a city, it can be a difficult decision to set aside scarce assets such as parking space for car-sharing services, without knowing what the payoffs will be.
The researchers surveyed nearly 9,500 car2go users in Calgary; San Diego; Vancouver, British Columbia; Seattle and Washington, D.C. to reach their conclusions. They also looked at trip data from car2go. The research was funded in part by Daimler (DDAIF), the parent company of car2go.
The study estimated that the presence of car2go in those five cities has taken 28,000 vehicles off the roads. For comparison sake, 17.5 million cars and light trucks were sold in the United States last year. So far, the far-reaching impact of services such as car2go appear limited, but there's plenty of room for growth.
"For geeky people, this is pretty darn exciting stuff," said Shaheen, who presented the work Tuesday at a transportation conference in San Francisco.