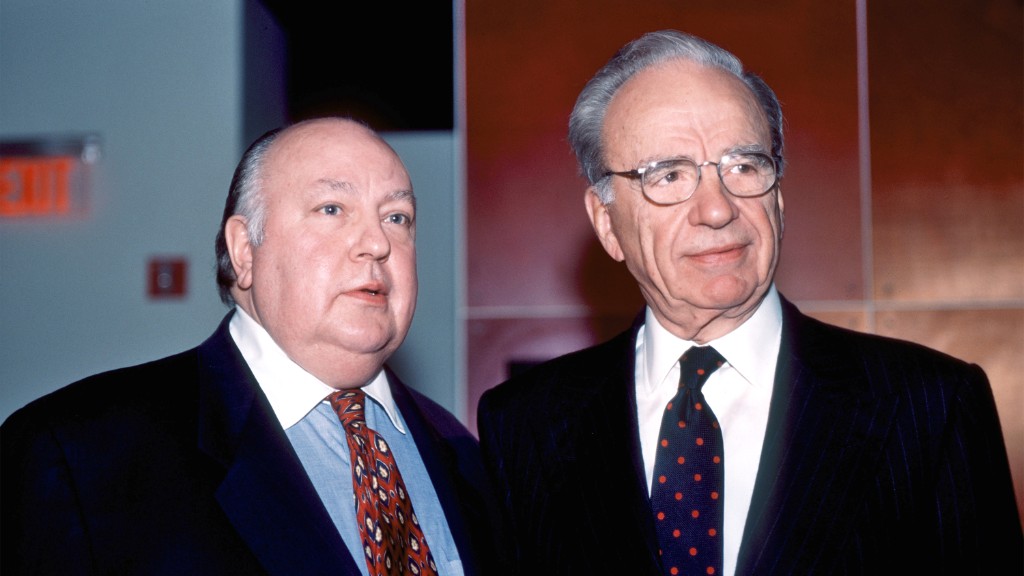 Roger Ailes remains in charge at Fox News. But not for much longer.
The owners of 21st Century Fox, the Murdochs, have decided that Ailes must leave amid allegations of sexual harassment. Exit talks are underway.
Inside Fox News, A-list hosts and rank and file producers alike are in the dark and worried about what's next.
But they say they're happy to have a giant story to cover — the nomination of Donald Trump — on the favored channel of the GOP.
"I think it's best it's happening when we're all so busy, everyone is so focused on putting on good shows this week," one on-air employee said. The shakeup "might not fully set in until conventions end."
Other employees described a mixture of shock and sadness at the sight of Fox News's creator brought low by a sexual harassment investigation.
"Roger is revered here," one insider said. "I can't even begin to explain how people feel."
At the same time, some of the women who believe Ailes acted inappropriately around them are relieved that their accounts are being taken seriously.
"I can't believe this is really happening," said a former Fox employee who had previously told CNNMoney about harassment by Ailes.
Ailes and his attorneys have repeatedly denied the charges against him. A spokeswoman for Ailes was unreachable on Wednesday morning.
The woman who is suing him, ex-host Gretchen Carlson, has said little about the reports that Ailes is on the way out. On Tuesday night she tweeted a photo with her daughter at a Justin Bieber concert with the hashtags "Life goes on" and "Stand with Gretchen."
According to New York magazine, 9 p.m. host Megyn Kelly told the lawyers conducting an internal review of Ailes that she was sexually harassed by him about ten years ago.
Responding to the report, Kelly's lawyer said she "fully and truthfully" cooperated with the review and will not comment publicly until the review is complete.
Related: What will Fox be after Ailes?
The drama is unfolding while Fox is having its highest-rated year ever and is three months away from the 20th anniversary of the channel's launch.
Maybe that's a convenient time for a change in leadership -- or maybe not. The succession plan is unclear.
Negotiations are continuing
Apart from Kelly, Fox's highest-profile hosts all publicly supported Ailes after Carlson's lawsuit was filed.
The media industry has been filled with rumors that some of them may walk out the Fox door along with Ailes.
Bill O'Reilly, Greta Van Susteren and several other hosts have "outs" in their contracts in the event Ailes leaves.
Some of them "are considering leaving with Roger Ailes to form a new network to compete with Fox," Breitbart's Matthew Boyle reported Tuesday night.
But one of the allegedly rebellious hosts, speaking on condition of anonymity, denied to CNNMoney that a walkout was in the works.
Some observers said they thought the talk of a potential talent exodus was a last gasp by Ailes.
While the Murdochs — father Rupert and sons James and Lachlan — have remained silent about the negotiations with Ailes, the Murdoch-owned New York Post seemed to signal the family's intentions.
"WHAT THE FOX," the paper's cover said Wednesday, after two weeks of looking the other way about the harassment allegations.
The Post said the "end is near" for Ailes.
Even some of Ailes' deputies have accepted that.
"I don't see how Roger can survive this," one high-ranking source said Tuesday.
But Ailes has an employment contract worth tens of millions of dollars, and for the time being, there is "no agreement" for him to depart, his attorney Susan Estrich said Tuesday.
She said Rupert Murdoch "comes to town next week," signaling that the exit deal may not be concluded until Murdoch and Ailes can meet face to face.
However, other sources said they expected an exit announcement before then.
How Ailes changed TV and the GOP
Rupert Murdoch and Ailes' alliance resulted in one of the most successful channels in television history.
Murdoch tapped Ailes to create and run Fox News in 1996, ushering in a controversial new era in cable news.
The channel claimed to be "fair and balanced," but in reality its programming was tilted in favor of conservative opinions and Republican politics, reflecting the views of Ailes himself. Fox mixed daily news reporting and nightly conservative opinion in ways that many critics found to be damaging to American discourse. But Fox's many fans said it was a necessary counterweight to liberal media bias.
Within six years, Fox came to dominate cable news ratings, dethroning CNN, and it has been a wildly successful business, with annual profits believed to exceed $1 billion.
That's why there are a wide variety of emotions, inside and outside Fox, about Ailes' impending departure.
Related: Former Fox staffers have Ailes stories -- here's why they're afraid to speak
Some Fox staffers are fearful of what will happen. Ailes' editorial vision has always guided the channel.
But for that very reason, Fox's longtime critics are jubilant.
While current employees aren't saying anything publicly, some prominent ex-staffers are.
Glenn Beck -- who left Fox in 2011 and has a complicated past with Ailes -- posted this on Facebook: Ailes was "very concerned about how he would be remembered. He wanted to be remembered as a good man. This has destroyed that."
It is "truly unfortunate," Beck said, "as he is responsible for so many great moments in history. Instead, he has become Bill Cosby. Gretchen Carlson should be commended for having the courage to stand."