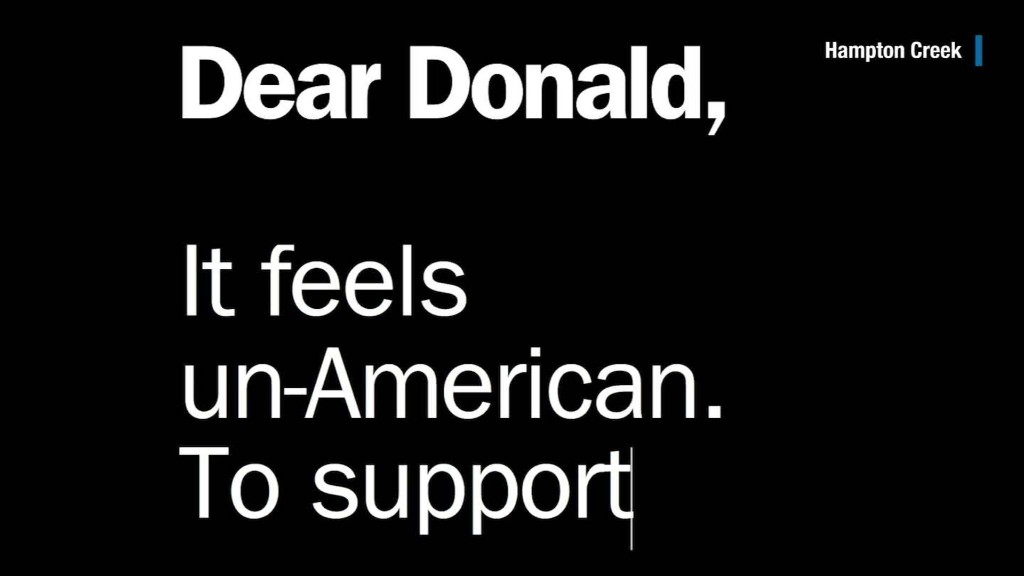 Tech CEO Josh Tetrick isn't done protesting what he calls Donald Trump's un-American campaign.
As Trump took the stage to give his long awaited speech at the Republican National Convention, Tetrick unleashed his latest stunt in opposition.
"Dear Donald, Americans are frustrated and angry and scared. You've channeled this into your nomination." The words began gradually appearing, as if being typed, on Cleveland's Terminal Tower, just as Trump started speaking. The building is less than a half mile from Quicken Loans Arena, where the Republican National Convention is taking place.
The letter is brief, just six short graphs, and played on a loop on the west side of the building for 25 minutes on Thursday evening. Then, it moved to other locations throughout Cleveland.
Tetrick, who is the founder of food tech startup Hampton Creek, sent four of his employees to Cleveland coordinate the peaceful protest. They will stream the projection on Periscope, which will be viewable on Dear-Donald.org.
Related: Peter Thiel disrupts Silicon Valley with RNC speech
Tetrick, who did not disclose how much he's paying for the anti-Trump campaign, also took out full page ads with the same text in last Sunday's edition of the New York Times and a local Cleveland paper. Tetrick said the ad, "Dear Donald," was to protest Trump's disrespect for women and minority groups. (It can be read online, too.)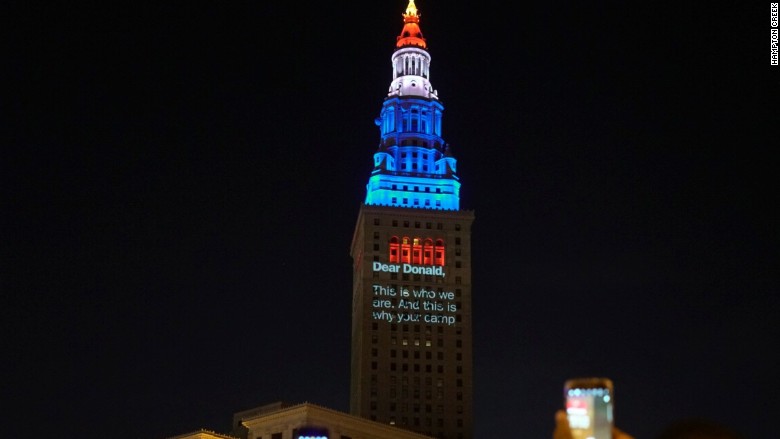 Since then, Tetrick said he has received more than 700 text messages and 800 voice mails from those who saw his ad, which included his name and cell phone number. The responses have since been transcribed and can be read here.
Those who reached out ranged from grandmothers to factory workers and "lots and lots of Republicans," who praised him for speaking up. Tetrick told CNNMoney that he's received three death threats and some unkind messages, but the vast majority have been positive and heartfelt.
"The letter seems to have touched people. I want people to connect with it and share it more," he said. Hillary Clinton's campaign, coincidentally, released an open letter to Trump the next day.
"I don't want it to stop," added Tetrick.
So, 24 hours ago, Tetrick -- a self-described moderate Democrat -- decided to take action by projecting the letter in Cleveland during the RNC.
While the text is the same, it doesn't contain Tetrick's name and phone number this time. "I didn't want it to be about me," he said.
Tetrick -- whose Hampton Creek has raised more than $120 million from backers like Marc Benioff and Khosla Ventures -- said he hopes that the display will be seen by those inside the arena.
"I do think it'll be good for folks walking out of the convention to see it," he added.