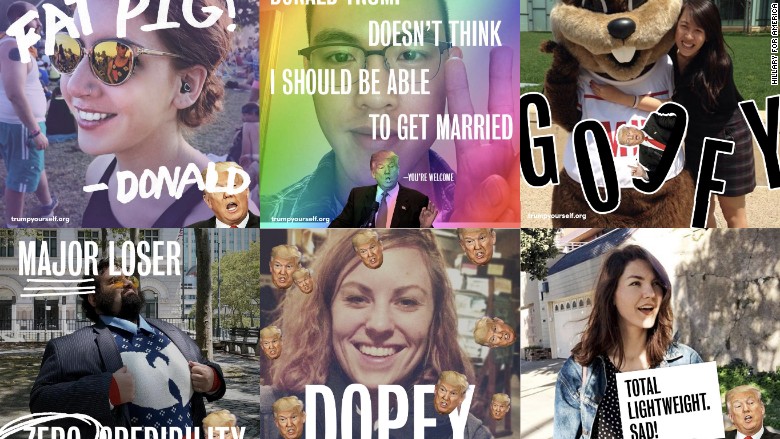 You could be hurt by the many colorful insults Donald Trump likes to toss around about women, Mexicans, Muslims, and African Americans. Or you could embrace them proudly with colorful photo filters that overlay them on top of your face.
Trump Yourself is a new site from the Hillary Clinton campaign that takes your Facebook profile photo and turns it into insult art. It's also a sneaky move by the campaign to get your email address and profile information.
When you log into hillaryclinton.com/trumpyourself with your Facebook account, you can flip through the 15 hand-picked insults. Tiny Donald Trump figures appear on your photo next to quotes such as "Hater and Loser!," "Dopey," and "Major loser with zero credibility."
Related: Donald Trump denies mocking reporter's disability
It sounds like harmless fun -- if you don't mind being called a "Fat Pig" -- but by logging on with Facebook, you're actually handing over valuable biographical data and contact information about yourself. HillaryClinton.com gets your public profile data, which includes your name, gender, age, and location. It also has the email address you used to sign up for Facebook.
When you first sign in, there is an option to edit what Facebook (FB) info you're sharing. However, all it actually lets you do is uncheck the option for sharing your email address. And in our tests, unchecking this box means the site won't work at all.
Immediately after using Trump Yourself, you will receive an e-mail from the Clinton campaign welcoming you and thanking you for registering an account at HillaryClinton.com. There is no unsubscribe option, and a link to make changes to your brand new account does not let you delete it.
If you're already a Clinton supporter or already have an account, go forth and insult yourself. You total lightweight, you.